Franklin Graham Condemns Cornell Univ. Students Who Held 'Pig Roast' Women Sex Contest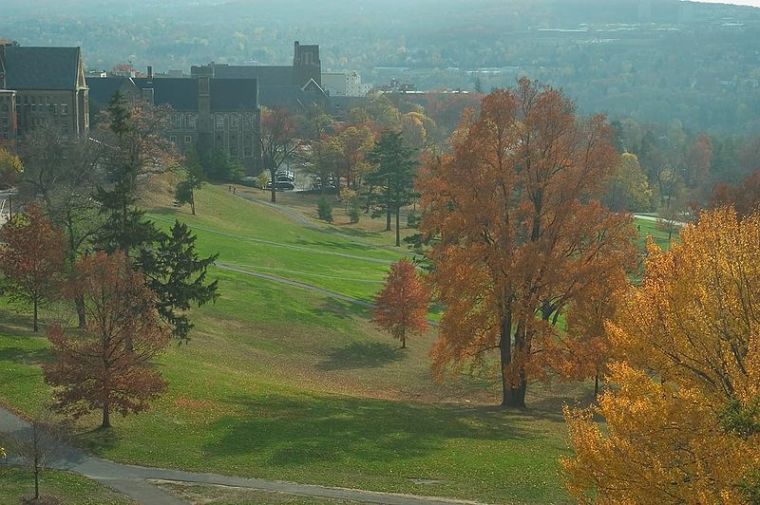 Evangelist Franklin Graham has said that Cornell University fraternity students who perpetrated a so-called "pig roast" sex content to keep score of the number of overweight women they slept with should be expelled.
"I think Cornell University should've expelled these students permanently. Kicked them out. Given them an F for Fail," Graham wrote on Facebook Wednesday, linking to reports about the Zeta Beta Tau fraternity at Cornell where the sex contests took place.
The president of the Billy Graham Evangelistic Association continued: "Their blatant immorality coupled with their degrading treatment of women is reprehensible and deserves severe consequences. The fraternity's prescribed review, probation, and re-education just isn't enough — really just a slap on the wrist. Cornell should step up and take decisive action. They should make an example of this fraternity. Shame on them."
The Cornell Daily Sun first reported last week that the New York-based university has placed Zeta Beta Tau on a two year probation, meaning that the fraternity will be subject to reviews, with members having to attend sexual violence and sexual assault awareness education programs.
Last year, the fraternity awarded points to frat members who had sex with overweight women. New members were reportedly told not to inform the women about their deception.
The fraternity's contest was detailed in an investigation conducted by the university's Fraternity and Sorority Review Board in January, though it did not release the names of the students involved, or for how long they perpetrated their so-called contest.
"The behavior that Zeta Beta Tau fraternity was recently found responsible for is abhorrent to me and antithetical to our values as a community. Behavior that degrades and dehumanizes women contributes to a climate and culture of tolerance for sexual violence," said Ryan Lombardi, vice president for student and campus life, according to The Ithaca Voice.
"While sanctions have been levied against this fraternity by the Fraternity and Sorority Review Board, the campus community will be watching to see whether the members of ZBT — as individuals and as a group — live up to their public pledge to demonstrate 'through our actions that this inexcusable behavior will not be tolerated," Lombardi added.
Paul Russell, interfraternity council president, said that such sex contests are "not normal."  
"The IFC was appalled and disgusted by the activity described in the reports," Russell said.
"The decision about the specific sanctions placed on ZBT was made jointly by administrators and IFC leadership in a review board hearing earlier this year after a hearing and a review of the allegations."
ZBT also responded to the news in a Facebook statement over the weekend, sharing its "mutual disgust" at what has been uncovered.
"The Kappa Chapter of Zeta Beta Tau Fraternity is horrified at the notion of the degradation and/or objectification of women, and the impact it has had on men and women across the United States, and at Cornell," it wrote.
"The events detailed in The Sun were neither chapter sanctioned activities, nor ones that brothers were aware of. We, too, are in disbelief and even more so that these alleged actions may have been taken by those whom we called brothers," it added, pledging to undergo a full membership review.