Franklin Graham Event Bus Ads Pulled in UK After Outcry From LGBT Community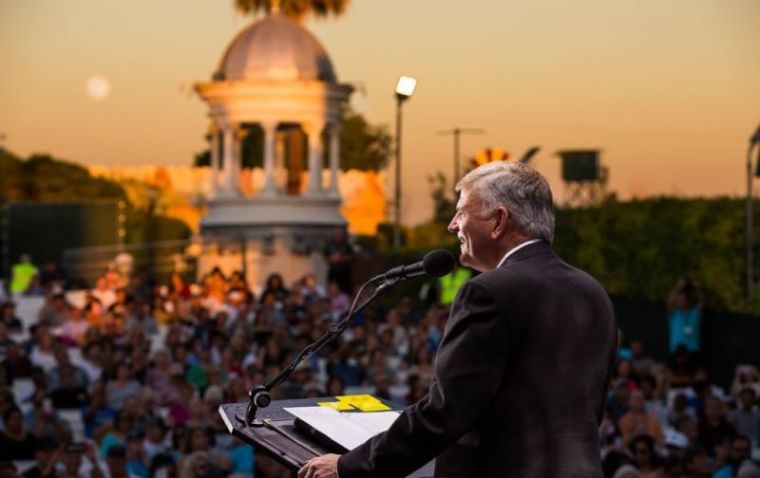 Bus ads promoting an upcoming evangelistic festival with Franklin Graham in England were pulled in response to outcry from LGBT communities. 
"Blackpool Transport has recently been made aware of an advert in place on the side of some of our double decker buses," said a spokesperson for the company, according to the Blackpool Gazette.
"In light of customer feedback and reactions on social media which has resulted in heightened tension, we have taken the decision to remove all adverts relating to the 'Time for Hope' Festival with immediate effect. We will reimburse any income back to the advertising company.
"We work with multiple advertisers and third-parties and in no way do we endorse or support any advertisement which is placed on our vehicles." 
Graham's Lancashire Festival of Hope is scheduled to take place at the Winter Gardens Blackpool on Sept. 21-23. While Graham is expected to focus his message on the Gospel, local residents complained and expressed opposition to the evangelist's stances on issues such as gay marriage and Islam.
Jane Cole, managing director at Blackpool Transport, further explained their decision to pull the bus ads. 
"Blackpool Transport is a proud ongoing supporter of the Pride and LGBT+ communities and in no way did we intend to cause any distress or upset," Cole stated.
"All buses carrying the advert will remain off the road until they have been removed."
Graham, like many evangelicals, has backed the biblical definition of marriage as being between one man and one woman. He has also warned against the "dangers of the teachings of Islam" in the wake of terror attacks around the world.
His views have prompted a change.org petition, where some 8,000 people wanted him banned from entering the U.K. over his "hate speech." 
Responding to the controversy, Graham insisted in an interview with Premier in January that he is not going to Blackpool to preach against Islam or gay people.
"I'm not coming to preach hate, I'm here to preach about a savior, Jesus Christ who can make a difference in our lives if we put our faith and trust in Him," Graham stated.
"We're not here to preach against anyone, we're here to talk about God."
The CEO and president of Samaritan's Purse and the Billy Graham Evangelistic Association said that he is prepared for any protests he is likely to face when preaching in September. He added that his father, the late evangelist Billy Graham, was also opposed when preaching at U.K. events.
"They tried to stop him coming," he recalled. "He was due off a boat into Southampton and there were petitions to stop him coming and members of parliament speaking against him."
Graham noted that Jesus Christ himself "offended many people," and that the Gospel "still offends people today."