Franklin Graham, Operation Christmas Child Sets New Record Delivering 11M Gifts to Children Worldwide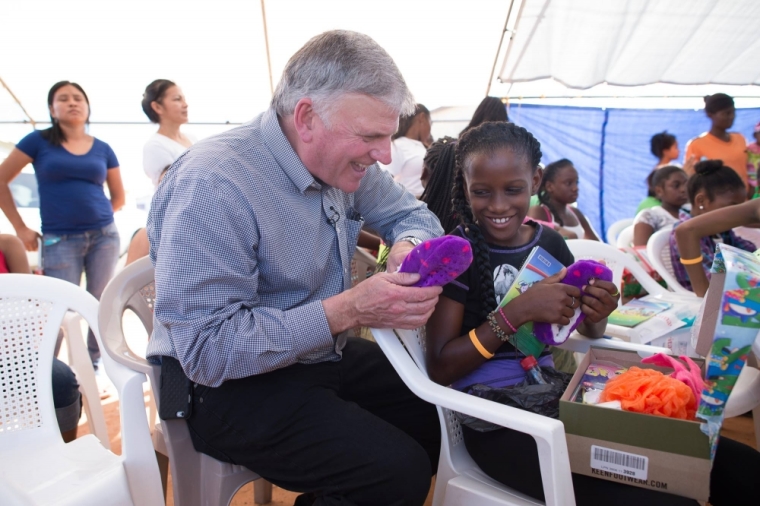 Leading Evangelist Franklin Graham and Fox News host Greta Van Susteren teamed up this week to deliver gift-filled shoeboxes to underprivileged children in the impoverished Caribbean nations of Belize and Haiti.
On Monday, Graham, the president of the the Billy Graham Evangelistic Association and the humanitarian organization Samaritan's Purse, along with Van Susteren and her husband, John Coale, distributed shoeboxes filled with gifts for Operation Christmas Child.
Graham and Van Susteren also traveled to Haiti on Tuesday to hand out gift-filled shoeboxes to children in need at the Haiti-based Greta Home and Academy. Although it is unclear as to how many children in Haiti and Belize received the gift boxes, Graham posted on his Facebook page Monday night that the gifts brought happiness and hope into the underprivileged children's lives.
"We want every child to know they are precious and loved by God, and these shoeboxes help accomplish that," Graham wrote. "Let me tell you, there were a whole lot of smiles and laughter from these children who live in a very poor area of the country."
In a blog post Monday evening, Van Susteren assured that her time in Belize was not spent at any of the extravagant vacation destinations in the country.
"I am sure there are some beautiful places in this nation to visit but we went to the areas of the nation of great poverty," Van Susteren, the host of Fox News' "On the Record w/Greta Van Susteren," wrote. "Many of you have packed shoeboxes for Operation Christmas Child and I assure you, you made many children very happy."
As Van Susteren and Graham have spent the last couple of days giving to children in Belize and Haiti, Operation Christmas Child will distribute gift-filled shoeboxes to needy children in as many as 130 countries across the world in 2016.
After 10.5 million gift-filled shoeboxes were donated worldwide in 2014, Operation Christmas Child Domestic Director Randy Riddle told The Christian Post that as of Tuesday, over 11.2 million shoeboxes have been donated in 2015, which sets a new operation yearly record.
Riddle added that the organization also surpassed its goal of receiving 8.6 million donated shoeboxes from people in the United States in 2015. The remaining three-plus million gift boxes came from donors in Australia, Finland, Germany, Japan, New Zealand, Canada, Spain and the United Kingdom.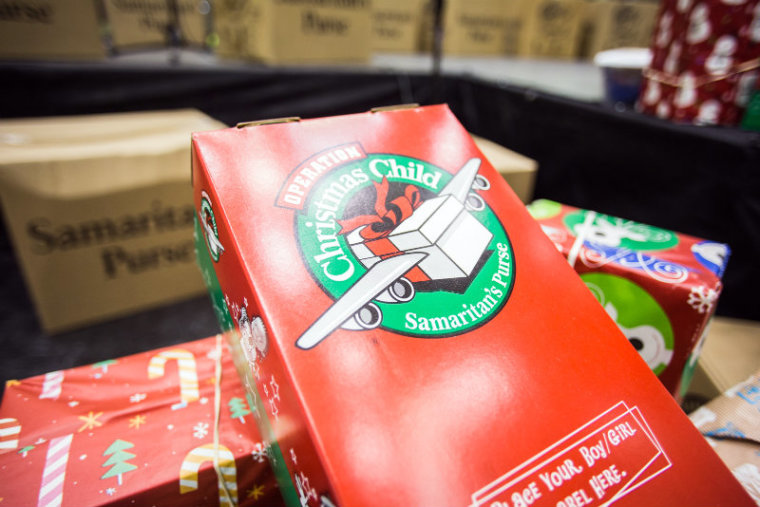 "We give God the glory for a record-breaking year of Operation Christmas Child. We really believe that His hand is on this movement worldwide," Riddle said. "The bible says the gift opens the way for the giver. We use these gifts by delivering them through the local Evangelical church in 130 countries worldwide. Our partners who are pastors deliver these gifts to the neediest children in their countries. To a child that has never received a gift before, the simplest gifts mean the world."
"We hear stories time after time where just the exact needed thing was in a shoebox. Perhaps it was a pack of pencils that allowed a child to go to school or a toothbrush for a child in an orphanage who had to share with others," Riddle continued. "To a child that has never received any gift, this is a whole new world. This is a message that God loves them and someone in another country far away loves them as well and is using the opportunity of Christmas, the celebration of Jesus' birth, to reach out with the gift of love and it is life-changing for many of these children."
Along with the various gifts included in their shoeboxes, children who receive an Operations Christmas Child shoebox also have the opportunity to take part in a 12-lesson discipleship program that is orchestrated through local churches.
Riddle explained that as many as four million children have completed the discipleship program since the program's founding. He added that the operation has set a goal for an additional three million children to complete the program.
"To us, we see the shoebox gifts as gospel opportunities," Riddle stated. "There is an opportunity to share the gospel with every shoebox gift."
Contact: <ahref="mailto:samuel.smith@christianpost.com">samuel.smith@christianpost.com,
@IamSamSmith
(Twitter)