Franklin Graham Says US Should Stop Immigration of Muslims From Terror Nations; Holds 'Obama Responsible for ISIS'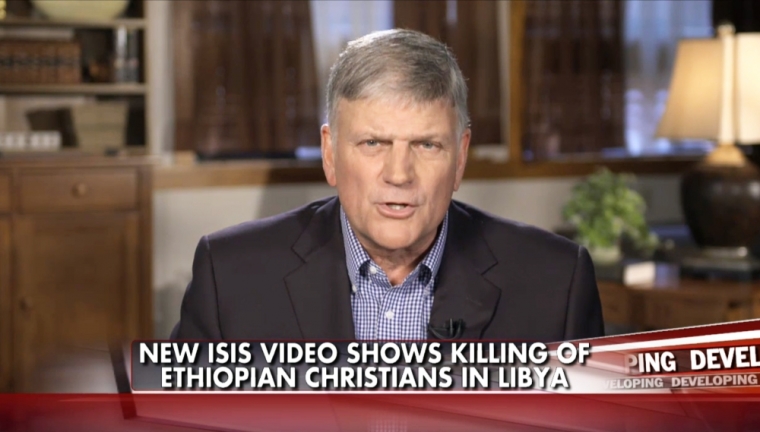 The day after Islamic State militants released a video of Christians in Libya being massacred, the Rev. Franklin Graham urged the U.S. government to "halt all immigration of Muslims from countries that have active terrorist cells," and said President Obama is responsible for the ISIS threat.
"Each day's news seems to reveal new horrors from militant Islam," Graham, who leads the Billy Graham Evangelistic Association, wrote on his Facebook page Monday, about the brutality of the Islamic State terror group, which is also known as ISIS or ISIL.
"Can it be that the world is no longer as shocked by Christians having their heads cut off and then ISIS proudly promoting this on video?" he asked readers. Such news should leave us "horrified and nauseated," he wrote, adding that the government needs to recognize "Islam for the danger it is."
Graham, the son of evangelist Billy Graham, suggested that the Obama administration must do two things at the earliest.
"Immediately look at immigration reform to halt all immigration of Muslims from countries that have active terrorist cells — the threat this poses to our nation is huge and could end up costing thousands of lives in the future if we don't act now."
The government also needs to "take immediate military action to defeat ISIS," Graham wrote.
The influence of radical Islam is spreading, not diminishing, he warned.
"I urge you to contact your senators and representatives in Congress to express your concern and outrage — and ask them to take action," he said.
Graham's post received more than 56,000 likes and nearly 30,000 people had shared it on their Facebook pages, as of early Tuesday.
The 29-minute ISIS video showed Ethiopian Christians dressed in black, on their knees, with their arms tied behind their backs. Masked ISIS members could be seen standing behind the Ethiopians with rifles aimed at their heads. Then, more Christian Ethiopians dressed in orange uniforms were featured, standing in the same region in Libya where 21 Egyptian Christians were earlier killed for refusing to convert to Islam.
The White House condemned the killing of Ethiopian Christians, acknowledging it was religious persecution.
"That these terrorists killed these men solely because of their faith lays bare the terrorists' vicious, senseless brutality," Bernadette Meehan, spokeswoman for the White House National Security Council, was quoted as saying in the media. "This atrocity once again underscores the urgent need for a political resolution to the conflict in Libya to empower a unified Libyan rejection of terrorist groups."
Graham told the readers in his Facebook post that he would be talking about the persecution of Christians in the Middle East and how the government needs to respond, on Fox News Channel's "The Real Story" with Gretchen Carlson on Monday.
Carlson asked Graham if he expected to draw criticism for suggesting the immigration ban. Graham said, "of course," people would call his remarks "discrimination." But it's a "war" situation, he added.
Graham also said it is not enough for the White House to acknowledge ISIS killings as Christian persecution, and that the government needs to take action as well.
"Declare a war on ISIS … use special forces … take air action ... put boots on the ground," he said.
Graham also held Obama responsible for ISIS, saying he pulled troops from Iraq and thereby created a "power vaccum."
ISIS is an offshoot of al-Qaeda and wants to establish a caliphate in the Levant region and beyond. It has gained control over large swathes of territories in Syria and Iraq, and now appears to be seeking to expand its territory even beyond the region.