Franklin Graham Rolls Out 'Decision America Tour' Traveling to All 50 States Ahead of 2016 Elections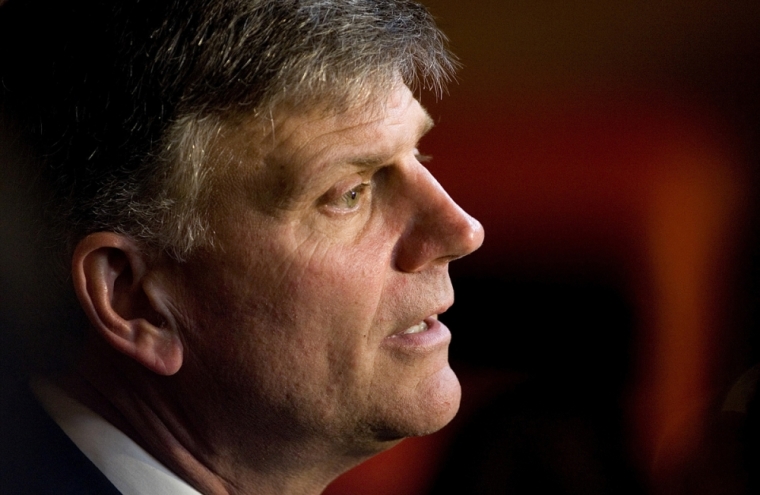 The Rev. Franklin Graham has announced that he will be traveling in 2016 to all 50 U.S. states in an attempt to rally Christians to vote in political elections and to run for office. The evangelical preacher said that neither Democrats not Republicans will be able to fix the country's problems.
"At 62 years of age, I've lived long enough to learn that neither the Democrats nor the Republicans can turn this country around; no political party or politician is the answer. The only hope for this country is Almighty God and His Son Jesus Christ," Graham said in a Facebook post on Tuesday.
"Next year I am planning to travel to all 50 states to conduct prayer rallies — we are calling this the Decision America Tour. I want to challenge Christians to boldly live out their faith and to pray for our nation and its leaders. I want to encourage Christians to get out and vote, and to cast their ballots for candidates who uphold biblical principles," he continued.
"I want to strongly urge Christians to run for public office at every level — local, state, and federal. We will not be endorsing any political candidates, but I will be proclaiming the truth of God's Gospel in every state."
Graham concluded by stating that further details about the Decision America Tour will come later, and asked for prayers.
The presidential elections are set to take place in November 2016, with several Republican and Democratic candidates already expressing their intention to run.
Graham warned in his Easter Sunday message earlier in April that "ugly, anti-Christian bias and intolerance" is changing America.
He noted the suffering and persecution of Christians around the world in a number of different conflicts, but said that believers in America are under pressure as well.
"Even in America there has recently grown an ugly, anti-Christian bias and intolerance that is changing our nation from the inside out, opening doors for all kinds of discrimination and loss of religious freedom that we hear about daily in the news," he said.
The evangelical leaders has accused President Barack Obama on a number of occasions of showing sympathies to Islam, which he argued could lead to Christian and Jewish persecution in America.
"There are Muslims that have access to him in the White House. Our foreign policy has a lot of influence now, from Muslims. We see the prime minister of Israel being snubbed by the president and by the White House and by the Democrats, and it's because of the influence of Islam. They hate Israel and they hate Christians, and so the storm is coming, I believe," Graham told CBN's 'The 700 Club' in March.