Franklin Graham Thanks God for Kim Davis' 'Religious Freedom' Victory in Gay Marriage Case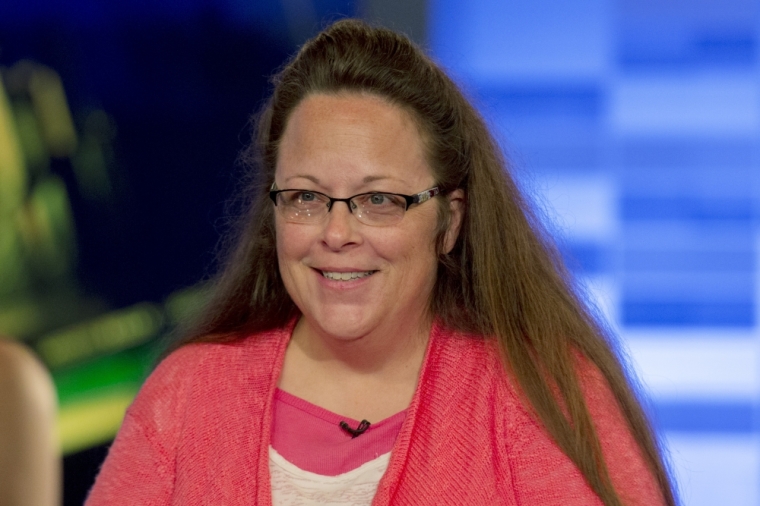 Evangelical preacher the Rev. Franklin Graham is celebrating a "victory for religious freedom" after a federal judge dismissed three lawsuits against Kentucky clerk Kim Davis who refused to sign her name to marriage licenses for gay couples.
"I thank God for men and women willing to take a bold stand for biblical truth — no matter the cost," Graham wrote on Facebook on Saturday, describing how Davis refused to issue marriage licenses to same-sex couples last year because of her Christian faith, which led to her spending six days in jail.
The Liberty Counsel, which has been representing Davis, reported on Friday that all three marriage license lawsuits against the Kentucky clerk have now come to an end, with the federal district court dismissing the case, closing the files, and removing pending cases from the docket.
Davis refused last year to issue marriage licenses that had her name and authority on them to gay couples, because of her religious belief that marriage is only between one man and one woman.
Kentucky Gov. Matt Bevin later moved to sign an executive order to create a marriage license that does not require the county clerk's name and title.
"Kim Davis has won! We celebrate this victory for her and for every American," said Mat Staver, founder and chairman of Liberty Counsel, in a statement.
"County clerks are now able to perform their public service without being forced to compromise their religious liberty. The case is now closed and the door has been shut on the ACLU's attempt to assess damages against Kim Davis," Staver added, referring to the secular law group's case against Davis.
"This victory is not just for Kim Davis. It is a victory for everyone who wants to remain true to their deeply-held religious beliefs regarding marriage while faithfully serving the public," he said.
Back in June, Davis expressed her gratitude to Bevin for signing the order that provided the religious freedom accommodation she had been looking for.
"I am thankful to the legislators for passing this law, to Gov. Matt Bevin for signing it, to Liberty Counsel for representing me, and most of all to Jesus Christ who redeemed me and is my solid rock on which I stand," she said at the time.
"I am pleased that I can continue to serve my community as the Rowan County Clerk without having to sacrifice my religious convictions and conscience."
Back in September 2015, Graham was critical of Republican presidential nominee Donald Trump for suggesting that Davis should follow "the law of the land," and issue same-sex marriage licenses despite her personal objections.
"He should know that just because something is made into a law, doesn't make it right. His Scottish Presbyterian ancestors may have been among those who had their heads cut off because they refused to recognize the King of England as head of the Church," Graham wrote in a Facebook message at the time.
"They believed that Jesus Christ was the head of the church, not the King of England; and they stood for — and died for — those sincerely held religious beliefs. Our forefathers gave us freedom of religion at a great cost, and that was meant for us to be able to live out our faith in our daily lives, at home and at work."