Franklin Graham: Donald Trump Is the Answer to People's Prayers for a President 'Willing to Listen to God's Voice'
Evangelical leader the Rev. Franklin Graham has said that not only did God have a hand in getting Donald Trump elected as U.S. president, but that Trump is God's answer to people's prayer for a president who will stand up to the "humanistic, atheistic agenda" in Washington D.C.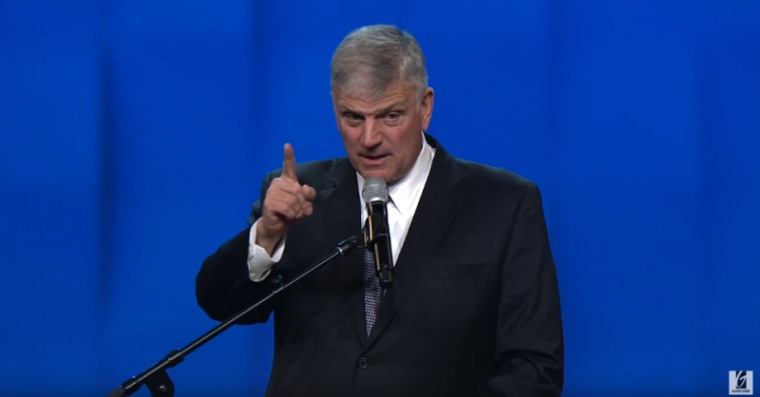 Graham said in an interview with Fox News Insider posted on Sunday that talk of people disrupting Trump's upcoming inauguration ceremony on January 20 is coming from leftists who are "upset at losing," and urged the country to come together instead.
As he has in the past, the preacher, who is also the president of the Billy Graham Evangelistic Association and the international aid group Samaritan's Purse, claimed that he is not a Republican or a Democrat, but simply a follower of Jesus Christ.
Graham claimed that he sensed that God was "getting ready to do something" when he listened to the prayers of the thousands who showed up at his state-wide Decision America Tour rallies last year.
"They were praying that God will change the direction that our nation was going in. The secularists that have gotten control of Washington, that have a humanistic, atheistic agenda – they (the people) were praying that God will change this," he said.
The evangelist argued that the people wanted somebody in the White House "who believed in God, and was willing to listen to God's voice. I believe in this election, God's hand was in it."
Graham, who will take part in Trump's inauguration ceremony, said in another interview late last year that the billionaire businessman's victory was God's way of "protecting" America.
"I think maybe God has allowed Donald Trump to win this election to protect this nation for the next few years by giving maybe an opportunity to have some good judges," Graham said, referring to Supreme Court justices.
"It wasn't hacking. It wasn't Wiki-leaky or whatever," he added of why Trump won the election.
"It was God, in my opinion, and I believe his hand was at work, and I think he's given Christians an opportunity."
Other major pastors, such as Robert Jeffress of First Baptist Dallas church, have also been supportive of Trump, but other prominent evangelicals, such as Russell Moore, president of the Ethics and Religious Liberty Commission of the Southern Baptist Convention, cautioned Christians on numerous occasions.
"The problem is not just Mr. Trump's personal lack of a moral compass. He is, after all, a casino and real estate mogul who has built his career off gambling, a moral vice and an economic swindle that oppresses the poorest and most desperate," Moore wrote as part of his criticism of the Republican in a New York Times Op-ed.
"When Mr. Trump's casinos fail, he can simply file bankruptcy and move on. The lives and families destroyed by the casino industry cannot move on so easily," Moore added.