Donald Trump Inauguration Prayer Speaker Paula White Says She's No 'Trinity-Denying Heretic'
Televangelist Paula White, who was announced as one of six religious leaders participating in Donald Trump's inauguration ceremony, has responded to critics who claim that she is a "trinity-denying heretic" and has assured her belief in the inerrancy of the Bible.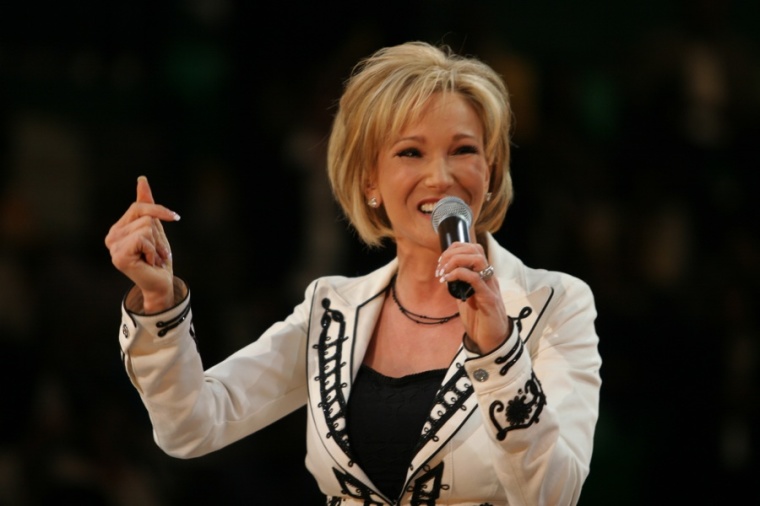 It was announced last week that White, the senior pastor at New Destiny Christian Center in Apopka, Florida, would be joining Franklin Graham, Samuel Rodriguez and other prominent faith leaders in offering prayers and bible readings at the inauguration ceremony on Jan. 20.
Although White is the second woman ever chosen to pray at an inauguration ceremony, not everyone was happy with the news.
Not too long after the participants were announced, conservative blogger and radio host Erick Erickson (a major player in the "Never Trump" movement) took to his blog, The Resurgent, to lambaste the 50-year-old White and call her a "prosperity gospel charlatan."
Erickson claimed that White has rejected "Christianity itself" by rejecting "the orthodoxy of the Nicene Creed" and even posted a video that purports to show White agreeing that Christ is "not the only begotten son of God" but rather "the first fruit."
Erickson is not the first person to call White a "charlatan" or a "heretic."
In June 2016, after White helped organize a gathering between Trump and over 900 evangelical leaders in New York City, leading Southern Baptist ethicist, Russell Moore, wrote in a tweet that "Paula White is a charlatan and recognized as a heretic by every orthodox Christian, of whatever tribe."
@saletan@jlupf Paula White is a charlatan and recognized as a heretic by every orthodox Christian, of whatever tribe.

— Russell Moore (@drmoore) June 28, 2016
Such bold words can have some weight in the evangelical community when they come from the president of the Southern Baptist convention's Ethics & Religious Liberty Commission.
On top of the accusations by Moore and Erickson, White has been the topic of a number of online articles, such as "Shady Pastor to Pray with Trump at Inauguration" published by the Daily Beast and "Evangelicals should be deeply troubled by Donald Trump's attempt to mainstream heresy," published by the Washington Post.
"I have read a great deal of false information being reported about me, my theology and my past," White said in a statement shared with The Christian Post this week. "I have been called a heretic, an apostate, an adulterer, a charlatan, and an addict. It has been falsely reported that I once filed for bankruptcy and — my personal favorite — that I deny the Trinity!"
White admits that she has hesitated to address the "patently false accusations" because she didn't want to "dignify them with a response." But, now she feels that the claims against her character and ministry now pose a "potential destruction to an otherwise celebratory and historic time in our country." Now, she seeks to "set the record straight" with her statement.
"First of all, I believe and have always believed in the exclusivity and divinity of Jesus Christ, his saving grace and substitutionary atonement made available to all by his death on the cross. I believe and have always believed that he was buried and on the third day rose again. I believe and have always believed in the Holy Trinity," White asserted.
"I believe and have always believed in the virgin birth, and the second coming," she continued.
She also rejected the claim that she is a prosperity preacher.
"I also reject any theology that doesn't affirm or acknowledge the entirety of scriptural teaching about God's presence and blessing in suffering as much as in times of prosperity," she asserted. "In fact, I have preached and written as much on the lessons we must learn in times of trial in our lives as I have in times of abundance."
As White has also received criticism over her two divorces, she also admitted that she has made some mistakes.
"Nevertheless, I am now a fifty year old grandmother who has learned from the good and the bad in my life," she added.
This is not the first time that White has denied claims that she that she is a prosperity gospel preacher.
"I do not believe in the 'prosperity Gospel' as I've been accused of believing it," White told The Christian Post last June. "I do believe that all good things come from God, and I also believe that God teaches us so much through our suffering."
"Listen to 100 of my sermons, and 80 or 90 of them will be about overcoming our struggles and the lessons God teaches us in valleys he allows us to enter," she added.
She also told CP that she believes that "the Bible is the inerrant word of God."
"I believe Jesus is the son of God who died for the sins of the entire world. I believe Jesus rose again on the third day. I believe in the virgin birth and the second coming. I preach salvation by grace through faith alone. I preach for the repentance of sin."
"I have been accused of so many things that are so untrue," she continued. "Some of those accusations persist despite their being entirely false, but I'll just continue preaching the Gospel."
Even though White rejects the prosperity gospel label, the business practices of Paula White Ministries was subject to investigation by United States Sen. Chuck Grassley, R- Iowa., in 2007.
Grassley launched an inquiry into six television ministries to determine if any IRS rules that prohibit excessive compensation for leaders of religious nonprofits were being violated.
Although the investigation ended three years later without reaching any conclusions, critics, such as those at the the Daily Beast, claim that Paula White's ministry is the "the church version of Trump University."
The outlet criticized White's ministry website for encouraging people to give "seed offerings" by telling them that they will be sent a powerful word from the Lord if they give an offering. Additionally, the Daily Beast points out that there is a sermon on the ministry's website entitled "Why God Wants You Wealthy."