Franklin Graham at Rainy Trump Inauguration: 'Rain Is a Sign of God's Blessing'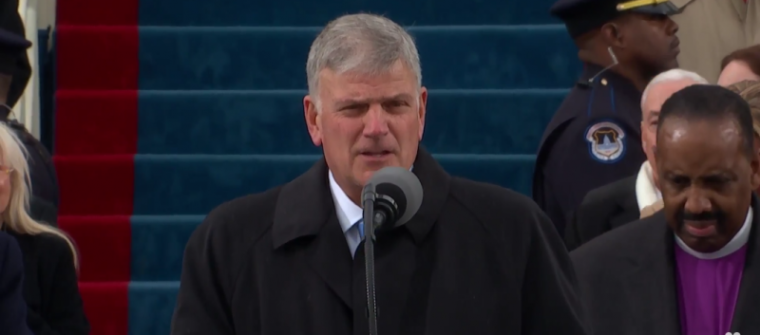 The Reverend Franklin Graham reminded President Donald Trump that throughout the Bible the presence of rain was a sign of God's blessing.
On Friday, Trump was sworn in as president at the traditional National Mall ceremony. The weather was cloudy and eventually resulted in rainfall as Trump spoke.
Rev. Graham, one of the clergy present who prayed for the new president, explained in his remarks that the weather might be a sign of blessing.
"Mr. President, in the Bible, rain is a sign of God's blessing. And it started to rain, Mr. President, when you came to the platform," said Graham. "And it's my prayer that God will bless you, your family, your administration, and may He bless America."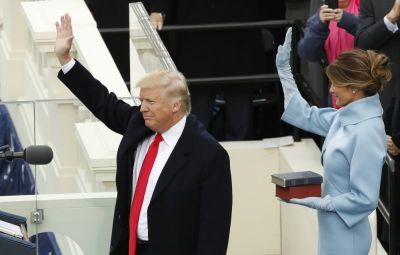 Following his comment on the rain, Graham proceeded to read first from 1 Timothy 2:1-6, which exhorts believers to pray for their leadership.
He then concluded with 1 Timothy 1:17, which reads "Now to the King eternal, immortal, invisible, the only God, be honor and glory for ever and ever. Amen."
On his official Facebook page, Graham posted a photo including a caption of the Bible verses he quoted from, noting that it was "an honor to read the Word of God at today's Inauguration for President Donald J. Trump and Vice President Mike Pence."
"Chairman of the Joint Congressional Committee on Inaugural Ceremonies, Senator Roy Blunt said in his remarks that today is a celebration of democracy. Today is also a celebration of God's blessing and mercy on the United States of America," wrote Graham.
"We need to make prayer for our leaders a priority and seek His wisdom, His direction, and His favor as individuals and as a nation."
Graham was one of three clergy who gave benediction remarks. The other two were Rabbi Marvin Hier, dean and founder of the Simon Wiesenthal Center; and Bishop Wayne T. Jackson of Great Faith Ministries International of Detroit, Michigan.
"We're not enemies, we are brothers and sisters. We're not adversaries, but we're allies. We're not foes, but we're friends. Let us be healed by the power of Your love and united by the bond of Your Spirit," prayed Bishop Jackson.
"Today we pray for our 45th president, the vice president, and their families. Given them the wisdom to guide this great nation, the strength to protect it, and the hands to heal it."