Franklin Graham: Trump Should Protect Religious Freedom, 'Despite Threats From Activists'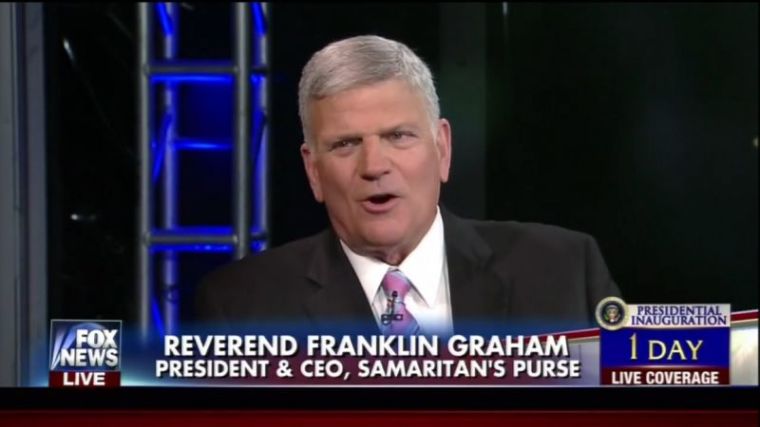 Franklin Graham is urging President Donald Trump to issue an executive order protecting religious freedom in light of "numerous" cases of Christian businesses and organizations being targeted during the Obama years.
The evangelist and president of Samaritan's Purse opined on his Facebook page Tuesday that liberals are "up in arms" about the possibility of such an order and explained that it was one of the reasons that millions of evangelicals and Catholics supported Trump in the election.
"For years, the Obama administration, many state governments, and judicial activists attacked core religious beliefs on life, marriage and religious freedom," Graham said.
At the National Prayer Breakfast last week, Trump reiterated a key campaign promise, that his administration would "do everything in its power to defend and protect religious liberty."
After a draft copy of the executive order, "Establishing a Government-Wide Initiative to Respect Religious Freedom," was leaked and obtained by liberal media outlets like The Nation, which believes it amounts to state-sanctioned discrimination, there has been pressure to get the president to torpedo the move altogether.
"But the president should not cave," argued Ryan Anderson of The Heritage Foundation in the Daily Signal Thursday. "He should stand up to the liberal outrage and hostility to ordinary American values that fueled his rise in the first place."
The executive order is not only lawful but good policy, Anderson said, and protects Americans from the worst elements of liberal overreach.
"These protections take nothing away from anyone — they simply ensure that the public square remains open to all religious voices, even when those voices diverge from the government's view on contested questions. They protect diversity and pluralism and tolerance," Anderson said.
"None of this should be objectionable — which makes you wonder why liberals are objecting, except to continue the denunciation of 'deplorables' that offended Americans of good will last year," he added.
Graham further mentioned Tuesday that "the examples across America were numerous — florists, bakers, photographers, nuns, and pharmacists who refused to act against their religious beliefs and convictions were sued, fined, and drug into court, all at great cost."
"Many lost their businesses and their families suffered greatly because they took a stand for their faith. I hope and pray that President Trump will move forward with this executive order soon — despite threats from activists with their own agenda," he concluded.
An executive action of this kind comes on the heels of Trump's decision to renew an Obama executive order maintaining LGBT "anti-discrimination" policies in the federal government, a move reportedly encouraged by Trump's daughter and son-in-law and defended by Vice President Mike Pence.
As The Christian Post reported Monday, Christian legal group Liberty Counsel criticized President Trump's decision to renew the order, because it "imposes the LGBTQ agenda in the employment context for federal contractors."