Franklin Graham Urges Georgia Gov. to Stand Against NFL and Sign 'Pastor Protection Act'
Evangelist Says Bill Helps Protect Christians From 'Growing Discrimination' Against Their Beliefs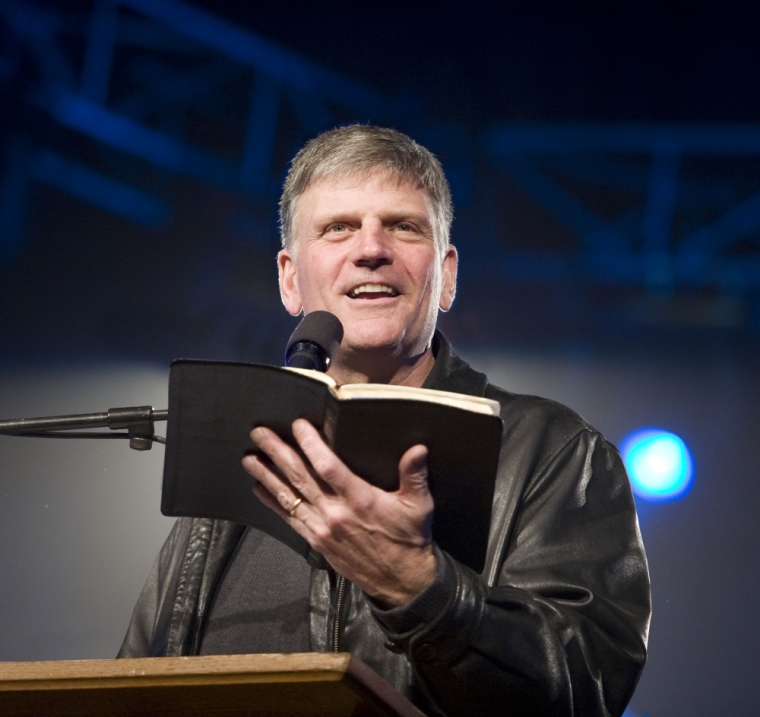 Leading evangelist Franklin Graham is calling on Georgia Gov. Nathan Deal to stand against corporate pressure and sign a religious freedom bill passed by both houses of the state's legislature that would protect faith-based organizations and pastors from government backlash over their opposition to same-sex marriage.
After a spokesperson from the National Football League insinuated last week that the passing of Georgia's "Pastor Protection Act" would be taken into account when deciding whether Atlanta will get to host the Super Bowl in either 2019 or 2020, Disney and Marvel have also announced that they, too, will take their business elsewhere if "any legislation allowing discriminatory practices be signed into state law."
Graham, the head of the Billy Graham Evangelistic Association, took to Facebook Wednesday to urge the Republican governor not to cave into the demands of LGBT and corporate communities and decried the notion that this legislation will permit "discrimination."
"LGBT forces and corporate superpowers are using this threat to try to stop the bill that would protect pastors from performing same-sex marriages and give faith-based organizations permission to deny use of their facilities for things outside their religious beliefs," Graham explained. "It does not legalize discrimination as opponents are trying to say, rather it helps contain the growing discrimination against Christians who simply want to live out their faith."
As Deal is set to make a decision on whether he will sign the legislation in the coming weeks. Graham is calling on Christians to pray.
"Let's pray that Gov. Deal will protect the religious freedoms of Georgians," Graham, who is also the president of the humanitarian organization Samaritan's Purse, wrote. "Write him and let him know how you feel about this — stand up against this NFL blitz!"
Deal has given little indication as to whether he will sign or veto the bill but has stated that he is still listening to arguments from both opponents and proponents of the bill.
"I have heard from both sides, and I'm sure I'll continue to hear from both sides," Deal said. "I will take their opinions into consideration, and I'll do what I'm required to do: Which is to make the difficult decision on a very difficult subject."
Although the LGBT and corporate communities staunchly oppose the legislation, Family Research Council President Tony Perkins stated in a recent blog post that the initial version of the bill has been so compromised that the current version doesn't go for enough to protect Christian businesses and religious government employees.
"While activists at the Human Rights Campaign resort to lies to defeat the measure, the reality is that H.B. 757 doesn't offer even the barest of buffers for people like Kentucky Clerk Kim Davis, bakers Aaron and Melissa Klein, or Atlanta Fire Chief Kelvin Cochran. If anything, it does as much to quarantine faith as it does to defend it," Perkins wrote.
Georgia is not the only state considering "pastor protection" legislation, as lawmakers in Louisiana are now weighing a bill that has similar protections.
Stephen Perry, head of the New Orleans Visitors & Conventions Bureau, said that although the H.B. 597 contains many of the same provisions that the initial Georgia bill offered, he doesn't believe it will get the state in trouble with corporations.
"We have nothing but support and understanding for the 'pastor protection' act — the way it is worded now," Perry told The Times-Picayune. "This is no way it would provide an issue for the NFL or the NCAA or any of our corporate customers."