Franklin Graham's Samaritan's Purse, BGEA Named Among Top 10 Charities Changing the World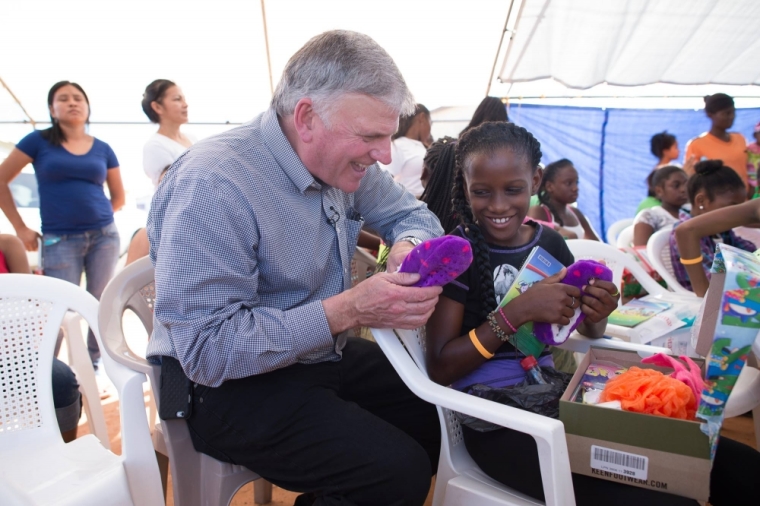 Evangelist Franklin Graham's Samaritan's Purse and the Billy Graham Evangelistic Association have both been named on a list of the top 10 charities working to change the world, something which Graham called an "incredible privilege."
"All of our work is done in the Name of the Lord Jesus Christ, and He is the One able to change hearts and lives — and able to change the world. I am so thankful for all of the dedicated staff God has brought to these ministries, both here at home and around the world," Graham wrote in a Facebook post on Thursday.
"And I am grateful to God for those He calls to support this work by their faithful prayers, their volunteer time, and their giving. We want to honor Him as we help those in need and share the hope of the Gospel with a hurting world. Thank you for your prayers and encouragement," he added.
The list, compiled by Charity Navigator, a service that provides information about various charities, and reported on by CNBC, looked at big-name charities that do "exceptional work" both in the U.S. and abroad, while "maintaining top-notch financial management and transparency standards."
The BGEA, which was established by the Rev. Billy Graham in 1950, and is currently headed by his son, Franklin, has been providing both physical and spiritual help to people affected by natural disasters, Charity Navigator noted.
"After 9/11 the Billy Graham Rapid Response Team was started to provide emotional and spiritual care to individuals and communities living through a sudden tragedy. Volunteer chaplains minister to people in need by listening, praying and offering practical assistance," the list explained, ranking the organization at No. 7 on its top 10 list.
Samaritan's Purse, which through its ministry Operation Christmas Child has delivered more than 135 million shoe boxes with gifts for needy children, came in at No. 4 on the list.
"Its World Medical Mission sends doctors, equipment and supplies to underprivileged countries. Community development and vocational programs in impoverished villages and neighborhoods around the world help people break the cycle of poverty and give them hope for a better tomorrow," the report explained.
The charity, which was established in 1970, "has helped meet the needs of people who are victims of war, poverty, natural disasters, disease and famine, with the purpose of sharing God's love through His Son, Jesus Christ," as the list highlighted.
It has also been helping in relief efforts in the U.S., and established a response team to help with recovery during the heavy floods and torrential rains in August in Louisiana and Mississippi.
The full top 10 list of charities changing the world, according to Charity Navigator's rankings, include:
10. Natural Resources Defense Council 9. United Nations Foundation 8. Caring Voice Coalition 7. Billy Graham Evangelistic Association 6. Catholic Medical Mission Board 5. AmeriCares 4. Samaritan's Purse 3. The Rotary Foundation 2. MAP International 1. Direct Relief.