Free Markets, Democracy Are Nothing Without Moral, Religious People, Eric Metaxas Says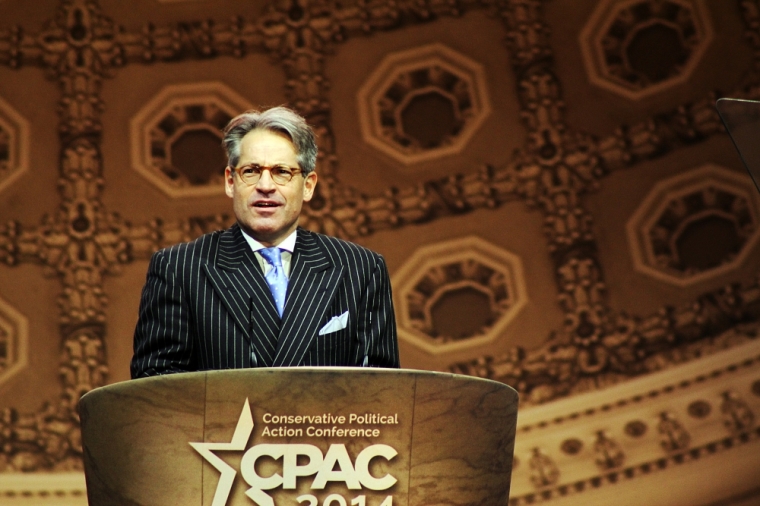 NATIONAL HARBOR, Md. – A moral and religious population is necessary for free markets and democratic institutions to work well, best-selling author Eric Metaxas told The Christian Post after speaking at The Conservative Political Action Conference.
"The free market and democracy by themselves, unmoored by a religious population or a moral population, are nothing," Metaxas said Friday. "The free hand of the market will provide cheaper, better pornography and drugs, if that's what the population wants."
"To have a robust free market is compromised if we are mired in debt, and to have a robust free market of ideas is compromised if religious freedom is threatened – they're really both sides of the same thing, different kinds of liberty that are inextricably intertwined," he added.
Founder and host of Socrates in the City and author of best-selling biographies of William Wilberforce, Dietrich Bonhoeffer, and others, Metaxas emphasized both the debt and religious liberty, the topic of his speech earlier that day. In that speech, Metaxas urged Republicans and conservatives not to spend their energies fighting one another, but defeating Democrats in elections. "We need to be careful about not attacking those on our side out of some false sense of purity, unless it is absolutely necessary," he argued, because debt and religious liberty are too important to be delayed.
The Debt
"First of all, if we do not have a president who understand that this nation is going down for the third time and drowning on the issue of debt, the Great American Experiment of 230 plus years is over," Metaxas starkly declared. He told CP that American liberty cannot last with a government owing so much.
Metaxas blamed President Obama for failing to address the issue of America's ballooning debt. "President Obama will go down in history as the man who led us over the waterfall," the author declared. "It is absolutely unconscionable."
In his speech, the author mentioned the 50 million Americans who are on food stamps as "a national humiliation," and a reason the national debt has increased. He argued that conservatives and the Republican Party must "let people know that we think good jobs are better than food stamps."
Religious Liberty
Metaxas also issued a dire proclamation about the state of religious liberty in modern America. "Once religious liberty is compromised, all liberties are compromised," he told CP. The author listed the HHS mandate and the legal redefinition of marriage in some states as threats to religious liberty.
The author also expressed his surprise that there were reportedly no CPAC panels on abortion or religious liberty. "If you're going to have a conservative conference, you need those issues on the table," Metaxas said. He argued that the pro-life position is but one facet of the religious freedom issue.
America's Heritage of Religious Freedom
According to Metaxas, the mechanisms of America's success in the world flow from its moral and religious heritage.
"The very reason people left Europe in small boats to come here and risk their lives was for religious freedom," Metaxas told The Christian Post. In his speech, he argued that conservatives must retell the story of America's heritage for voters to fully embrace their side of the story. "If we do not know these stories in our bones and teach these stories, we really have nothing to sell."
Metaxas emphasized the national stories that connect to religious freedom. "Do we remember the pilgrims as real human beings who suffered horribly?" he asked. "Do we remember that the revolution was a real thing – that real men bled and died for that thing called liberty?"
Metaxas pointed out that the founders of the Abolition and Civil Rights Movements were avid believers. "It was people of faith, crazy Evangelicals, who said we're all created in the image of God," the author declared. "Did you know that Rosa Parks was a serious Christian, that Jackie Robinson was a serious Christian?"
America Is Great Because It Blesses Others
"America is great because we know everything we have is a gift from God that we don't deserve and that God has given it to us for the sake of others," Metaxas declared. He insisted that Americans are not better than any other people, but that the United States is the greatest country in the history of the world, despite its many faults, due to the gift of God.
God does not favor one nation over another, but He does bless people or nations so that they can in turn be a blessing to others, Metaxas argued. "The way George Washington crossed the East River in August 1776 was nothing less than a miracle, as everyone who was there acknowledged," he said, citing one example of God's providence. "Liberty should have been strangled in the cradle that day, but somehow it seems that God intervened."
"This country was wealthy and made wealthy so that we could be generous," Metaxas insisted. He argued that America defeated Nazi Germany because citizens understood that they themselves might be in the death camps. "We were a beacon of hope and truth in a world of darkness and lies."
Religious liberty is important because America needs to honor God if it is to continue to succeed, Metaxas said. He quoted Lincoln, declaring, "We shouldn't pray that God is on our side but that we are on God's side. That takes humility."