'Free Palestine' Protesters Silenced by Spontaneous Pro-Israel Rally by Jewish Store Owners in NYC (VIDEO)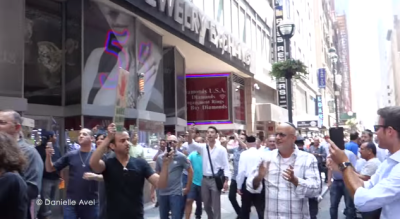 Anti-Israel demonstrators targeted Jewish-owned businesses in NYC's diamond district last week chanting 'free Palestine' and were met with a spontaneous pro-Israel rally by the community that silenced them.
The protesters shouted "free, free Palestine," "free, free Gaza." Local store owners and others in the community took to the streets and countered the protests yelling "Hamas Terrorists" and cheered on the Israel Defense forces, chanting "IDF." Some even broke out into song.
Photojournalist Danielle Avel captured footage of the confrontation.
"What happened in the Diamond District that day was totally unexpected and unlike anything I have ever witnessed," said Avel to The Christian Post. "All of those people who poured out onto the street to drown out the hateful protest messages did so in such a positive way, with chants and songs celebrating Israel, it was a wonderful experience to witness this. I am thankful to all of them for standing up for Western values and I am so grateful I was there to capture it."
The area, located on 47th St between 5th and 6th Avenues is home to many Jewish-owned jewelry outlets.
Avel first heard about the demonstration the previous night.
"As part of my research, I heard about the protest the night before so I decided to go and document it," she said. "Note, the protest was advertised as a "direct action" which in this case meant to disrupt Jewish businesses."
She filmed a bulk of the footage seen in the video that already has close to 300,000 views on YouTube after three days. Avel believes the protesters were an Israel-hate group not truly interested in supporting Palestine.
"If they were really concerned about Palestinians, they would be protesting the atrocities groups like Hamas inflicts on its own people," she said.
Avel once worked for the Investigative Project on Terrorism think tank and currently does her own research on topics related to the conflict in the Middle East. Much of her work is published on her independent website DanielleAvel.com.