Gangsta Rapper Gone Gospel? Snoop Dogg Responds to Church Folk Who Have a Problem With Him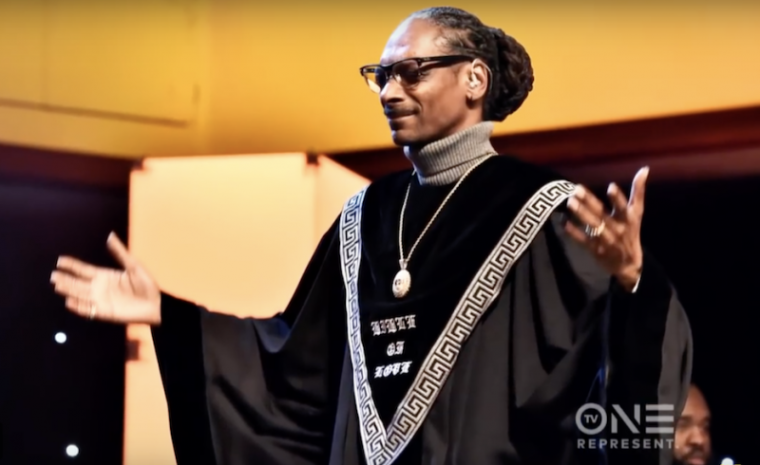 Snoop Dogg released his first a gospel album Bible Of Love last month and many Christians have voiced their concerns and skepticism, given his history, but the award-winning rapper clapped back at his critics at the 33rd Stellar Gospel Music Awards.
With over two decades in the music industry, Snoop Dogg (whose real name is Calvin Broadus) has been popular among Gen Xers and millennials. But he also has an alarming history of crime and sexual exploitation. In a 2013 interview with Rolling Stone he bragged about being a former pimp who (as a married man and father), had sex with and prostituted young women on a nationwide Playboy tour. He also won four porn industry awards for working with Hustler to film two hard-core porn movies. And in 2004 he settled a lawsuit in which he was accused by 17 and 18-year-old girls of offering alcohol, ecstasy and marijuana at a "Girls Gone Wild" party in exchange for taking off their clothes.
In 2009 Snoop Dogg announced that he had joined the Nation of Islam, then in 2012 he switched gears and became a Rastafarian after a short stint as a reggae artist. Now he claims to be a born-again Christian. And instead of publicly repenting for his sins, which is what some of his Christian critics would like to see him do, Snoop is blasting believers as being hypocrites for not celebrating his transition into gospel music.
"The devil is a liar. I thought church was supposed to welcome sinners," he told TV One after taking the stage at the Stellar Gospel Music Awards, the oldest televised awards show honoring gospel music artists. "If you find someone trying to find their way back home, the natural thing would be to accept him with open arms. We not gonna throw stones while you trying to get right and walking back into the church house.
"That's what's running people away from church right now as we speak: We're trying to get people back in church with a different perspective of come as you are, show love. We show love, we give love," Snoop added. "What about you? Have you checked your status? Are you going to Heaven? Why are you judging me? How much have you done for the Lord?"
In the early '90s Snoop was in-and-out of prison for selling cocaine and other drugs, and stood trial for the 1993 murder of a rival gang member in which he drove the getaway car but was later acquitted.
Bible Of Love is Snoop's 16th studio album and he believes this is the direction he's meant to go in. The record features collaborations with many gospel legends such as Kim Burrell, The Clark Sisters, as well as contemporary artists Mali Music and B Slade, among others.
Pastor Shirley Caesar even sung Snoop's praises after he remixed her popular song "Hold My Mule" into a holiday edition of the "U Name It Challenge" in 2016.  
Snoop explained why he wanted to make a gospel album, telling TV One, "It was just time to put my money where my mouth was and have it not be about money but about spirit. Give love to get love." 
Last year, the rapper garnered criticism from several evangelicals, including Franklin Graham, after he remixed a version of the song "Lavender" by Canadian group BADBADNOTGOOD, in which he points a gun at a clown meant to look like President Trump in his music video. 
As previously reported by The Christian Post, at one point in the video Snoop points a gun at man dressed as Trump with a clown face and wearing white gloves. The rapper pulls the trigger, with the gun revealing a small flag that says "BANG."