Garth Brooks Serenades Fan With Cancer; Talks About God's Existence at Concert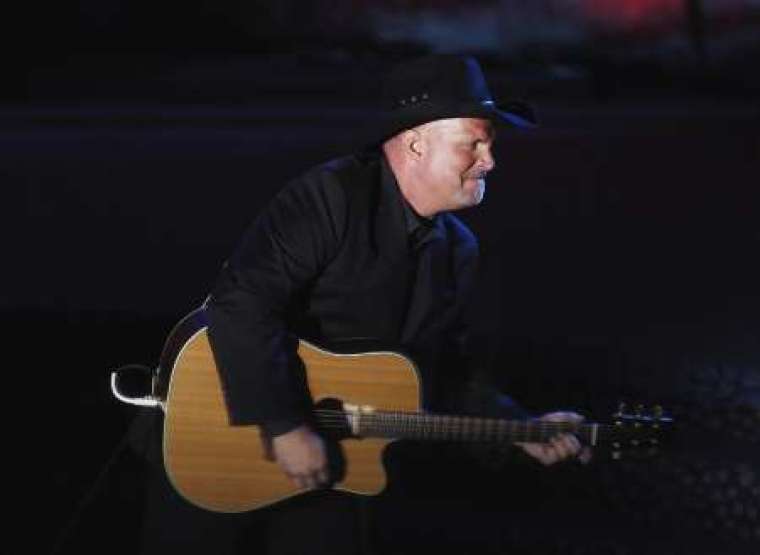 While performing in Minneapolis over the weekend, Garth Brooks stopped his performance to recognize a fan with stage 3 breast cancer.
The woman, Teresa Shaw, waved a sign with the words "Chemo this morning, Garth tonight, enjoying 'The Dance'," referencing her favorite Brooks song. The sign drew the attention of an usher who brought Shaw to the front of the stage where it caught Brooks' eyes. The country superstar then serenaded the cancer patient, giving her a hug and kiss on the forehead. He also gave her his guitar.
Holding Shaw's sign over his head, Brooks told the crowd, "One of those times that says, man, if God would just give a big old hand that just comes out from the sky and writes, 'I exist,' then there would never be any doubt, right? Well, I want to tell you right now God just stuck his hand out and he wrote this."
Brooks, who recently debuted "Mom," a new song about a conversation between God and an unborn child, frequently talks publicly about his faith. He and wife, Trisha Yearwood, both lost family members to cancer. Brooks lost his mother in 1999 and step-sister Betsy Smittle last year. Yearwood lost her mother in 2011.
Shaw, a mother of three, was thrilled by her new memento, she told local news station KARE-11, "To give away something like that is just remarkable, and now if I ever have a bad day, I can always go look at his guitar and get inspiration."
Brooks wished Shaw well on her cancer treatment, "You have all my strength, you have everybody's strength in here and you go kick cancer's [butt]."