Gay Alabama Lawmaker Patricia Todd Threatens to 'Out' Adulterous Colleagues Who Oppose Same-sex Marriage 'Spouting Family Values'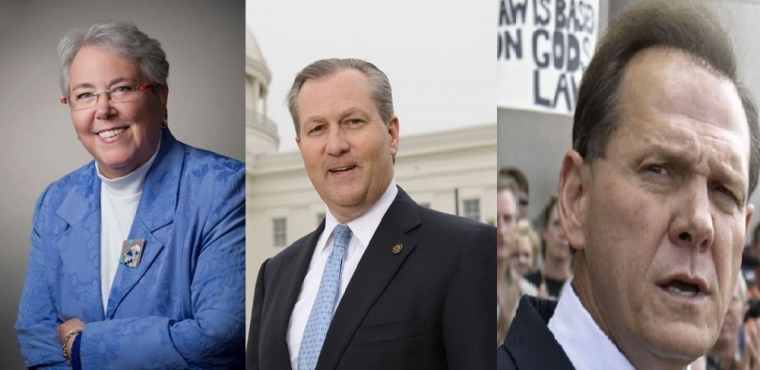 Just a week after a federal judge struck down Alabama's constitutional ban on same-sex marriage, the fight over the issue got deeply personal when the state's first openly gay legislator, Patricia Todd, D-Birmingham, threatened last weekend to expose the adultery of her peers who would dare to fight the ruling in the name of Christian family values.
Shortly after the ruling was made public last Friday, Alabama House Speaker Mike Hubbard, R-Auburn, who is also an active member of the Auburn United Methodist Church along with his wife, called the decision "outrageous" and pledged to fight it.
"It is outrageous when a single unelected and unaccountable federal judge can overturn the will of millions of Alabamians who stand in firm support of the Sanctity of Marriage Act," he said in a prepared statement to AL.com. "The Legislature will encourage a vigorous appeals process, and we will continue defending the Christian conservative values that make Alabama a special place to live."
Some 81 percent of voters in Alabama approved the Sanctity of Marriage Amendment in 2006 which defines marriage as a union between a man and a woman. It further bans the state from recognizing same-sex marriages performed in other states.
U.S. District Judge Ginny Granade, however, ruled that the Alabama Marriage Protection Act as well as the amendment that later enshrined it in the state constitution both were unconstitutional. The laws, she argued, violated the Equal Protection Clause and the Due Process Clause in the 14th Amendment to the U.S. Constitution. There is, however, currently a 14-day stay on Granade's ruling until Feb. 6.
Todd, however, did not take Hubbard's statement or pushback from other state officials opposing the ruling lightly and took to her Facebook page on the weekend to "throw down the gauntlet".
"This (is) a time where you find out who are accepting, loving people. To say I am disappointed in Speaker Hubbard comment's and Attorney General Strange choice to appeal the decision is an understatement. I will not stand by and allow legislators to talk about 'family values' when they have affairs, and I know of many who are and have. I will call our elected officials who want to hide in the closet OUT," Todd stated in her Facebook post according to AL.com.
She hasn't called out any names yet but she warned: "Don't start throwing bricks at my window when yours is already cracked as well…I'm very upset about Hubbard's (comments) and what he said about the ruling."
Responding to Todd's threat's Hubbard said in a statement: "I consider Rep. Todd a friend, and we have always enjoyed a good and cordial relationship, so I am sorry that she is upset about my remarks."
He continued: "We do have a fundamental disagreement on allowing same-sex marriages in Alabama, and I will continue to voice my opinion on this important social issue, just as I expect she will continue to voice hers, but we can disagree without being disagreeable."
Alabama Supreme Court Chief Justice Roy Moore reportedly released a letter to the state's Gov. Robert Bentley indicating that he will continue to recognize Alabama's ban on same-sex marriage and encourage him to support the move.
"As Chief Justice of the Alabama Supreme Court, I will continue to recognize the Alabama Constitution and the will of the people overwhelmingly expressed in the Sanctity of Marriage Amendment," wrote Moore in the letter to Bentley according to AL.com.
"I ask you to continue to uphold and support the Alabama Constitution with respect to marriage, both for the welfare of this state and for our posterity," Moore continued. "Be advised that I stand with you to stop judicial tyranny and any unlawful opinions issued without constitutional authority."
Gov. Bentley reacted in the affirmative in a follow-up statement.
"The people of Alabama elected me to uphold our state Constitution, and when I took the oath of office last week, that is what I promised to do," he said.
"The people of Alabama voted in a constitutional amendment to define marriage as being between man and woman. As governor, I must uphold the Constitution. I am disappointed in Friday's ruling, and I will continue to oppose this ruling. The Federal government must not infringe on the rights of states."
Nevertheless, Todd reiterated in an address on the issue that she is willing to sacrifice her political career to ensure that the ruling stands.
"Many of you all know that I have thrown the gauntlet down to my elected peers that should they decide to go and spout that family value that I'm gonna call them out and I'm willing to jeopardize my political campaign to do it. This is the fight of our life. This is why I ran for office. I'm not a politician, I'm an activist, this is part of what I want to do," said Todd addressing the issue in a video posted to YouTube.
The U.S. Supreme Court is expected to deliver a ruling on same-sex marriage in June after listening to arguments from both opponents and proponents of the issue.