Gay Masses Halted by Catholic Leader in England; Pastoral Care to Continue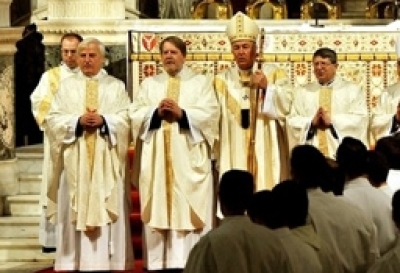 The Archbishop of Westminster, Vincent Nichols, who is the Roman Catholic Church leader of England and Wales, has said that special masses for gay people in Catholic churches will be scrapped.
"The moral teaching of the church is that the proper use of our sexual faculty is within a marriage, between a man and a woman, open to the procreation and nurturing of new human life. As I stated in March 2012, this means 'that many types of sexual activity, including same-sex sexual activity, are not consistent with the teaching of the church'," Archbishop Nichols expressed in a statement.
The bishop insisted that gay people will continue to receive "pastoral care," but services targeted specifically for homosexuals at Our Lady of the Assumption Church in London would end, The Times of London reported.
The debate on same-sex marriage has intensified in England, with both the Anglican Communion and the Catholic Church remaining firmly opposed to government plans, backed by Prime Minister David Cameron, to legally change the definition of marriage by 2015.
Archbishop Nichols has been particularly opposed to attempts to redefine marriage, saying that a bill that would legalize gay marriage is "undemocratic," and a "shambles."
During a Christmas Eve Mass at Westminster Cathedral, Britain's Catholic Church leader added: "Sometimes sexual expression can be without the public bond of the faithfulness of marriage and its ordering to new life. Even governments mistakenly promote such patterns of sexual intimacy as objectively to be approved and even encouraged among the young."
Gay rights activist group Stonewall, which is based in Britain, told BBC that they are disappointed with the decision to end special Masses for gay people.
"It is a real shame he's taken away an opportunity for gay Catholics to celebrate Mass in a safe environment," the group said.
Ruth Hunt, Stonewall Director of Public Affairs, who confesses to be Catholic, added: "Given what's happened over Christmas, where there were vitriolic and mean messages from pulpit about same-sex marriage, there has never been a more important time to provide a safe space for gay Catholics to pray."
Archbishop Nichols revealed, however, that the gay Catholic group who will no longer have specialized masses at Our Lady of the Assumption Church will be offered the use of another church, Immaculate Conception in Mayfair, where they will be able to meet and receive pastoral care.
"Over these years, the situation of people with same-sex attraction has changed both socially and in civil law. However, the principles of the pastoral care to be offered by the Church and the Church's teaching on matters of sexual morality have not," the Archbishop explained.
Meanwhile, the British government has proposed, as a compromise, for Anglican churches in the country to be barred from performing gay marriages if such a law is to be passed, in an attempt to assure religious leaders that they will not be forced to conduct ceremonies that conflict with their beliefs and go against official church teachings.
"We need to be fair to same-sex couples. The state should not be banning them from such a great institution," Culture Secretary Maria Miller has said. "But equally we need to be fair to people of faith. Churches have the right to fight for and articulate their beliefs, and be under no compulsion to conduct same-sex marriages."
Church leaders fear, however, that separate European laws on equal rights may still force them to conduct same-sex marriages if the British parliament passes the bill, regardless of reassurances to the contrary.