Gays Attended 'Duck Dynasty' Star Phil Robertson's Church, Says Pastor
The pastor of the church attended by the Robertsons of A&E's "Duck Dynasty" says family patriarch Phil Robertson knows gay people who have attended the church.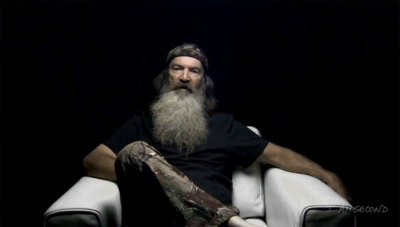 "We've had people here before that struggle with that sin. He knows them. It's not a negative thing," said Mike Kellett, senior pastor of White's Ferry Road Church of Christ in West Monroe, La., in an interview with The Wrap.
Kellett says gays have attended the church before, though he wasn't sure if there were currently any in the congregation. The message he says the church has for gay attendees is a simple one: "We love you, we're glad you're here." He also addressed claims that Robertson's views on homosexuality are just bigotry masked by religion.
"They don't know him," Kellett told The Wrap. "People can think what they want. It's a free country. … I don't hate anyone just because they believe different."
Robertson was suspended indefinitely by A&E last week after GQ magazine published an interview in which he expressed his belief that homosexuality is a sin. He also indicated that other sexual activities, such as "sleeping around" and bestiality, are sinful.
"We never, ever judge someone on who's going to heaven, hell. That's the Almighty's job. We just love 'em, give 'em the good news about Jesus-whether they're homosexuals, drunks, terrorists. We let God sort 'em out later, you see what I'm saying?" Robertson told GQ.
While many people were outraged by his comments about homosexuality, others were angered that the network suspended him for sharing his religious convictions, which are widely shared by many Christians. More than 1.5 million people have "liked" the "Stand With Phil Robertson" page on Facebook, and nearly 1.8 million people have "liked" the page calling for a boycott of A&E until Robertson is reinstated.
Hundreds of thousands of people have also signed petitions demanding that A&E reinstate Robertson, including a Change.org petition that has more than 100,000 supporters and a petition started by Faith Driven Consumer that has more than 200,000 signatures.
The Western Center for Journalism said in an article on Monday that A&E's email servers may have been overwhelmed with messages criticizing the network. More than 40,000 petition signers have sent messages to A&E Networks executives through WCJ's petition website. Some messages sent to the network's viewer relations email address have been met with a "soft bounce" return, which the publication claims is most likely caused by the network's inbox being full.
"Considering the level of email correspondences national networks must be prepared for, it would be a testament to the resolve of outraged Americans for the mailbox to reach its limit," wrote WCJ writer B. Christopher Agee.
It is unclear as to when Robertson's suspension will be lifted, though an anonymous, inside source reportedly told Entertainment Weekly that he will likely return in the fifth season of "Duck Dynasty," which is scheduled to premiere Jan. 15.
The source also told the publication that the network hopes some of the furor over the situation will subside during the holidays and that "tensions over shooting future episodes can then be resolved."
I am Second® - The Robertsons