Gender Roles in Marriage (Part1): Couples in Traditional Marriage Roles Have More Sex, Study Finds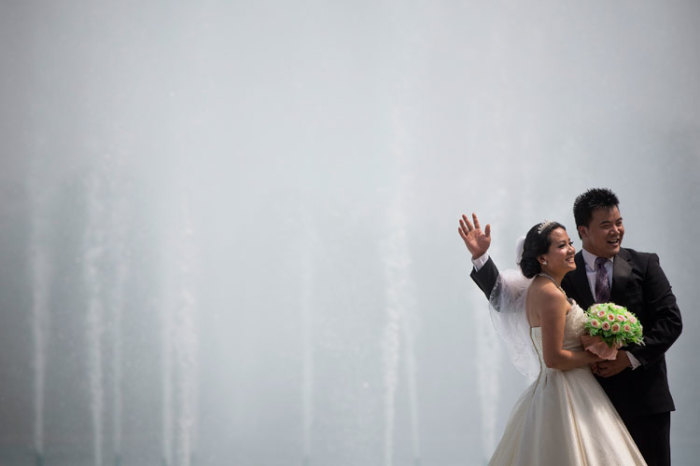 A recent study suggests that married couples will have more sex and be less likely to divorce if they assume more traditional gender roles where the husband does 40 percent of the housework and the wife earns 40 percent of the income. Some experts disagree, however, over whether or not the study supports these gender roles within a Christian a marriage.
"I don't do theology by polling, but I'm glad to cite any study that shows God's blessing of following His plan for men and women," said Owen Strachan, vice president of The Council on Biblical Manhood and Womanhood. "This particular study gives evidence that there definitely are differences between men and women - that men are called to provide and there's a certain mystery to manhood that draws women," Strachan told The Christian Post in a recent interview.
Mimi Haddad, president of Christians for Biblical Equality, vehemently disagrees. "Biology is not destiny; following Christ is destiny," Haddad declared in an interview with CP on Wednesday.
Haddad asserts that "marriage today is more about self-satisfaction and self-gratification, whereas in earlier days it was about serving the world, serving God." Rather than worrying about how much fun they will have in the bedroom, Christians should focus on maximizing their service to God and others.
The study, Egalitarianism, Housework and Sexual Frequency in Marriage, appeared in The American Sociological Review in December, and a New York Times magazine editorial reviewed its findings earlier this months and suggests the results go against popular assumptions that "marriages improve by becoming more equal [and therefore] the sex in these marriages will improve too. Instead, it found that when men did certain types of chores around the house couples had less sex."
When men do certain chores they're considered feminine, and the couple reportedly had less sex. "In an attempt to be gender-neutral, we may have become gender-neutered," quipped the NY Times.
Mark Yarhouse, a Christian expert on sexual identity and author of Understanding Sexual Identity: A Resource for Youth Ministry, explains that "our culture is a little caught up on sexual activity." He mentioned worldwide studies that reveal the value of sexual egalitarianism for intimacy.
Yarhouse cited Edward Laumann's sexual survey involving 27,000 people across the world, investigating "nations where there are pretty rigid cultural norms verses more egalitarian social norms." In such broad studies, Yarhouse reported, "you are seeing greater satisfaction in the countries that would be more likely to be egalitarian." People in such societies tend to be interested in satisfying the desires of both partners, so the quality of intimacy is greater.
"When you're in a culture where men are more traditional and those gaps are more significant, you may have practices and habits that are less fulfilling to the female," Yarhouse explained.
God's design and blessing

"There's a design for our sexuality and a design in our bodies," Strachan said. "When we respect that design, we receive God's blessing." He believes that this study supports his view of biblical gender roles. "Men who return home sweaty do more to attract their wives than men who have been at home all day caring for the children."
Strachan suggests that God designed men for work outside the home and women for work within it. "Adam was made to do hard things and to provide for his family," and there is a fundamental "dominion-taking nature in masculine work." Likewise, women's role is written in their body – women have a womb "made, if they're called, for raising children," while men lack that part of the anatomy.
"Gender revisionists working in the fertile fields of the radical academic classroom have indoctrinated us to think there is no essential difference," Strachan explained. But this study proves them wrong. "Women respond well to men when they get off the couch, stop goofing off, and take on hard things, especially when they do so to honor the Lord Jesus Christ and to honor His Gospel."
Equality in a Christ-centered marriage

Haddad, however, believes that the Bible calls men and women to share authority in the home, the church and society – not to have a better sex life, but to honor God. "Is sex the highest indicator of a good marriage?" she asked, doubtfully.
"Historically, self-satisfaction as an indicator of holy marriage wasn't a primary concern for Christian couples," Haddad explained. "They weren't asking 'are we having a good sex life?' because they were told to be as self-sacrificing in the bed as they were in life."
"The porn industry conveniently ignores the deep rootedness of rich marriages that completely endeavor to exemplify the self-sacrifice best modeled in Christ," Haddad emphasized. She praised Phoebe Palmer, an evangelist and writer and one of the founders of the Holiness movement.
Palmer "was the social and spiritual leader and innovator of her day and her husband (a prominent physician), danced around her speaking responsibilities," Haddad explained. "Their marriage was viewed as one of the best marriages in New York City," not because they had a fabulous sex life, but because "their marriage was a marriage of service." Their success "had nothing to do with roles, but about following Christ."
Consequences of sin
Haddad also asserts that the rule of man over woman was not in God's original plan, but came as a consequence of The Fall, and therefore has been wiped away in Christ's redemption.
"A woman's desire is for her husband and his rule over her – this is a consequence of The Fall, like death and struggle and work," the CBE president declared. "The consequences of The Fall should be opposed, not indulged."
"Paul the apostle, the theological architect of the church was no idiot, but an outstanding genious," Haddad said.
She believes that Paul knew he was flipping the established patriarchal order on its head when he emphasized that husbands also have duties to their wives.
Husbands are the head of the household "just as Christ is head of the Church – not like the head of Roman culture – the head sacrifices Himself," Haddad explained, adding that there were two couples praised as leaders in the New Testament – Andronicus and Junia, both slaves and apostles from Romans 16:7; and Priscilla and Aquilla. "They shared authority in their responsibilities," she said.
"Our identity is not in our culture, ethnicity or gender, but in our being in Christ," Haddad concluded.