Georgetown University Appoints Hindu Priest as College Chaplain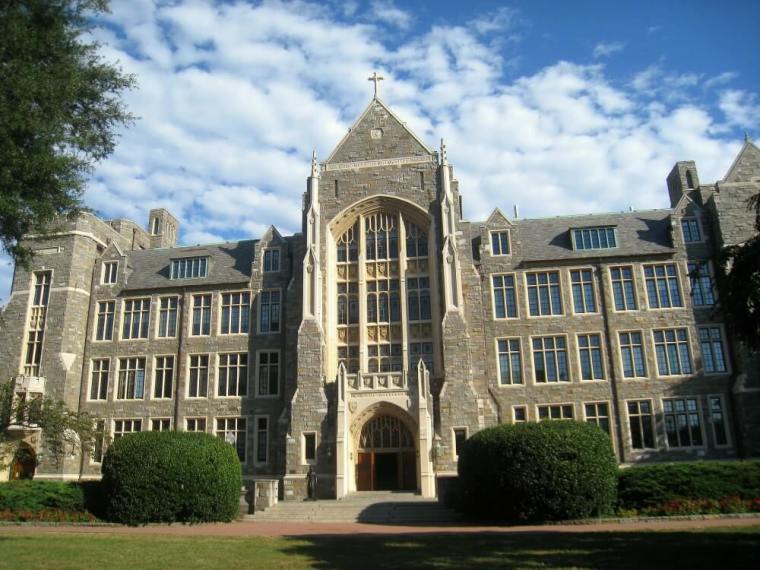 Georgetown, a Jesuit university, is now the first academic institution in the United States with a Hindu chaplain, Brahmachari Vrajvihari Sharan, who led the first Hindu worship service on campus on Sunday.
Sharan began the morning service by asking worshipers, about 40 college students, to still their minds. "Close all the tabs that are open, just as you would do to a Firefox window," he said, according to The Washington Post.
The first Hindu priest to serve in the role of chaplain at any university in the United States, Sharan was wearing a traditional white garb as he chanted Sanskrit mantras and played the harmonium as he led the service on campus in Washington, D.C.
"All of us students, we're religious and Hindu, but we wouldn't have been able to do what Brahmachari-ji (names are suffixed with "ji" in India to show respect)," Neharika Khandavalli, a senior at the university, was quoted as saying.
Sharan, who is 31 years old, was trained as a priest at ashrams in India, completed his PhD in Sanskrit at the University of Edinburgh and taught at universities in Wales and London.
Georgetown is now seeking a graduate assistant to support the Hindu chaplain. "The Hindu Life Graduate Assistant is expected to support the new Hindu Chaplain with development and implementation of Hindu Life programming through the Office of Campus Ministry."
"Part of our mission and our ethos is our desire to form the whole person," the Rev. Greg Schenden, a Catholic chaplain at the university, was quoted as saying. The university also has a rabbi and an imam as chaplains.
"I am pleased to announce the appointment of Brahmachari Vrajvihari Sharan as Georgetown's first full-time director for Hindu life and the first Hindu priest chaplain in the United States," the Rev. Howard Gray, S.J., interim vice president for mission and ministry at Georgetown, said in a statement. "Br. Sharan was drawn to Georgetown by its commitment to interreligious student formation, and by the vibrancy of the university's Hindu community."
"Since its founding in 1789, Georgetown has welcomed a diverse community of students, faculty and staff," the college says on its website. "More than two centuries later — inspired by the Jesuit principles of equality and respect for all — we continue to build bridges of understanding within our multicultural campus community.
"We provide a network of resources to support our students, faculty and staff. Faculty teach a range of courses analyzing dimensions of diversity in the United States and around the world. Students lead a variety of groups celebrating cultural traditions and advocating for respect and inclusion. Georgetown is an equal opportunity employer and makes a concerted effort to hire and retain a diverse community of faculty and staff."