Georgia School District Retrains Staff After School Police Officer Handcuffs 6-Year-Old Special Needs Student
Georgia School District Retrains Staff After School Police Officer Handcuffs 6-Year-Old Special Needs Student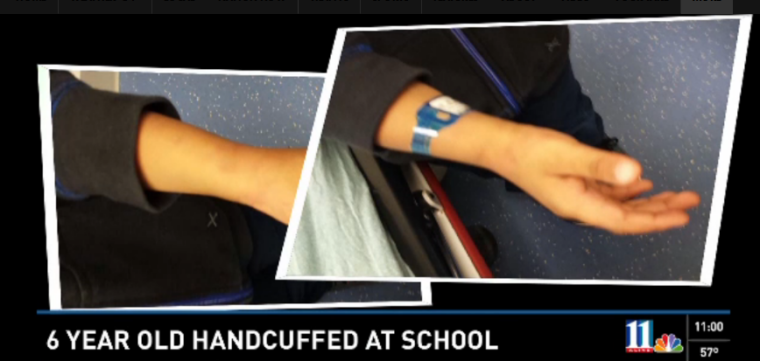 A Georgia school district said it will provide additional training for campus police officers and staff after a mother complained that a School Resource Officer unnecessarily handcuffing her 6-year-old special needs child last Friday.
Lakaisha Reid told local news station WXIA that she found her son, Patrick, handcuffed at Pine Ridge Elementary School after the school contacted the family to report the boy's troubling behavior. Patrick had reportedly exhibited violent behavior that had put his health and others' at risk.
"My husband got a call that something was going on with Patrick at school, and they needed us to come. We go into the school and a gentleman takes us back. I hear my son yelling and screaming," she told WXIA.
The DeKalb County School District, to which Pine Ridge Elementary School belongs, has since released a statement to The Christian Post stating: "Additional training for School Resource Officers and other school staff for dealing with similar circumstances will be provided."
According to the district, the decision was made to handcuff Patrick after the student exhibited a number of harmful behaviors, including running into a busy street and running into walls.
"A 6-year-old student at Pine Ridge Elementary School was acting in a disruptive manner and being self-destructive during school today. He ran out of school onto a busy, public street and was pursued by three school staff members. The student was secured and returned to the school and placed in a room with a special education teacher, the school counselor and the School Resource Officer to protect him from doing harm to himself.
The statement continues: "After several unsuccessful attempts, his parents were contacted and asked to come immediately to the school. For approximately one hour, the student was scratching, kicking and hitting school personnel and continued to exhibit violent behavior, running into walls, banging his head on tables and placing his health at risk. At this point, the SRO placed handcuffs on the student to protect him from harming himself. When the parents arrived, they were told the student was handcuffed for his personal safety."
Reid said she does not believe Patrick was harming himself and says it was inappropriate to handcuff a 6-year-old boy.