Georgia tragedy brings awareness to spa sex trafficking industry, how churches can help exploited women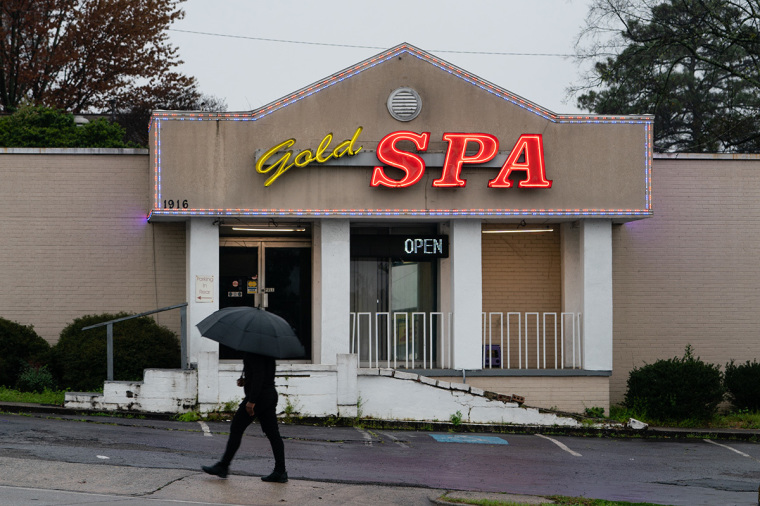 As last month's shootings at three Georgia massage parlors gained national media attention, an advocacy group says the tragedy presents an opportunity for churches to raise awareness and help the women being trafficked by illicit massage businesses nationwide. 
Illicit businesses masquerading as massage parlors or spas are the second-largest reported form of human trafficking in the United States. With 9,000 establishments across the country, it's a booming $2.8 billion industry for those who prey on vulnerable women, the advocacy group Street Grace has warned.
Street Grace, a faith-based organization that seeks to eradicate sexual exploitation, released a report last year detailing the breadth of the illegal massage businesses in Georgia. The report was published months before national attention turned toward the mass shooting at three Atlanta-area massage parlors by a man who told authorities that he sought to eliminate "temptations" as he battled sex addiction. 
Street Grace President and CEO Bob Rodgers told The Christian Post that they "know for a fact" there is a nationwide trend among massage parlors and spas operating furtively to offer illegal sexual services under the guise of a legitimate business. Many of them exploit vulnerable women. 
These businesses often have tinted windows, concealed parking places, late business hours and a bell to ring before entry.
Though massage parlors are often legitimate, these businesses are sometimes a front for brothels, sex trafficking and illegal sexual activity. Rodgers warned that they fly under the radar.
"They are really hidden in plain sight," Rodgers stressed. 
"They look like they are a legitimate business. They provide cover for the people that would visit them with less than pure intentions because it's two doors down from the grocery store. It's next to the drugstore and in between the Hallmark card shop and the beauty salon or nail salon. And so, people just don't pay attention. It gives cover to what in our research is overwhelmingly men who visit these spas, and some, if not a large extent, have less than pure intentions. And they are going there for inappropriate sexual activity."
Street Grace published a report in 2020 focused on illicit massage businesses in Georgia and calculated data from the user-generated reviews on RubMaps.ch and video surveillance.
The report estimated there to be between 1,025 and 1,320 customers each day who visit illicit massage businesses in Georgia. And the annual gross revenue from these businesses is estimated at over $42 million. Nearly 1,100 unique individuals are believed to be victimized annually in the state.
Rodgers said the tragic Atlanta shooting targeting massage parlors brought to light the reality of the illicit massage businesses.
On March 16, Robert Aaron Long, 21, killed eight people in a shooting rampage of three massage parlors. Six of the eight victims were Asian women, and the two others were white, a male and a female.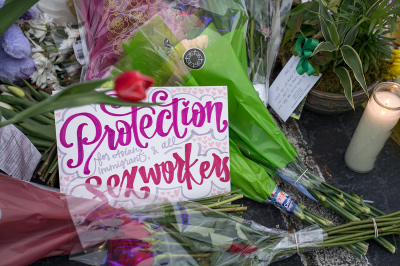 Long told police he saw women who worked at the spas as "temptations" he needed to "eliminate," referring to his sexual addiction.   
"He alone is responsible for his evil actions and desires," Long's church said in a statement at the time. "The women that he solicited for sexual acts are not responsible for his perverse sexual desires nor do they bear any blame in these murders. These actions are the result of a sinful heart and depraved mind for which Aaron is completely responsible."
Police have not indicated whether the shooting victims were sex workers or human trafficking victims, USA Today reported.  
The Washington Post reported that Gold Spa, one of the businesses attacked, had been the subject of prostitution stings by the Atlanta Police Department. The newspaper obtained police reports indicating that police conducted seven undercover stings at Gold Spa and made 10 arrests during a two-year period from 2011 to 2013. 
Despite the tragedy, Rodgers believes good will come from the situation since more people are now aware of the reality of illicit massage businesses.
"It is a shame, but it is often true that tragedy breeds awareness," Rodgers said. "And so, when the Robert Kraft situation came to light, there was a spike in awareness and people's interest. … Our attention spans are relatively short. And then something like [the Atlanta shooting] that is obviously a horrific tragedy and lives were lost, it was just completely unnecessary. [And] it does draw attention to [this industry]. … Good will come from it. I hate that it takes a tragedy sometimes, and that was completely unnecessary. But good, I believe, will come from this."
Rodgers explained how traffickers often lure young Asian women to the U.S. with the promise of a better life and the ability to support their families back home.
"They get here, and they immediately find out they are here on false pretenses. They were misled," he said.
Traffickers then use a series of physical threats and deception to trap them, he said. The women are often in debt bondage after accumulating high debts during their passage to the U.S., which forces them to engage in illicit activity to earn money.
They are made to believe speaking to law enforcement will lead to deportation, and traffickers sometimes threaten to harm their family members if they come forward.
The exploited women are often placed in a situation where they have no choice but to respond and comply, he added.
"There are people [from all kinds of backgrounds] … [who] may not be held in handcuffs, but they are held in servitude and bondage and psychological bondage in these situations where they are forced to exploit themselves and perform acts that they would not have any interest to do and would not do in any other circumstances," Rodgers shared.
An estimated 40 million people are subjected to some form of modern-day slavery as of 2016, according to the Global Slavery Index. And 71% of all enslaved victims are women.
"The most powerful form of bondage is not of ropes and chains," Rodgers detailed. "That doesn't really occur that much in the U.S. It's the guilt and the shame that come along with all of this that is so powerful with keeping people from coming forward about this."
To be considered sex trafficking, a situation must include either force, fraud or coercion.
A New York Times article published in March 2019 explained how tens of thousands of mainly foreign women or immigrants are trapped in an underground crime network and a "modern form of indentured servitude" where they are forced or coerced into performing illegal acts in the shadows at illicit massage parlors.
Many women are forced to work in this industry to pay for enormously high debts accumulated against them by traffickers.
Business regulation loopholes allow traffickers to manage criminal human trafficking networks under the guise of massage parlor businesses. Many of these businesses do not have an actual person listed on their business records at all to avoid blame, according to the Polaris Project. 
When law enforcement agencies conduct raids and shut down illicit massage businesses, spa owners re-open elsewhere. The owners often have employees live at the business and spend only a few months at a spa before sending them off to another state to work, The New York Times reported.
The Polaris Project, the organization behind the National Trafficking Hotline, noted that victims of massage parlor trafficking are often immigrants from China or South Korea. They often carry debts or are under extreme financial pressure, speak little English, have no more than a high school education or are mothers.
When criminal prosecution does occur, the victims of human trafficking or massage therapists are charged while the traffickers escape punishment.
"In reality, the laws governing business registration are almost tailor-made for massage parlor traffickers to hide behind," the Polaris Project stated in a report.
The Church, Rodgers said, can play an essential role in fighting for this industry's victims.  
Ashleigh S. Chapman, a human rights lawyer and founder of Engage Together, an organization that helps churches fight human trafficking, told CP in a February interview that churches are "uniquely positioned" to make a difference in the fight against human trafficking.
Rodgers said local churches should be supportive of law enforcement and understand their role in the process of investigating and uncovering the illicit massage industry.
He said Christians should become more involved in the legislative process and join city councils to guide laws that can make it "improper" for such businesses to exist.
Ultimately, the Church must provide hope to those trapped in this industry since the women exploited are often hopeless and see no way to escape.
"From a Christian perspective … [those exploited by the illicit massage industry] are people who are in the most likely of circumstances to be without hope," Rodgers explained. "We think of all the different things we can do as the Body of Christ. But what we have to bring more than anything else, we have to give hope."
"People are often not motivated to change unless they see something that is hopeful, encouraging, something they feel like is better, safer and can lead them to a different place," he added. "I think one of the things that is so dark about the illicit massage business … is that there's just such a loss of hope and sense of discouragement and helplessness."
The Street Grace report offered policy recommendations to address exploitation in the illicit massage industry and remove some of the loopholes that allow the industry to thrive. 
Suggestions include the mandatory display of business licenses, a record of all activities conducted at massage businesses, mandatory business hours and a complete list of all the establishment's services. Raising awareness about the issue is also essential.