Hundreds Arrested in Germany in Anti-Islamisation Clashes Over Refugee Sex Assaults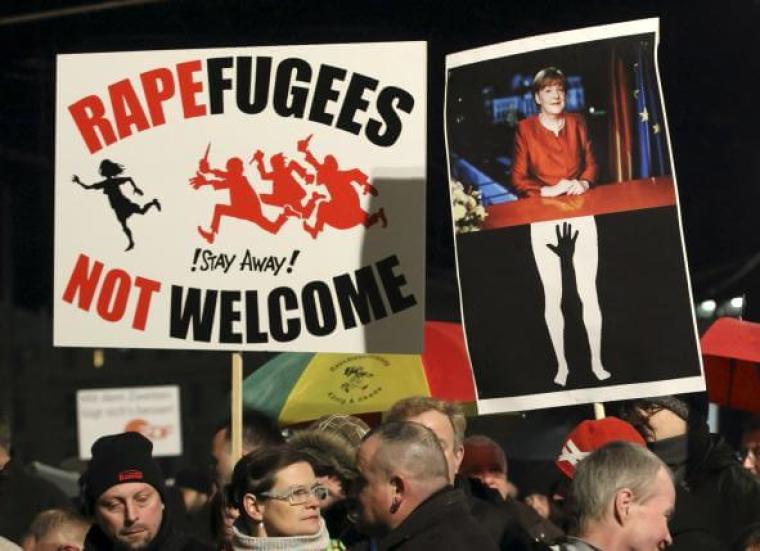 Over 200 people were arrested on Monday at a large anti-Islamisation protest in the German city of Leipzig, clashing with police over the mass sex assault attacks carried out by suspected refugees on New Year's Eve.
BBC News reported that close to 2,000 supporters of the Patriotic Europeans Against the Islamization of the West movement (Pegida) marched through Legida in protest against Chancellor Angela Merkel's open-door refugee policy, which saw Germany welcome in close to 1.1 million asylum seekers in 2015.
The nation was rocked by news of mass sexual assaults in Cologne and other cities over New Year's Eve when thousands of suspects believed to be from Arab and North African backgrounds groped, assaulted, and in some cases raped women out on the streets. Well over 500 cases of assault were reported in Cologne, sparking protest marches in several cities.
Police in Leipzig said that 211 Pegida followers were arrested on Monday for vandalism, smashing windows and burning vehicles. Tensions also rose due to counter protests by left-wing activists, who themselves vandalized a bus that had been hired by Pegida supporters.
The Pegida movement rose up in the late stages of 2014, aimed at countering what it sees as Islam's growing influence on Western culture.
CNN noted that 40 percent of the 553 criminal complaints reported in Cologne were of sexual assault, and so far at least 31 people, most from North African or Middle Eastern countries, have been charged with the crimes.
Cologne police Chief Wolfgang Albers was fired in the aftermath of the attacks following public criticism against the city's handling of the assaults, admitting that his department failed to report on the incidents in a timely manner.
Mayor Henriette Reker has also been criticized for advising women to keep "more than an arm's length" away from unknown men on the streets, though later claimed that her remarks were taken out of context.
German politicians have urged for calm, and promised that those responsible for the Cologne attacks will be brought to justice.
The government has announced that changes will be made to allow for an easier process when it comes to deporting foreign criminals and sex attackers of refugee status, with Justice Minister Heiko Maas declaring that no one is above the law.
"We will tighten criminal law to make deportation easier," Maas said, but insisted that should not mean that asylum-seekers are to be held under extra scrutiny.
Merkel has insisted that Germany will not start closing off its borders to refugees, but also promised tough action for those responsible for such attacks on women.
"The right to asylum can be lost if someone is convicted, on probation or jailed," the German Chancellor said earlier this week.
"Serial offenders who repeatedly rob or repeatedly affront women must feel the full force of the law," she added.
"The events of New Year's Eve have dramatically exposed the challenge we're facing, revealing a new facet that we haven't yet seen."