'Ghost' North Korean Ships With Dozens of Dead Bodies Wash Ashore in Japan
'Ghost' North Korean Ships With Dozens of Dead Bodies Wash Ashore in Japan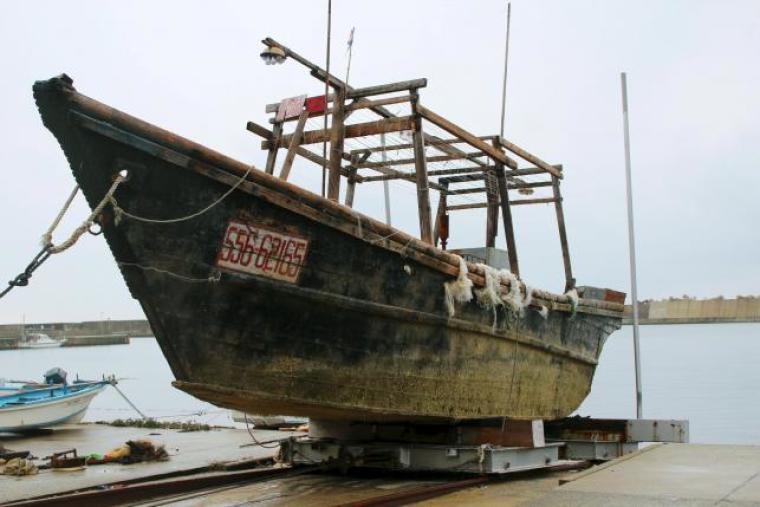 Japanese coast guards have reported a string of North Korean vessels containing dozens of dead bodies washing up on its shores, believed to be the victims of forced labor.
Japanese police reported at least 12 incidents of wrecked wooden boats since October, which have carried on board as many as 22 dead bodies – including five skulls.
Reuters noted that North Korean authorities have not reported any missing boats, but critics have pointed out that leader Kim Kong-Un has been forcing fishermen to work harder and harder and earn more foreign currency.
"Kim Jong-un has been promoting the fisheries, which could explain why there are more fishing boats going out," said Kim Do-hoon, a professor of fisheries science at Bukyong National University in Busan.
"But North Korean boats perform really poorly, with bad engines, risking lives to go far to catch more. Sometimes they drift and fishermen starve to death."
While Japanese authorities have not yet commented on the possible identities of the dead, a handwritten sign on one of the boats identified it as belonging to a North Korean army unit, while a video showed tattered cloth from one of the vessels that appeared to have come from a North Korean flag.
The United Nations has accused the North Korean government of earning billions of dollars by forcing tens of thousands of its citizens to work abroad under slave-like conditions.
"I think it reflects the really tight financial and economic situation in the North," said Marzuki Darusman, the U.N. special rapporteur on human rights in North Korea, in a report in November.
Kim's regime was accused of forcing more and more of its citizens to work abroad in countries like Russia and China, where many are forced to labor 20-hour work days, while being given inadequate food and a minimal monthly paycheck of only $120 to $150.
Darusman also warned that companies hiring North Korean workers can "become complicit in an unacceptable system of forced labor."
When talking about the boats with dead bodies washing up in Japan, Kim Do-hoon noted that October is a prime season for squid, sandfish and king crab off the east coast of the Korean peninsula, which could explain the high number of boats at sea.
The official KCNA news agency has said that boosting food production has been made a priority by Kim, who recently visited a KPA fishing station on North Korea's east coast, calling for the facility to be upgraded.
"Modernisation of the station will help it catch more fish, [Kim] said, adding: The station should be turned into an up-to-date fishery base which can be boasted of in the world, thus making our ongoing efforts produce good results for the service persons and civilians," the KCNA report from November said.
Lee So-yeon, a North Korean army defector, added that civilians are often hired to catch fish and make money for the military.
"North Korean army units and security agencies are running many businesses to earn foreign currency from mining gold to catching fish on the west and east coasts," said Lee.