'Gift of Life' Changes Perry's View on Abortion Exceptions
Emily's List, a liberal women's group, ranked Rick Perry the least bad in a scorecard of all the presidential candidates. The scorecard was released the same day that Perry announced a change in his views on abortion after meeting a woman whose life was the result of rape. He no longer wants to keep abortion legal in cases of rape and incest.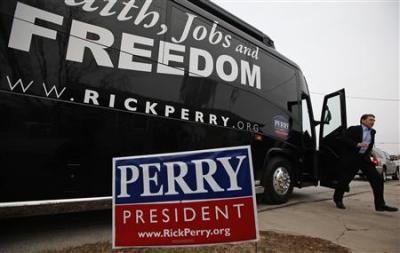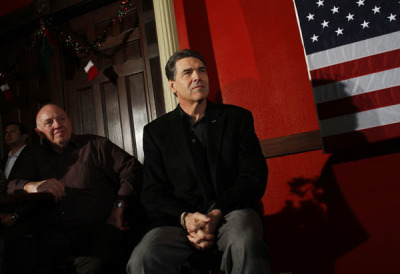 Emily's List scored all seven candidates in five categories. They had strikes against them for opposing abortion, opposing President Obama's health care reform, opposing Obama's jobs bill, supporting reforms for Social Security and Medicare, and opposing equal pay legislation, medical leave legislation and the Equal Rights Amendment.
Emily's List was formed in 1985 with the goal of electing pro-choice female politicians.
All the candidates had at least one strike against them in each category, except for one. Perry had a positive mark because he supported the Equal Rights Amendment. The ERA would have amended the Constitution to say the men and women have equal rights under the law, but it failed to receive enough state ratifications by its 1982 deadline. Perry, the current governor of Texas, was a Democrat in the 1980s. Texas was one of the states that ratified the ERA and it had already added an ERA to its state constitution before Perry entered politics.
While Perry was the most favorable (or least unfavorable) with six strikes against him, former Speaker of the House Newt Gingrich had the most strikes against him with 14.
Emily's List may, however, need to reevaluate its score for Perry after Tuesday night. At a campaign event in Iowa, Perry said he changed his mind about abortion exceptions. Previously, Perry was pro-life but wanted abortions to be legal if the pregnancy occurred because of rape or incest.
Some abortion opponents would allow abortion if the pregnancy is the result of rape or incest, because, they argue, in those extreme circumstances the welfare of the mother takes priority, and the mother would benefit from aborting the fetus. Other pro-life advocates argue that all life is worthy of protection, regardless of the circumstances under which that life was conceived.
"You're seeing a transformation," Perry told a pastor at the event, according to The Associated Press.
Perry credited a pro-life documentary with his evolving views on abortion. Perry attended a special screening of "The Gift of Life," narrated by Mike Huckabee, on Dec. 14 in Iowa, where the nation's first caucus will be held on Jan. 3. At the screening, Perry met a woman featured in the documentary whose life was the result of her mother being raped. "I am the product of a rape," and "my life is worth (it)," she told Perry.
"It was a powerful moment," and the woman "pierced his heart," Perry explained in recalling the encounter. "All I can tell you was God was working on my heart."
The Christian Post Daily Report 12.28.11