Gisele Bundchen: Yoga With Baby Photo Promotes A Healthier Lifestyle
Gisele Bundchen made waves on after posting a personal photo taken of herself with her daughter while practicing yoga this week. The 32-year-old supermodel is well known for leading a healthy lifestyle, and Wednesday's Twitter post was no exception.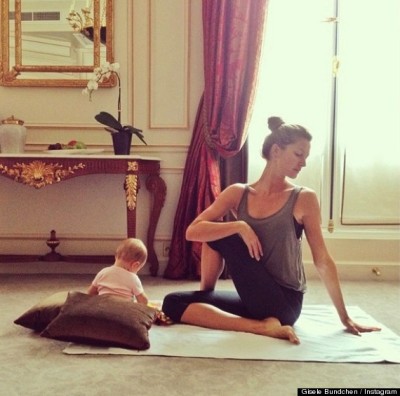 "Practicing yoga with my little partner before going to work," Bundchen wrote on the micro blogging site, including a photo of herself in a yoga pose beside her baby daughter.
"Enjoy your day," the Victoria's Secret model cheerily added.
A frequent Twitter user, Bundchen post provides an insight to the model's life as she balances work, motherhood, and health.
Furthermore, the Dolce & Gabbana model serves as a role model for parents who struggle to maintain their health despite the chaos that can come with young children.
By propping her daughter up against pillows beside her, Bundchen was able to practice yoga and reap the health benefits all while still caring for baby Vivian.
In addition to 4-month-old daughter Vivian, Bundchen and her husband, New England Patriots quarterback Tom Brady share son Benjamin, 2, and Brady's son John, 3, from a previous relationship.
Cohesive with the positivity found in many of her Twitter posts, Bundchen has also renounced air brushing- instead; the supermodel encourages women to embrace their imperfections.
As one of the highest-paid models in the world, Bundchen is no stranger to the effects of makeup and Photoshop that are used in almost every advertisement found today. However, the Brazilian native also earned praise from fans after embracing an all-natural look in a new ad campaign released last month.
Bundchen shunned Photoshop, professional hairdressing, and makeup during her latest shoot for BLK DMN, claiming that imperfections are beautiful.
"I feel like women should be really real and raw and it doesn't happen anymore [in fashion photographs]," Bundchen explained to Fashionista.com.
The model went on to credit designer and photographer Johan Lindeberg for their collaboration on the adverts for BLK DMN that feature Bundchen au naturale.
"I love that feeling of, you know, we are women, we are so different, our imperfections are what make us unique and beautiful," added the model, according to the fashion blog. "[Lindeberg] gets that. He's not trying to retouch you or put a pretty light on you. He's not like, 'You gotta look a certain way.' He's like, 'you are you, so now I'm gonna just be here with the camera, so express yourself how you like.'"
The model's comments have made waves with readers who have long lamented the rampant airbrushing and use of Photoshop in today's ads.
GISELE BUNDCHEN - Yoga/Stretching Workout