Virginia Gov. Glenn Youngkin donates first quarter salary to Good News prison ministry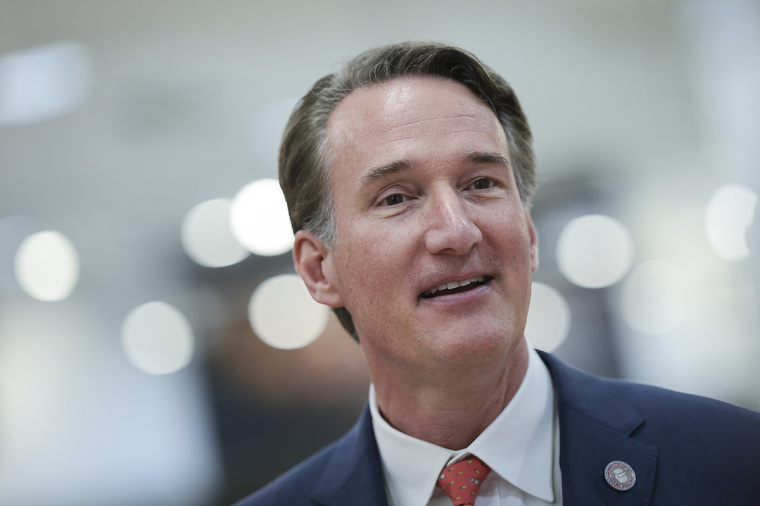 A prison ministry that was the recipient of Virginia Gov. Glenn Youngkin's first-quarter salary praised his action, saying it will help "bring the Gospel to inmates in over 350 jails and prisons worldwide."
While touring Prince William County's Adult Detention Center on March 31, Youngkin announced his decision to donate his first quarter salary to Good News Jail & Prison Ministry, which his office identified as "an organization dedicated to supplying faith-based resources for jails and prisons in the Commonwealth of Virginia and worldwide."
Youngkin presented the ministry, based in Henrico, Virginia, with a check for $43,750.
The governor of Virginia receives an annual salary of $175,000, according to the Council of State Governments. "I pledged to serve without accepting a salary to support Virginians in every way I can," Youngkin said in a statement.
"The Good News Jail & Prison Ministry exemplifies the heart and Spirit of Virginia by providing hope, resources, and transformational opportunities for Virginians," he added. "This administration continues to respect the law and those inside the criminal justice system with increased access to mental health services, best practices for trade skill acquisition and by maintaining excellence in the restoration of rights process, among other priorities."
Virginia First Lady Suzanne Youngkin praised "the life-changing mission" of Good News Jail and Prison Ministry, adding: "We firmly believe that every Virginian deserves an opportunity to flourish and we are grateful for this opportunity to support great and Godly works."
Good News Jail & Prison Ministry reacted to finding out that Youngkin planned to donate his first-quarter salary to their organization in a Facebook post shared last week. The organization declared, "Thank you, Governor Glenn Youngkin and Suzanne, for your gift to bring the Gospel to inmates in over 350 jails and prisons worldwide."
The ministry said Youngkin's donation comes ahead of Second Chance Day, which seeks to raise $150,000 to support chaplains who seek to "share the Gospel with thousands of inmates a year" and thereby give them "a second chance at a new beginning in Christ." As documented on its website, the organization places "Christian chaplains in jails and prisons to minister to the spiritual needs of inmates and staff."
Good News' efforts to meet the spiritual needs of the imprisoned include the Life Learning Program, a "biblically centered program designed to teach inmates how their world and personal view relates to every area of life," including "acceptance as a person, getting along with those around us" as well as the importance of forgiveness, "how to handle 'going to prison,' how to handle 'getting out'" in addition to "responsibility and accountability to family, job and authority."
Good News President Jon Evans described the Life Learning Program as "a structured approach to teaching inmates the truth of God's Word."
He added, "As they grasp what God has done for them in Christ, a flame of hope for their future is ignited, and many begin to believe for the first time that their lives matter." 
Good News has also developed a "Bible Correspondence Course," which "consists of over 400 individual Bible studies" that require "the inmate to study the selected book of The Bible verse by verse." Each study "begins with the Gospel of John and then moves through other books of the Bible and two general discipleship overview courses."
"After the inmate completes each lesson a volunteer grader provides feedback to encourage the inmate in their progress. When an inmate completes all the courses offered they are awarded a Study Bible and other resources for their further spiritual growth."
Serving 300,000 inmates across 22 states and 25 countries, Good News also acts as "the 'humanitarian' providers" for the imprisoned in some cases. It notes that "in many foreign prison systems, inmates are not fed, clothed or provided medical care by the government," putting "family or others on the outside" on the hook for the necessary supplies.
Since taking office in January 2022, Youngkin has donated his quarterly gubernatorial salary to multiple organizations, including the Virginia Law Enforcement Assistance Program, which ministers to law enforcement officials who have experienced "traumatic clinical incidents," the Virginia Veterans Services Program, G³ Community Services, which provides student mentorship to those interest in pursuing careers in science, technology, engineering, the arts and mathematics as well as Pathways, which provides assistance to low-income families.