'God, Come to Our Aid, Forgive Us': Priest Prayed for All 103 Survivors on Mexico Flight That Crashed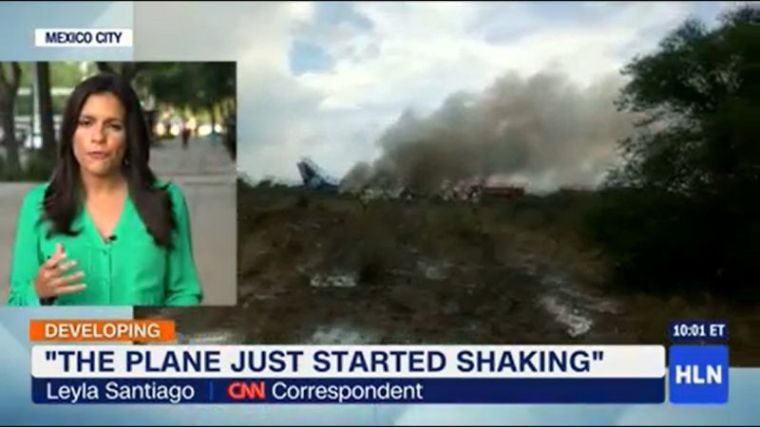 A Roman Catholic priest who was on board a plane that crashed in Mexico on Tuesday has said he prayed to God for help and forgiveness for all 103 people on board who survived. 
The Rev. Esequiel Sanchez of Shrine of Our Lady of Guadalupe church in northwest suburban Des Plaines was on board Aeroméxico flight AM2431, which departed from Guadalupe Victoria International Airport in Durango to Mexico City, when it crashed and caught fire shortly after takeoff.
BBC News reported that all 103 people on board, both crew and passengers, survived, though 97 of them are being treated for injuries. A strong gust of wind is being blamed for the plane's sudden descent.
Sanchez told The New York Times that he had concerns about the plane even before it went down, given that there was a downpour at that time.
"I had a feeling it would be a bumpy ride," he said.
When the plane suddenly plunged, people started screaming as panic spread among the passengers. The priest added that although they didn't know whether they were going to die, in his mind they were "getting ready for it."
He prayed in his seat: "God, come to our aid. Secondly, forgive us, and everyone on the plane."
As Durango Governor Jose Aispuro explained, the left wing of the twin-engine jet hit the ground, which led to the loss of both engines. It then skidded off the runway at the airport and stopped close to 1,000 feet away.
Later, as Sanchez was preparing for surgery to install a titanium plate in his fractured left arm, he said that everyone surviving was a "miracle."
"If the flight was a little bit longer, I don't think we'd be talking," Sanchez added.
"If the plane was running faster, the window for people coming out alive would be much smaller. So yes, I attribute it to an important miracle."
Other passengers, such as Rudy Díaz, 36, a Mexican-American truck owner from Chicago, Illinois, also thanked God for protecting them.
Diaz, who was traveling for the baptism of a friend's daughter, said: "I still can't believe we all made it out alive. You never imagine something like this will happen to you and then you will be alive to tell the story. Thank God he gave us a second chance, and wouldn't let us fly any higher. Otherwise we wouldn't be here."
He also recalled frightening scenes as the passengers tried to leave the burning plane. "It was horrible, people screaming, little kids crying, old ladies could not walk through the mud, and I was trying to help them get away from the plane, which was already in flames," he said.
"The airplane was breaking apart from the get-go when we took off and heard the boom, pieces were falling apart."
The Archdiocese of Chicago meanwhile released a statement expressing relief that Sanchez and the other passengers survived, despite their injuries.
"He sustained some injuries but we are grateful to learn he is alert and resting. We pray for Fr. Sanchez and everyone affected by this plane crash," the statement read.