God Confirmed SCOTUS Prophecy With 2 Signs at Scalia's Funeral, Man Behind 'Trump Prophecy' Claims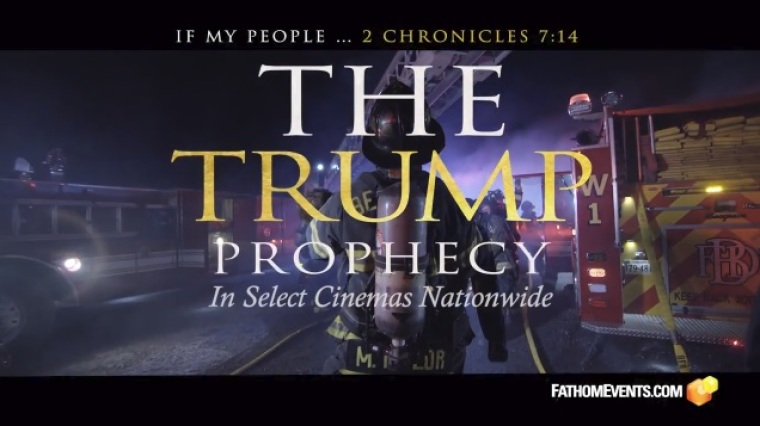 The retired Florida firefighter whose "Trump Prophecy" movie will be featured in an upcoming theatrical release, says God sent two signs during Justice Antonin Scalia's funeral in 2016 to showed that He was reserving the Supreme Court nomination for President Donald Trump.
Mark Taylor, who says God told him in 2011 that Trump would one day be president and the co-author of the recent book "The Trump Prophecies," was recently interviewed on SkyWatch TV to promote the upcoming film "The Trump Prophecy" being released in October and to talk about the recent Supreme Court nomination.
Appearing on the show two days after the nomination of Judge Brett Kavanaugh, host Derek Gilbert wasted no time in asking Taylor about a specific prophecy he had previously declared about how God told him that Trump (a primary candidate at the time) would appoint five U.S. Supreme Court justices to the bench when elected president.
"Originally, God told me there was going to be three Supreme Court justices and ... a little while later, he says, 'No. Now there is going to be five,'" Taylor asserted. "I went back and I started listening to the Lord and He said one will die, one will retire and three will be caught in a scandal."
Taylor claimed that it was three months after God gave him the Supreme Court prophecy that Scalia died in February of 2016, which gave Democrat President Barack Obama the opportunity to nominate Merrick Garland to replace Scalia.
The Republican-led Senate never held a confirmation hearing and left the Supreme Court vacancy unfulfilled until Trump took office in January 2017 and could nominate Justice Neil Gorsuch, who was confirmed last year.
Justice Anthony Kennedy announcing his retirement last month was another part of the prophecy coming true, Taylor suggested.
"So now, the next three. It remains to be seen what that type of scandal may be. Now what that is, I don't know. I don't have a timeline on that. But what the Lord is doing right now with the Supreme Court, he is telling me, 'I am not moving the court left or right.' He said, 'I am moving it toward righteousness.'
Recalling the fact that Democrats pushed to get Garland's nomination through before Obama left office, Taylor said he prophesied at the time that God was reserving that pick for Trump.
"If you go back to Antonin Scalia's funeral, when they were carrying his body up the steps of the courthouse or whatever it was. There were two signs that were given by God that [the confirmation of Merrick Garland] was not going to happen," Taylor said. "We had about an eight-month window there where they could have put another justice in and the entire country was in a full-blown panic at that point and that's when I came out with the other prophecy that the Lord said, 'No, it will not happen. This is being reserved for Donald Trump.'"
According to Taylor, the two signs were given in an audible form, rather than visual.
"Everybody is looking for the signs. Sometimes God, when He speaks, you may have to be listening to what He is saying. There was a siren in the background because there was a reverence there, it was very quiet and there was a siren in the background at the bottom of the steps," he explained.
"Well, when they got to the top of the steps, the siren fades away and all of a sudden you hear this enormous train horn. And what the Lord was saying was, 'Don't fear, America! Help is on the way — the siren — this is being reserved for my anointed, Trump — from the Trump train.'"
Taylor contended: "That is just the way God speaks to me."
"God can have a sense of humor," he added. "He was showing America that this is going to be reserved for Donald Trump. There will be five [justices] coming. When God reforms the court, Roe v. Wade will be overturned. Now, when they approach that, I don't know."
Taylor also warned that there could be some "civil unrest" in the future, possibly in response to the prophesied indictments of three Supreme Court justices.
"Look at the unrest we are having with just one Supreme Court justice," Taylor said. "They know Roe v. Wade is on the line. ... All of a sudden if you find out that three Supreme Court justices have been caught in a scandal and are about to be removed, we need to be praying for that because there could be major upheaval in this country."
Taylor said that he isn't suggesting that there will be another Civil War.
"The Trump Prophecy," which is being produced by the Charlotte-based ReelWorks Studios, will be shown in over 1,000 theatres across the nation on Oct. 2 and Oct. 4. The 85-minute film will focus on Taylor's prophecies and seeks to highlight the movement of prayer that led up the election of Trump in 2016.
The film was worked on by dozens of Liberty University students and staff members as part of the Virginia-based Christian school's cinematic arts department's spring semester film project.
The school's work on the project was criticized by some in the Liberty University community who launched an online petition against the school's involvement in the film. The petition was signed by over 2,200 people.
"This movie could reflect very poorly on all Liberty students and Liberty University as a whole. Mark Taylor claims to have received prophecies directly from God that do not align with the Bible's message," the petition claims. "Please support this petition if you think Liberty University should focus on reflecting God's message rather than Mark Taylor's message."
John Fea, a professor of American history at Messiah College in Pennsylvania and a critic of evangelicals who have closely aligned with the Trump administration, told The Christian Post earlier this year that Taylor is one of several Pentecostal "prophets" that say they predicted Trump in the White House.
"Not all evangelicals believe in prophecy, but even if you do believe that God speaks to individual people about politics, it is very dangerous to design public policy and choose political candidates based on such prophecies," Fea argued in an email to CP. "These so-called prophets have no real religious or spiritual authority beyond themselves and the megachurch empires that they have created and over which they preside."
"Perhaps tonight I will have a dream or a vision that Donald Trump is really the Antichrist," Fea added. "It seems to me that my dream has just as much prophetic validity as fireman Taylor."
Michael Brown, a prominent Messianic Jewish thinker and a nationally syndicated conservative radio host, told CP that he didn't have much problem with a movie focusing on a presidential prophecy like Taylor's.
"We see that in 1 Corinthians 13:8–10; we see Paul encouraging believers to earnestly seek the gift twice in 1 Corinthians 14; we see Paul giving instructions for the use of prophecy in 1 Thessalonians 5; and Peter in Acts 2, clearly says that this gift will be poured out on all flesh during this period called 'the last days,'" Brown explained.
"But all prophecy must be tested, first against the Word, then against other criteria (including accuracy, etc.). We must not fall into the error of believing every spirit; but we must not fall into the error of not believing the Holy Spirit. That being said, no prophecy carries scriptural authority and is, at best, a word from the Lord, not The Word of God."