'God led us': Missing Kentucky toddler found alive after spending three days alone in woods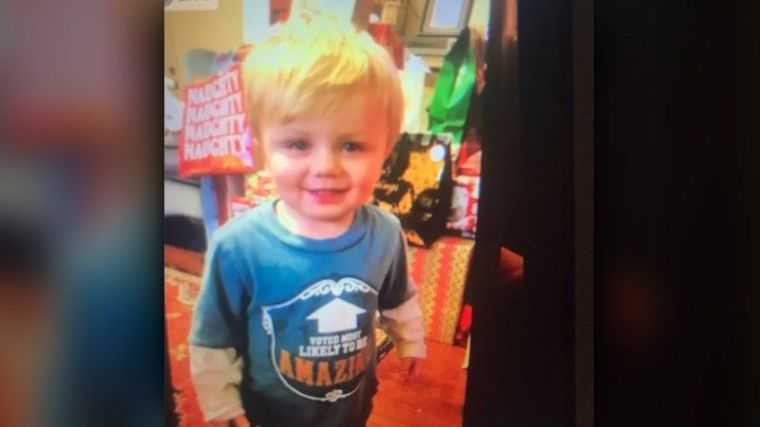 Kenneth Howard, the 22-month-old boy who vanished from his family home in Kentucky on Sunday, has been found alive and in "remarkably good condition," prompting authorities to credit divine intervention for his miraculous survival.
Following a three-day multi-agency search, the 22-month-old was found sitting on a 50-foot rock ledge less than 2,000 feet away from his home in rural Kentucky, reported CBS News affiliate WYMT. Rescuers say they heard the boy crying and found him on a cliff area.
The child was taken quickly by an emergency medical services helicopter to be examined, but while he was dehydrated and exhausted, he appeared otherwise healthy. After he was rescued, Kenneth said repeatedly, "Here all night," according to rescuers.
Carter Conley, of Magoffin Search and Rescue, said Kenneth's rescue was nothing short of miraculous: "I told the father that it's a proud day," Conley said. "It was a team effort, and God led us in the hands and to move that way."
"I have been on a lot, and this is one of few that were successful," he said. "I'm very thankful this one was successful. It was all a team effort."
Kenneth spent more than 60 hours alone and outside after wandering off from his family's home on Mother's Day, according to NBC affiliate WSAZ. A search involving the state police, more than 300 volunteers, helicopters, drones with thermal cameras, off-road vehicles and dogs ultimately returned him safely to his parents.
His father, who told WSAZ he had feared Kenneth had been abducted and offered a $5,000 reward for his return, said his son's safe recovery was the "best thing that ever happened to me."
"Disbelief for a while till they told me they were sure it was him," said Elden Howard. "I saw a picture of him and said that's my boy. It tickled me to death."
Kenneth's sister Tasha Howard, told WSAZ her brother's recovery was evidence of God's presence: "It's been difficult, but I never did give up because I have faith," she said. "I know God is with us because we wouldn't have found him."
The Kentucky State Police are still investigating the circumstances surrounding the boy's disappearance. Family members believe he may have walked out the back door of the house while his father was in the front yard.
At the time, Trooper William Petry of the state police told People that the toddler was likely at risk for hypothermia, as he disappeared without a jacket on amid low temperatures. He added there are coyotes, bears and red foxes in the area, saying, "We have a large amount of wildlife that could be a danger to the child."
Following Kenneth's disappearance, vigils were held across Eastern Kentucky to show support for the boy's family. Hundreds gathered to lift each other with prayer and song, hoping for the boy's safe return, WKYT reported. Pastors at one vigil urged gatherers to pray for Kenneth every hour on the hour until he was found, the outlet reported.
"If there's one miracle from God left out there, just please let it be for him," WKYT quoted one attendee as saying.
On Thursday, the Magoffin County Sheriff Department celebrated the boy's return: "Thanks to all who prayed, searched and helped in any way!! This is the best news ever !!!"