God's 10 Commandments Under Attack in Montana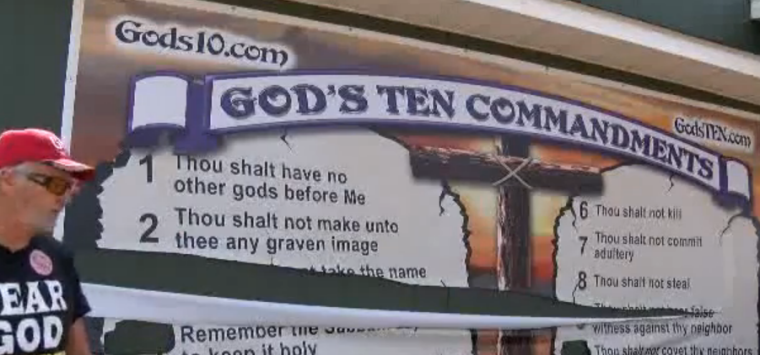 The Word of God is under attack in Columbia Heights, Montanna — literally. A billboard park dedicated to displays centered on the Ten Commandments has been the victim of a recent spree of vandalism.
Seventeen of the 21 billboards at the God's Ten Commandments Park have been seriously damaged by an unknown party sometime between Sunday evening and early Monday morning.
"When the park's hosts arrived they found some billboards vandalized with spray paint, while others were slashed with some type of knife," reported local media outlet KRTV.
"If you have any information regarding the vandalism, you are urged to contact the Flathead County Sheriff's Department."
The Ten Commandments park traces its origins back to April 2014 when Creston rancher Philip Klevmoen and his supporters purchased a 10-acre property off of U.S. Route 2.
By August the property included several crosses and billboards featuring not only the Decalogue but also other religious quotes and patriotic statements.
Last August, Flathead County Planning Director B.J. Grieve told local media that some in the area took issue with the park and its displays.
"We've had people calling and complaining," said Grieve to Jim Mann of the Daily Inter Lake in an interview last year. "We've had about a dozen phone calls total. They're concerned with the appearance of these huge signs on the side of the road."
Klevmoen's group, Gods10.com, is known for its efforts to get Ten Commandments displays and other religious billboards to sites elsewhere in the United States.
That included a controversy from 2014 wherein a Gods10.com banner placed by a highway in Texas may have been in violation of the Lone Star State's Highway Beautification Transportation Code.
Klevmoen told The Christian Post in an interview last year that of the 30 or so states where a Gods10.com banner or sign was present, his organization "never had an issue" like the one in Texas.
"Somehow it seems like someone came along and didn't like it, went to the state and said, 'Hey you need a permit,'" said Klevmoen.
Regarding the wave of vandalism done to the billboards at their Montana location, Klevmoen told KRTV that "we'll fix it up."
"We called Billings the other day, they cost $1,500 bucks. I don't pay that much for them but I want to get them replaced," said Klevmoen.
"We'll probably maybe do new ones, but we'll probably get more lighting. So it'll just discourage people to come out and vandalize God's Word, or the Ten Commandments, or the patriotic signs."
The Christian Post reached out to Klevmoen, but he did not return comment by press time.