'God's Not Dead 2' Creator Slams Atheist Claim That Movie Is Fake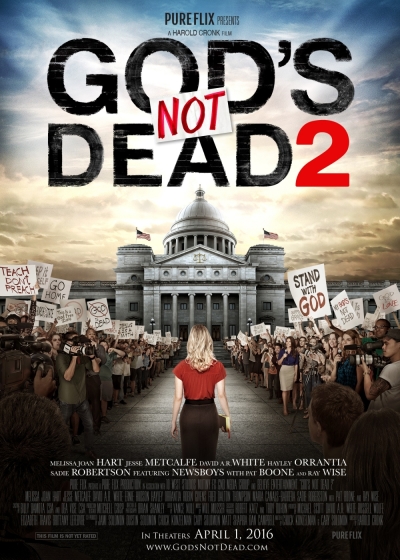 "God's Not Dead 2," the sequel to the $100 million grossing 2014 faith-based film "God's Not Dead," hits theaters Easter weekend, with actor David A.R. White responding to a popular atheist's questioning of the film's validity.
"It's an interesting thing, because, if it wasn't real, why do they get so offended by it?" White asked TheBlaze on Wednesday. "I don't think it would annoy people if it wasn't true."
White, who is also the founder of Pure Flix Entertainment, which produced "God's Not Dead 2," continued, "At the end of 'God's Not Dead 1' and even part two, we throw up about 50 different court cases that are dealing with similar issues right now."
The actor-producer was responding to popular atheist blogger Hemant Mehta who argued that the upcoming sequel was misleading and "full of fake Christian persecution" in his blog.
While the first "God's Not Dead" film dealt with an antagonistic atheist professor, the new film will address freedom of religion.
"In the first one, we had a student who was a male and we really wanted to tell it from a female's perspective," stated White. "This time that the battle moved from a college classroom to the public square."
Starring Melissa Joan Hart, the film's theme is introduced when she answers a student's (Hayley Orrantia) question about Jesus, forces the junior high-school teacher to face an epic court case that could end her career.
White was seemingly unfazed by critics as he focuses on the fact that people all around the world are still being touched by part one of the "God's Not Dead" phenomenon.
"All of these emails and tweets and people that have been moved over and over and over by the movie, that they're still watching it," he told the publication. "They're still writing in about how this movie changes their lives or changes someone's life that they know."
White stars in "God's Not Dead 2″ as a corky pastor named Dave and is gearing up to be the star in part three if the film goes on to become a trilogy. In a recent Facebook promotional clip titled, "Before you vote watch this video," fans are given a glimpse into a scene from the film titled "Pastor's Brunch."
The scene starts off by showing the late Sen. Fred Thompson, who plays a senior pastor in "God's Not Dead 2." In the clip he reveals to a group of ministers huddled around a table that they are all being subpoenaed to submit copies of their sermons. The news sparks a back and forth among the leaders, some of whom are concerned about the violation of their religious freedom by the local government's demand. Ultimately all but one, the Rev Dave, comply to the government's order.
White, Hart and more can be seen on the big screen in "God's Not Dead" set to release April 1.