'God's Not Dead 2' Makes $8M Debut; Ranks Top 5 Movies Behind 'Batman v Superman'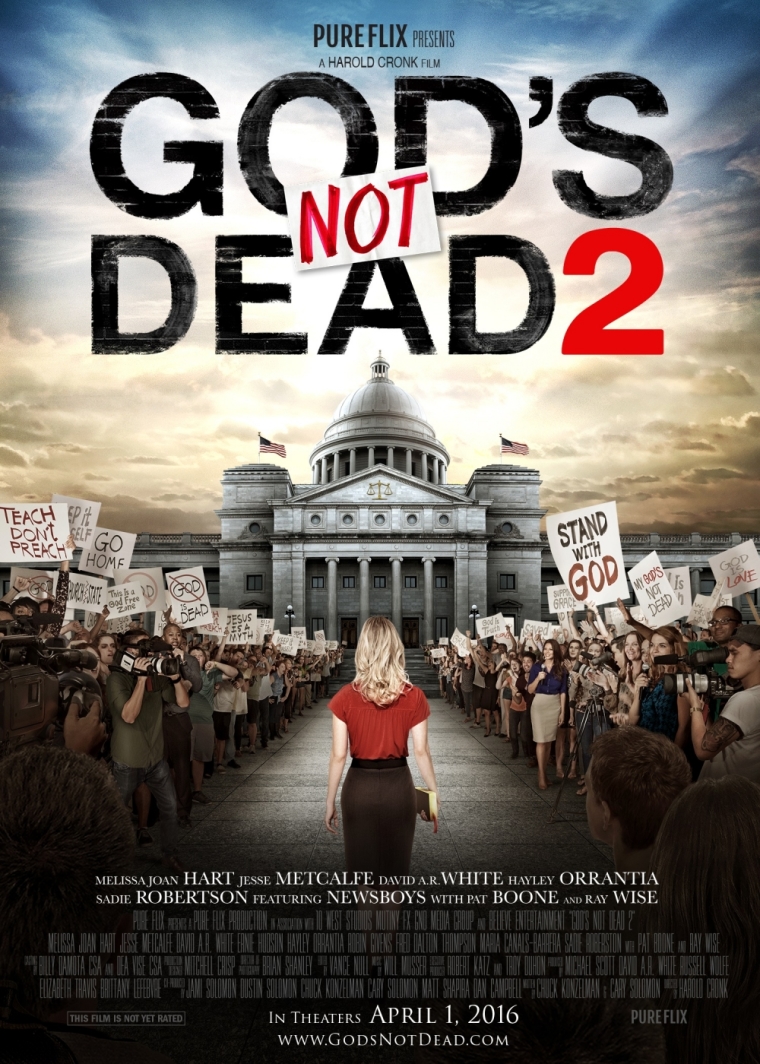 "God's Not Dead 2" had an impressive opening weekend despite going toe-to-toe with "Batman v Superman: Dawn of Justice," and "My Big Fat Greek Wedding 2."
In its opening weekend "God's Not Dead 2" earned an estimated $8 million taking the fourth spot at the box office, according to boxofficemojo.com.
While it didn't match or surpass the $9.2 million opening weekend of its predecessor "God's Not Dead" released back in 2014, it still landed in the top five despite going toe-to-toe with major Hollywood heavy hitters.
The top three films for the weekend were "Batman v Superman," "Zootopia," and "My Big Fat Greek Wedding 2." "Miracles From Heaven" took the fifth spot putting two faith-based films high on the box office charts this weekend. "Miracles from Heaven" has brought in nearly $47 million after three weeks in theaters.
In total, "God's Not Dead 2" made $2.95 million Friday and finished off the weekend with a solid $8.1 million. The film played in over 2,000 theaters and beat out mainstream films, "The Divergent Series: Allegiant" and "10 Cloverfield Lane."
To give audiences a better idea of how well the Christian movie did, Forbes magazine took Friday's box office earnings and divided it by the total weekend gross.
"That's a 2.74x weekend multiplier, compared to the 3.2x multiplier for the original film's opening weekend. That just means it played more like a conventional sequel." the magazine reported. ... "Even a conventional 3x multiplier still gets the film to around $23.5 million, which will be just fine for Pure Flix."
Not only did "God's Not Dead 2" do well monetarily but it received rave reviews from fellow christian leaders and film makers.
Former Arkansas Gov. Mike Huckabee described the film to The Christian Post as "a riveting story, brilliantly told, and one that is absolutely plausible as if it were taken from today's headlines. A must see for every believer."
Pastor Tony Evans of the Oak Cliff Bible Fellowship in Dallas, Texas, added, "'God's Not Dead 2' is a powerful reminder that following Christ comes with a cost. But like the main character in the movie, I would rather stand with God and be judged by the world than to stand with the world and be judged by God!"
Fellow film maker Alex Kendrick who acted and directed the successful faith based films "War Room" and "Courageous" echoed those statements."'God's Not Dead 2' will awaken you. It will stir you up so you are standing boldly, but with love. This movie is convicting and inspiring."
The faith-based sequel features Melissa Joan Hart, who's best known for her roles in the TV series "Clarissa Explains It All" and "Sabrina the Teenage Witch," and actors Jesse Metcalfe of "Desperate Housewives," David A.R. White, Pat Boone, Hayley Orrantia, Benjamin Oyango, Paul Kwo, Ray Wise, Sadie Robertson, and Robin Givens.
The motion picture takes viewers to the fictional town of Hope Springs, where beloved teacher Grace Wesley teaches history. Her love for teaching, her love for her students, and her love for life all come from the same place: her love for Christ. When a student asks a question about Jesus in class, Grace's answer causes her to face an epic court case, in which she would have to stand up for her faith.
"God's Not Dead 2" is now playing in theaters nationwide.