Google-owned Blogger censors pastor's open letter to parents on pride month for 'hate speech'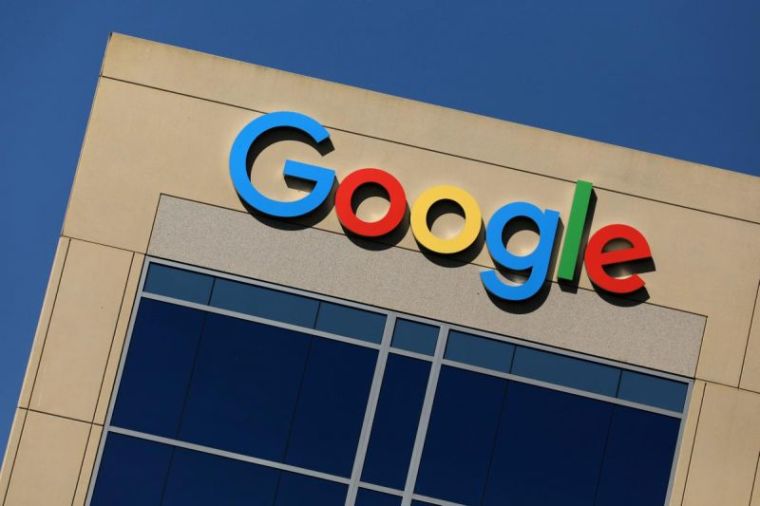 A Texas pastor's open letter to his congregation on how parents can offer a Biblical response to pride month for their kids has been censored by the Google-owned blogging platform Blogger.
Pastor Dan Phillips of Copperfield Bible Church in Houston shared a letter on Pyromaniacs, a blog from Grace to You Executive Director Phil Johnson hosted by Blogger. In the letter, Phillips explained how, in the beginning, God created man both male and female, according to the book of Genesis.
"You remember that God made Adam and Eve, a man and a woman," Phillips wrote. "That's what sex means — it means being a man, or being a woman."
"So they took the whole month of June to pretend together that all these wrong and harmful things are good, and they call June 'Pride' month. Like the Bible says, their 'glory is in their shame' (Philippians 3:19)."
After adding that "Jesus can save any sinner!" Phillips explained that Christians should not hold any hate in their heart toward anyone.
"So we don't hate people who want bad things. We would be exactly the same if it weren't for Jesus," he wrote. "We love people who don't know Jesus, we pray for them, we want to help them, we want to tell them about Jesus."
"And when they believe, we accept them and love them and help them to learn to walk with Jesus, just like we're doing."
On June 8, Phillips tweeted that Blogger deleted the post "because they deem it 'hate speech.'"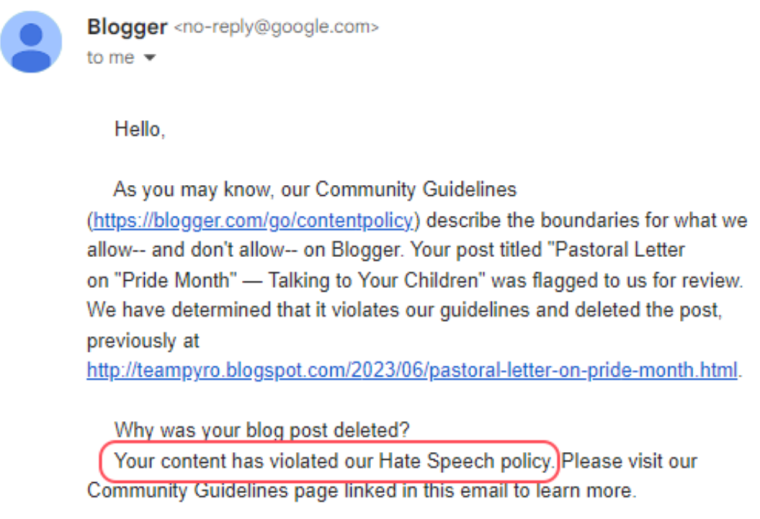 According to a screenshot of a Blogger administrator email shared by Phillips, the post was deleted because the content violated the company's "hate speech policy."
Blogger's policy defines hate speech as "content that promotes or condones violence against or has the primary purpose of inciting hatred against an individual or group on the basis of their race or ethnic origin, religion, disability, age, nationality, veteran status, sexual orientation, gender, gender identity, or any other characteristic that is associated with systemic discrimination or marginalization."
The Christian Post reached out to Google for comment on the post's removal. A response is pending. 
Phillips told CP that his objective with the pastoral letter was to demonstrate that Christians are "not showing hatred to homosexuals by preaching Christ's redeeming Gospel."
"I would argue that the hatred comes from those who tell them they have no hope of redemption, can only resign themselves to these cravings, and must insist they are 'proud' of them and 'gay' because of them," he said via email Monday.
He also argued that by neglecting to identify LGBT individuals as sinners like everyone else, Christians are actually denying them the hope that is found in Christ Jesus.
"We can only be clear on Christ's salvation if we are clear on the sin from which He saves the repentant," said Phillips. "In a sad irony, classifying [LGBT individuals] as other than sinners has the corollary effect of removing the hope of salvation.
"Christ came to save sinners, not rationalizers."
The Blogger web publishing service — which was bought by Google in 2003 — has a form for users to report community violations, which includes the question, "How did you feel when you saw this post?"
In response to Blogger's email, Phillips later asked, "Is Christian speech forbidden?"
He added: "What is real hate speech? Real hate speech is telling people that they are doomed to live hopeless lives as slaves of destructive sin. It is telling them that other sinners can be redeemed and freed in Jesus Christ, but not them. It is telling them that their only hope is paper-thin rationalization and censorship of all contrary views. That's hate-speech."
Phillips said Sunday that his sermon on pride month had become one of his church's most downloaded podcasts in nearly two decades. 
He tweeted: "Another little unexpected gift from Google's censorship. In just two weeks, the 'Pride Month?' sermon has become our 6th most downloaded sermon in seventeen years of posting sermons. May God bring fruit from it to His glory. Only eternity will tell."
It's not the first time Google has been accused of censorship toward Christians.
In 2019, the founder of an organization that serves military veterans suffering from post-traumatic stress disorder alleged that Google-owned YouTube barred him from running an advertisement that used "Christian" as a keyword but allowed him to run the same ad using "Muslim" as a keyword. 
In a separate incident, the head of a Lutheran publishing house in 2018 claimed Google stopped accepting advertisements related to the organization's website "because of the faith we express."