Gospel for Asia Aids 4,000 on World Leprosy Day as Social Stigma, Fear Lingers for Sufferers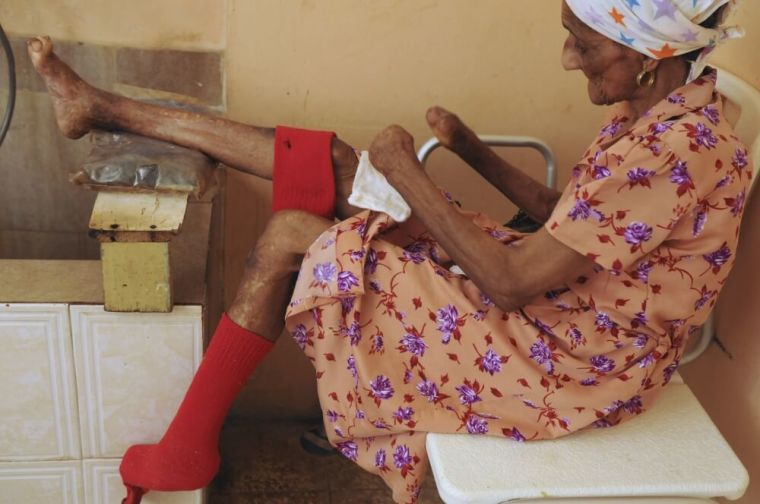 CP: What are the biggest challenges preventing the suffering leprosy populations from getting the treatment they need?
Yohannan: It is true that leprosy has been nearly eradicated from most of the world. It is curable when caught early enough, and can be stopped before leaving any lasting damage. The problem is there is an incredible stigma and fear attached to having it, especially in South Asia. Even if someone knows they have leprosy, they will often hide it because they are afraid of the stigma; they are afraid of being an outcast because of the disease.
Too many times I hear stories when someone is found to have leprosy, their community completely kicks them out — that's one of the ways so many people wind up in these colonies. Sometimes they'll even evict the children of those who have leprosy and their other family members as well. Nobody wants that rejection to happen to them or to their family, and so out of fear, many people try to hide any symptoms of the disease instead of going in for treatment.
On top of that, there are just not that many places people with leprosy can go to find treatment. Even many medical professionals don't want to deal with leprosy patients — there are so many misconceptions surrounding this disease. Most people won't touch them, even if they feel some amount or sympathy or compassion. Patients are outcasts not only from society, but also from human contact. Even if they are cured, the social stigma is almost impossible to erase. Nobody wants to experience that kind of rejection.
So I would say fear is probably one of the biggest obstacles for why those with leprosy won't come forward to find a treatment.
CP: Have there been any improvements in India when it comes to the social stigma surrounding people with leprosy?
Yohannan: There is still a lot of work to be done when it comes to the social stigma surrounding people with leprosy. There is a lingering sense in many parts of South Asia that leprosy is a divine punishment for past sins. It is not uncommon for people to avoid all contact with leprosy patients. This general sense is common, even among many educated people.
And then there is the lack of knowledge. Most people, especially the poor and uneducated, don't know how this debilitating disease is spread or that it is so easily cured when caught early on. So there is still a lot of work to be done to help people not fear leprosy patients, and much progress needs to be made to answer these misconceptions and reduce the stigma attached to it.
CP: Do you believe there is something particular about this disease that really stands out and should draw Christians to help those suffering with it?
Yohannan: If you look through the Bible, you will find many instances of God reaching down to touch people who were in the worst situations. God's heart is to help those who are suffering, those who no one else will even think to help. It is important for us as believers to follow Jesus' example in this as well. We should not be afraid to touch and love those who are suffering with leprosy. It's one of the reasons I really love our Sisters of Compassion, because so many of them are reaching out to touch the lepers, cleanse their wounds, hug them, pray for them and love them. Most people won't do that.
I'm not saying every Christian should move to a leprosy colony for the rest of their lives. But throughout Scripture we find that God has a special place in His heart for those who are suffering in this life — the people who have absolutely nothing and no one in this world — orphans, widows, lepers, those who have been abandoned and rejected by all. I think we, as His children and His representatives here on Earth, should have that same passion and same willingness to share His love in the darkest and most desperate of places.
CP: What are the main objectives in the coming year following World Leprosy Day that GFA will be involved in when it comes to fighting leprosy, and how can Christians around the world help the most?
Yohannan: Like I said earlier, by the grace of God, we already have some work in many of the leprosy colonies across South Asia. World Leprosy Day affords us an opportunity to reach out even more. It also provides a way for us to reach out to local communities and raise awareness of how the disease is spread and what can be done about it.
In the days ahead, Gospel for Asia-supported workers will continue sharing the love of Christ with the people in the leprosy colonies, as well as starting up various ministry opportunities such as medical camps, awareness programs, free medical distribution, providing healthcare and education. And we have our leprosy hospital, too, where we are able to bless thousands of leprosy patients with free medical care, and that is a tremendous blessing.
How can other believers help? First of all, please join with us in prayer to see an end to this terrible disease. Pray for our brothers and sisters working among the leprosy patients. Pray God will raise up more men and women with a heart to work among the lepers. And pray especially for all those who are suffering from leprosy. They need treatment and physical care, but most of all, they need to know there is a God who loves them.