GQ Cover Story Plays on Religion, But Skims Over RG3's 'Private' Faith?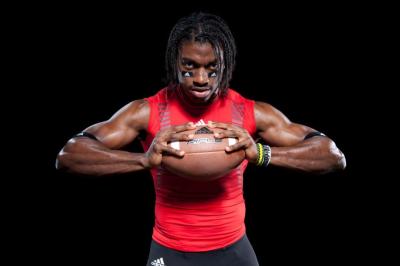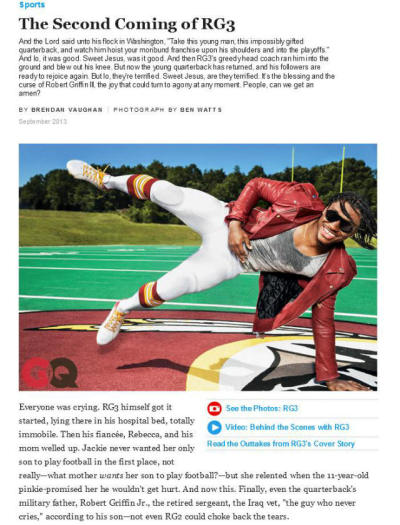 Breakout Washington Redskins quarterback Robert Griffin III, otherwise known as RG3, is the cover story for GQ magazine's September NFL-themed issue. The feature story touches on everything from RG3's devastating knee injury and season-ready recovery, to his life as a military brat and his hurt at being called a "cornball brother" by a black man on national TV.
However, the personal religion of the 23-year-old star athlete, who graduated from Baylor University, a leading Texas Christian school, doesn't feature much. RG3's "faith," never specifically identified, only makes a brief appearance at the end of "The Second Coming of RG3," the feature article shared online Tuesday at GQ.com.
Yet the overture matches the religion-tinged headline of Brendan Vaughan's feature story:
And the Lord said unto his flock in Washington, "Take this young man, this impossibly gifted quarterback, and watch him hoist your moribund franchise upon his shoulders and into the playoffs." And lo, it was good. Sweet Jesus, was it good. And then RG3's greedy head coach ran him into the ground and blew out his knee. But now the young quarterback has returned, and his followers are ready to rejoice again. But lo, they're terrified. Sweet Jesus, are they terrified. It's the blessing and the curse of Robert Griffin III, the joy that could turn to agony at any moment. People, can we get an amen?
While some might argue that Christian beliefs are not central to his historic performance on the field, it was Griffin who would kneel, make the sign of the cross and point skyward after a down to the wire game-winning play. Griffin, dubbed "black Jesus" by teammate Fred Davis for his game-saving plays, even said during another surprising victory, "God's on our side." Last year in a discussion with GQ, Griffin attempted to quiet concerns about potential injuries by saying he believed God would protect him on the field.
Readers only get a hint in the final two paragraphs of "The Second Coming of RG3" of Griffin's "relationship with God."
RG3 and his mom have a long-running tradition. Every week during football season, normally on Thursday or Friday, he sits down in front of her and she braids his hair. "In the military, it was very important that you kept your appearance neat and tidy," says Jackie. "You don't want him to be all messed up. You want him to look nice and neat and putting his best foot forward."

There's nothing superstitious or ritualistic about it, it's just a "bonding time" for mother and son to sit quietly and catch up. They talk about life, and they talk about football. About playing smart and playing safe. They talk about being grateful for all they have, about maintaining a constant relationship with God. Not outwardly, so everyone has to hear it, but inwardly. Privately. And sometimes, when they've finished talking, they'll put their hands together and do the same thing that, if all goes according to plan, many of us will be doing the first time RG3 sprints into hostile Eagles territory: "Just praying."
Any betrayal of Griffin's specific Christian leanings only made it to the "outtakes," comments from the Redskins QB that didn't make the cut.
On speculation that "an active NFL player will come out of the closet in the near future," Griffin said: "Yeah, man. I think there are [gay players] right now, and if they're looking for a window to just come out, I mean, now is the window.
"My view on it is, yes, I am a Christian, but to each his own. You do what you want to do. If some Christians want to look at being gay as a sin, then thinking about other women, committing adultery — or any of those other sins that are in the Bible — those are sins, too. And God looks at all of us the same way."
After his debut last year and occassional comments related to his faith, Griffin, whose Twitter bio states "I have no Religion. I have a relationship with God. Live your life so it doesn't live you," drew comparisons to another much-talked about NFL player.
Yet, as Robert Griffin III: Athlete, Leader, Believer author Ted Kluck recently pointed out: "If 'mentioning your faith' had a spectrum, (Tim) Tebow would be on the high end of that spectrum, and Griffin would be on the moderate-to-low end. While public faith was an integral part of the Tebow brand, Griffin seems low-key by comparison."
Scott Wallace of SportsAlmighty.com suggested in his commentary on Kluck's article examining Christian sports fans who idolize athletes: "Whether you are Robert Griffin III, Aaron Rodgers, (Stephen) Curry, or a reserve guard on your middle school basketball team, act the same way in your athletic life as you do in your personal life.
"Don't hide your Christianity because of how you think it will be received. And don't create a public persona of faith if you don't share it in your personal life."
Griffin, who welcomes being positioned as a role model, has apparently been successful in walking the "fine line," as Kluck put it, of "appealing to Christians and non-Christians alike."