Grace Church School head denies criticizing school's curriculum as 'demonizing white people'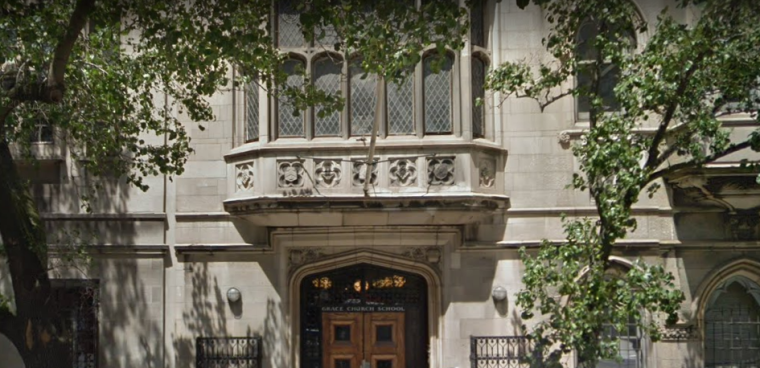 The head of a private Episcopal school in Manhattan has denied that he ever acknowledged that his school has adopted a curriculum "demonizing white people for being born."
The Foundation Against Intolerance and Racism, a new organization formed this past Martin Luther King Jr. Day, made public a March 2 conversation between Grace Church School Head George P. Davison and Paul Rossi, a teacher at the school who has since been "relieved" from his position after writing an op-ed criticizing the school's new curriculum, which he described as a "repressive ideology."
The conversation was made public after Davison informed the Grace Church School community of Rossi's dismissal. He also denied making comments that Rossi had attributed to him in an email.
Davison disputed quotes Rossi attributed to him in an email he sent to the head of the school earlier in the day after he circulated a letter announcing Rossi's dismissal. According to the New York Post, Davison told Rossi in a Monday email that "You misquoted me and attributed to me things that I had never said nor would never say to the press." 
Grace Church School serves 770 students in "Junior Kindergarten-Grade 12." A year's tuition at the school costs more than $57,000.
"I think there's something very different about having a single experience where you make sense of it, and having a teacher, an authority figure, talk to you endlessly, every year, telling you, that because you have whiteness, you are associated with evils, all these different evils," Rossi told Davidson in the conversation, which was released on Twitter Tuesday. "These are moral evils, it's not the same as taking … a physical thing, because it doesn't affect … your moral value. That's the problem."
Davison responded, "The fact is, that I'm agreeing with you, that there has been a demonization that we need to get our hands around, in the way in which people are doing this understanding." 
Rossi then asked Davison if he agreed "that we're demonizing kids."
Grace Church says Paul Rossi misquoted him. It doesn't sound like it. Listen to these clips:https://t.co/laExNH21rUpic.twitter.com/2wEF6hAkF4

— Foundation Against Intolerance & Racism (FAIR) (@fairforall_org) April 20, 2021
"We're demonizing white people for being born," Davison acknowledged.
When Rossi inquired as to whether some of the school's students were white people, Davison answered in the affirmative.
"We're demonizing white kids. Why don't you just say it?" Rossi asked.
"We are using language that makes them feel less than, for nothing that they are personally responsible for," Davison said. He then indicated to Rossi that he had "grave doubts about some of the stuff that gets spouted at us, in the name of antiracism."
When asked to elaborate, Davison expressed concern about "the demonization of being white … and the attempt to link anybody who's white to the perpetuation of white supremacy."
Rossi further warned that advocates of antiracist curriculum were going to "hollow out Grace and they're gonna move on to the next institution." To which, Davison responded, "I think that they've hollowed out a bunch of other ones ahead of us."
https://t.co/laExNGKqAmpic.twitter.com/ErC5iqfH9l

— Foundation Against Intolerance & Racism (FAIR) (@fairforall_org) April 20, 2021
Rossi's dismissal comes in the wake of his April 13 op-ed titled, "I Refuse to Stand By While My Students Are Indoctrinated." According to Rossi, "children are afraid to challenge the repressive ideology that rules our school. That's why I am."
"My school, like so many others, induces students via shame and sophistry to identify primarily with their race before their individual identities are fully formed," he lamented. "Students are pressured to conform their opinions to those broadly associated with their race and gender to minimize or dismiss individual experiences that don't match those assumptions.
"The morally compromised status of 'oppressor' is assigned to one group of students based on their immutable characteristics. In the meantime, dependency, resentment, and moral superiority are cultivated in students considered 'oppressed,'" Rossi added.
Rossi noted that he "raised questions about this ideology at a mandatory, whites-only student and faculty Zoom meeting." He alleged that his questions "were shared outside this forum," which led to him facing a reprimand for "acting like an independent agent of a set of principles or ideas or beliefs" as opposed to acting on behalf of the "greater good and higher truth."
"A few days later, the head of school ordered all high school advisors to read a public reprimand of my conduct out loud to every student in the school," Rossi recalled.
In an April 18 letter, Davison informed the Grace Church School community that Rossi had been "relieved of his teaching duties" and "will not be returning in the fall." He cited the school community's response to Rossi's "lapses in professionalism, his conduct during the Feb. 24 meeting, and the decisions that he has made sense" as the reasons for his dismissal.
"We find it regrettable that Paul Rossi chose to air his grievances with the school in the press, especially with an account that contains glaring omissions and accuracies," Davison wrote. On Monday, one day after Davison sent out the letter informing the school community of Rossi's dismissal, Rossi wrote an email to the head of school pushing back on that contention.
Rossi took issue with Davison's choice to reaffirm "Grace's commitment to antiracism" as "consistent with our identity and mission," reminding him of the statements he made during their March 2 conversation. He suggested that Davison's refusal to admit to making the statements stems from the fact that he knows "exactly what happens to people who do" raise such concerns. "It is what is happening to me right now," he added. 
Reacting to Davison's allegation that he "chose to air his grievances with the school in the press," Rossi insisted that "speaking publicly about this was hardly my first choice."
"Over the course of several years, I have made my specific concerns clear, not only to you, but the head of the high school, and the assistant head," he explained.
"These concerns centered on the impact of this doctrinaire ideology on our students," Rossi continued. "Even when I have simply tried to expose our students to alternative points of view in the classroom, I have been repeatedly shut down. The school's response to my efforts to raise these concerns internally left me no choice but to speak about them publicly."
As The Christian Post previously reported, Grace Church School's new Inclusive Language Guide sparked considerable backlash for advising students and staff to avoid using terms such as "boys and girls," "mom and dad," and even "Happy Holidays." Instead, members of the Grace Church School community were encouraged to use gender-neutral terms such as "people" and "parents" and embrace the phrase "have a great break" over "Happy Holidays."
The guide also rejects the idea that people "can be colorblind as it pertains to race," arguing that "we see the skin tones of people and assumptions are made about how someone identifies racially." Additionally, the guide includes a "glossary of identity and shared value terms" including "antiracism," "equity," "institutional racism," "intersectionality," "microagression" and "race."