Episcopal school defends language policy, telling students to stop saying 'mom' and 'dad' after backlash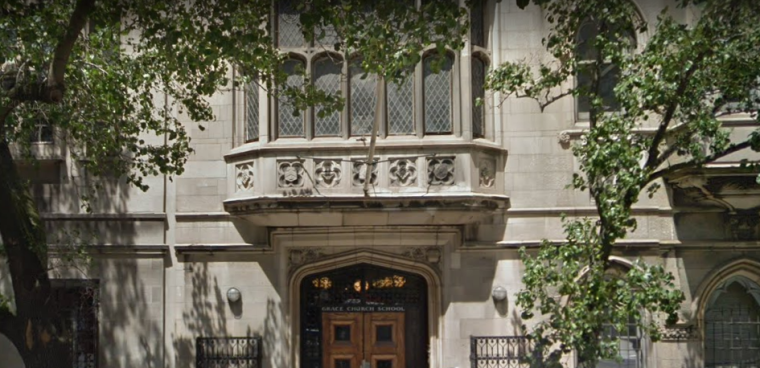 A prominent Episcopal school in New York City is standing by its decision to publish an "Inclusive Language Guide" after the document received criticism for, among other things, encouraging students to refrain from using terms such as "Mom" and "Dad."
The Grace Church School, a private Manhattan Episcopal school serving 770 students in "Junior Kindergarten-Grade 12," published an "Inclusive Language Guide" to "address ways we can remove harmful assumptions from the way we interact with each other."
The 12-page guide suggests students and teachers use alternatives to gender-specific words and phrases as well as other terms it sees as problematic.
The guide prompted considerable backlash, causing the Head of School George P. Davison to issue a statement.
"Policing language demonstrates more concern for getting a community to use the right words than for cultivating a sense of belonging for its members," George said in part. "That is why our Inclusive Language Guide does not ban any words."
After defending the guide as a necessary instrument "to give us all words that will bring people together," Davison indicated that Grace Church School, which has a tuition rate of more than $57,000 per year, has no intention of abandoning it.
"So if the boorish 'cancel culture' press wants to condemn us a newly dubbed 'Woke Noho' school of politeness, dignity and respect, then I embrace it, and I hope you will too," he asserted.
The guide begins with a push to encourage students to use "gender inclusive language" to "provide critical affirmation to students across the gender spectrum."
It asks students and staff to refrain from using terms such as "boys and girls," "guys" and "ladies and gentlemen," and instead use gender-neutral terms such as "people, folks, friends, readers, (and) mathematicians."
Additionally, the guide takes issue with the use of "sweetheart/honey/similar pet names," which are often used to address people of both genders. The terms "hermaphrodite" and "transsexual/transvestite/crossdresser" are singled out as "outdated terms."
Stressing the importance of not "making assumptions about who kids live with," members of the Grace Church School community are urged to abandon the use of the terms "Mom and Dad" in favor of "grown-ups, folks, or family." The aforementioned gender-neutral terms are also cited as favorable alternatives to the term "parents," along with "guardians."
The idea of the "traditional family" is described as an "outdated term" because "each family is unique." The guide also treats the terms "husband, wife, boyfriend, (and) girlfriend" as problematic, instead advocating for the use of "spouse/partner/significant other."
Asserting that "human sexuality exists across a spectrum," the guide instructs students to avoid using "heteronormative assumptions" and identifies phrases such as "ladies' man," "boys will love those eyelashes" and "your mom and dad must be so proud" as problematic.
If someone says "a boy can't marry a boy" or "a girl can't marry a girl," students are advised to respond by saying, "People can love and commit to whomever they please, it's their choice who they marry."
Students are also being taught to reject the belief that "sexual orientation is a choice rather than an identity" and to affirm: "Who we love/are attracted to is part of who we are."
Much like Sen. Mazie Hirono, D-Hawaii, who during the confirmation hearings for Amy Coney Barrett, who is now an associate justice on the U.S. Supreme Court, the school deems the terms "sexual preference" and "homosexual" as outdated.
While the guide firmly rejects the idea that sexual orientation is a choice, it implies that a person has the ability to choose their race or ethnicity. Students are encouraged to ask their classmates "how they (self-)identify" as opposed to asking, "What race are you?"
Additionally, the guide rejects the idea that people can be "colorblind as it pertains to race" because "we see the skin tones of people and assumptions are made about how someone identifies racially."
The guide even objects to the phrase "Happy Holidays," often touted as an inclusive alternative to "Merry Christmas," which is also listed as a problematic phrase. Instead, students are encouraged to tell their classmates "Have a great break!"
The guide concludes with a "glossary of identity and shared value terms" that include words and phrases such as "antiracism," "equity," "institutional racism," "intersectionality," "microaggression" and "race."
Links to videos about gender identity and pronouns, race, nationality and ethnicity, antiracism, white privilege, and implicit bias are also included throughout the guide.