TobyMac, Chris Tomlin and Kirk Franklin Among 2016 Grammy Award Nominees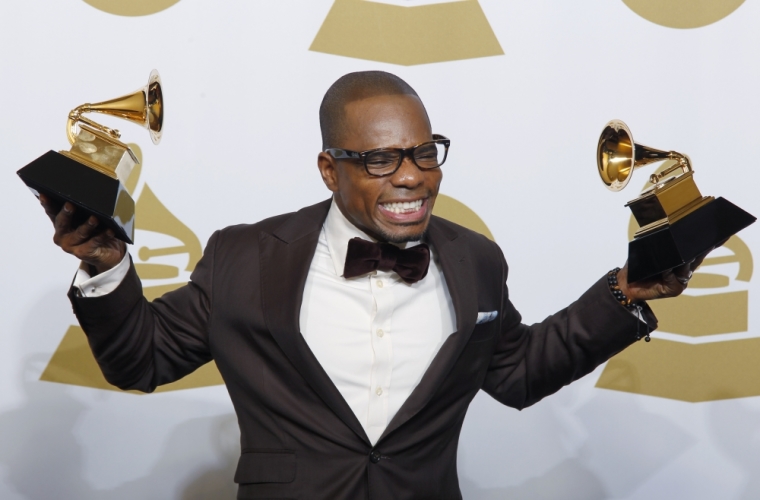 This year's top nominees for the 58th Grammy Awards were announced on CBSthis week. And although rapper Kendrick Lamar (11 nominations) and megastar Taylor Swift (seven nominations) are in the lead, they don't appear in the Gospel/Christian categories.
"It is an honor to be recognized by the NARAS members," singer Jason Crabb said in a statement upon hearing the news of his nomination for Best Contemporary Christian Music Album.
"This project was born during a difficult period of my life as I lost one of the great influences in my Christian walk, my grandmother and prayer warrior, Billy Richardson. I recorded this project with her on my heart and mind so this is extra special to me. This nomination is for everyone who has worked so hard on this project. I must give a huge thank you to my producers, Paul Mabury and Jason Ingram. To my dear friends who make up the NARAS/Grammy organization — I am deeply blessed to have your support! To God be the glory."
THIRD DAY's lead vocalist Mac Powell also shared his gratitude for being nominated among the National Academy of Recording Arts & Sciences' 83 award categories: "We are excited to be nominated for a Grammy this morning for our song 'Soul on Fire,'" What an honor once again to be nominated for such a prestigious award. We have been very fortunate in the past 23 years to receive many nominations and I promise you it never gets old. Thanks to everyone who has helped to make this song such a success!"
The show will broadcast live on CBS from 8 to 11:30 p.m. ET Monday, Feb. 15, 2016, from the Staples Center in Los Angeles, California. Some of Christian music's biggest names are nominated for multiple awards in the upcoming annual awards show, including TobyMac and Israel Houghton.
Christian categories list:
Best Gospel Performance/Song
• Worth [Live]
Anthony Brown & Group Therapy
Anthony Brown & Group Therapy; Anthony Brown, songwriter
Track from: Everyday Jesus [Live]
[Tyscot Records; Publisher(s): Key Of A Music/Tyscot Music]
• Wanna Be Happy?
Kirk Franklin
Kirk Franklin; Kirk Franklin, songwriter
[RCA Records/Fo Yo Soul Recordings; Publisher(s): Aunt Gertrude Music Publishing admin. by Universal Music-Brentwood Benson Songs and Irving Music, Inc. admin. by Universal Music Publishing]
• Intentional
Travis Greene
Travis Greene; Travis Greene, songwriter
[RCA Inspiration; Publisher(s): Greenlight InternationalVNavidavi Music]
• How Awesome Is Our God [Live]
Israel & Newbreed Featuring Yolanda Adams
Israel & Newbreed Featuring Yolanda Adams; Neville Diedericks, Israel Houghton & Meleasa Houghton, songwriters
Track from: Covered: Alive In Asia [Live] (Deluxe)
[RGM Newbreed/RCA Inspiration; Publisher(s): Integrity's Praise! Music, RGM-Newbreed Publishing, Sound Of The New Breed, Aaron Lindsey Publishing, CCMG Publishing, Neville D. Publishing]
• Worth Fighting For [Live]
Brian Courtney Wilson
Brian Courtney Wilson; Aaron Lindsey & Brian Courtney Wilson, songwriters
Track from: Worth Fighting For [Live]
[Motown Gospel; Publisher(s): ACER/Aaron Lindsey Music/Capitol Christian Music Publishing admin. by Capitol CMG]
Best Contemporary Christian Music Performance/Song
• Holy Spirit
Francesca Battistelli
Francesca Battistelli
Track from: If We're Honest (Deluxe Edition)
[Fervent/Curb/Word]
• Lift Your Head Weary Sinner (Chains)
Crowder
Crowder; Ed Cash, David Crowder & Seth Philpott, songwriters
Track from: Neon Steeple (Deluxe Edition)
[sixstepsrecords/Sparrow Records; Publisher(s): sixsteps Music/worshiptogether.com Songs/sixsteps Songs/Worship Together Music admin. at CapitolCMGPublishing.com/Alletrop Music]
• Because He Lives (Amen)
Matt Maher
Matt Maher
Track from: Saints And Sinners
[Essential Records/Provident Label Group]
• Soul On Fire
Third Day Featuring All Sons & Daughters
Third Day Featuring All Sons & Daughters; Tai Anderson, Brenton Brown, David Carr, Mark Lee, Matt Maher & Mac Powell, songwriters
Track from: Lead Us Back: Songs Of Worship (Deluxe)
[Essential Records/Provident Label Group; Publisher(s): DATAMAMA MUSIC, Thankyou Music, Sony/ATV Tree Publishing, I Am A Pilgrim Songs]
• Feel It
Tobymac Featuring Mr. Talkbox
Tobymac Featuring Mr. Talkbox; Cary Barlowe, David Arthur Garcia & Toby McKeehan, songwriters
[ForeFront Records; Publisher(s): Achtober Songs/Universal Music - Brentwood Benson Publishing/D Soul Music admin. by CapitolCMGPublishing.com/Castle Bound Music, Inc./We Be Pawtying]
Best Gospel Album
• Destined To Win [Live]
Karen Clark Sheard
[Karew Records/Entertainment One]
• Living It
Dorinda Clark-Cole
[Entertainment One/Light Records]
• One Place Live
Tasha Cobbs
[Motown Gospel]
• Covered: Alive In Asia [Live] (Deluxe)
Israel & Newbreed
[RGM Newbreed/RCA Inspiration]
• Life Music: Stage Two
Jonathan McReynolds
[Entertainment One/Tehillah Music]
Best Contemporary Christian Music Album
• Whatever The Road
Jason Crabb
[Reunion Records/Provident Label Group]
• How Can It Be
Lauren Daigle
[Centricity Music]
• Saints And Sinners
Matt Maher
[Essential Records/Provident Label Group]
• This Is Not A Test
Tobymac
[ForeFront Records]
• Love Ran Red
Chris Tomlin
[sixstepsrecords/Sparrow Records]
Best Roots Gospel Album
• Still Rockin' My Soul
The Fairfield Four
The Fairfield Four
[Fairfield Four Records]
• Pray Now
Karen Peck & New River
Karen Peck & New River
[Daywind Records]
• Directions Home (Songs We Love, Songs You Know)
Point Of Grace
Point Of Grace
[Word/Curb]
Visit Billboard.com to see the full List of nominees