Granddaughter of Televangelist Jan Crouch Who Alleged Rape Awarded $2M in TBN Lawsuit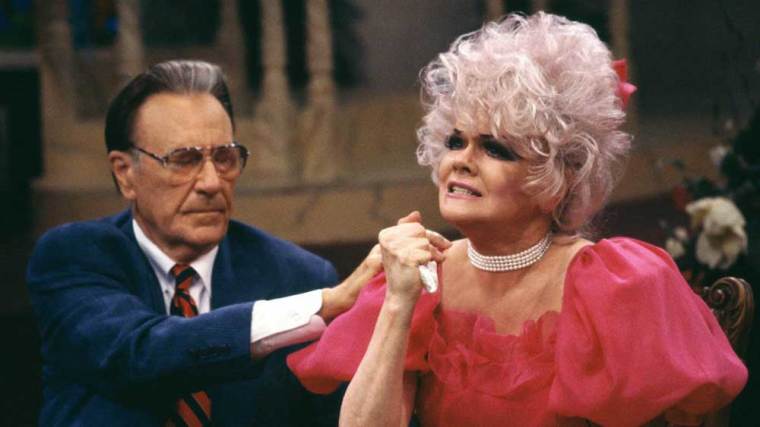 Carra Crouch, 24, the granddaughter of the late televangelist Jan Crouch, was awarded $2 million in damages by an Orange County, California, jury Monday which found that her grandmother was wrong in blaming her when she confided that she was raped by a church employee.
The Orange County Register said the jury deliberated for about eight hours before deciding that Jan Crouch, who co-founded Trinity Broadcasting Network, was responsible for 45 percent of Carra Crouch's pain and suffering.
Trinity Christian Center of Santa Ana, the nonprofit that runs TBN, is now responsible for paying $900,000 of the $2 million judgement. The victim's mother was also assigned 35 percent of the blame while her alleged rapist was blamed for 20 percent of her suffering. Neither her mother nor her alleged rapist, who was not arrested, were defendants in the lawsuit filed in 2012.
Carra Crouch alleged, according to the Los Angeles Times, that in 2006 when she was just 13, a 30-year-old Trinity employee sexually assaulted her in a hotel room in Atlanta, Georgia, where she was attending a fundraising telethon for Trinity.
The employee, she alleged, "coerced himself" into her hotel room and ordered wine from room service. He then pressured her to drink alcohol, then gave her water she says was laced with a sedative.
The next morning she discovered blood on her sheets and her body was sore, "which indicated she had been molested and raped," the lawsuit said.
Shortly after the encounter, Carra Crouch reported what happened to her grandmother who berated her.
"Why would you have that man in your room? Why would you let this happen?" said Carra Crouch in her testimony on what Jan Crouch said to her.
While the Trinity employee was fired, he was not arrested or charged with a crime. It was argued in the lawsuit that as an ordained minister Jan Crouch was required to report the suspected sexual abuse to police under California's child protection laws.
Michael King, an attorney for Trinity who said the organization would appeal the judgment, argued that Jan Crouch was told about Carra's alleged sexual assault in her capacity as a grandmother so the "mandatory reporting" requirement did not apply.
While the jury in the case agreed with King's assessment, they still blamed Jan Crouch.
"The jury ultimately determined that Jan's response — by blaming and castigating Carra, by saying words beyond all realm of decency — constituted outrageous conduct," said David Keesling, Carra Crouch's lawyer.
Speaking to the Register Monday after the verdict, Carra Crouch —who lost her faith at one point during her ordeal — said she was glad the case is now over and wants to move ahead with her life and relationship with God.
"This (lawsuit) has been going on since I was 18, so that has consumed my entire adult life," she told the publication. "It's exciting that they're being held accountable for at least part of the blame."
She is now working at a medical office in Orange County and plans to use a portion of the judgment to help pay for nursing school.
"I do have a relationship with God, but it took me a long time to get there," she noted in discussing the current state of her faith.
"I grew up with some pretty bad people, who were the complete opposite of what you would expect from Christian people. I was atheist until I was 21, but not anymore," she said.
Keesling explained that even though the final judgment in the case was less than the $6 million Carra was seeking in her lawsuit, he believes it is a strong statement on how churches should handle sexual assault incidents.
"From now on, they're going to have to go out there and explain to people why a Christian ministry would conduct themselves this way," he said.
He further explained that the money will also go toward Carra Crouch's therapy.
"This was more than just devastating, it was a life-shaping event that affected her and still does affect her," Keesling noted.