Grandmother, Two Kids Killed on Way to Church in Heartbreaking Crash
Grandmother, Two Kids Killed on Way to Church in Heartbreaking Crash
A 75-year-old grandmother and her two grandchildren were killed on their way to church in College Park, Georgia, Sunday after a suspected car thief being chased by local police crashed into their car.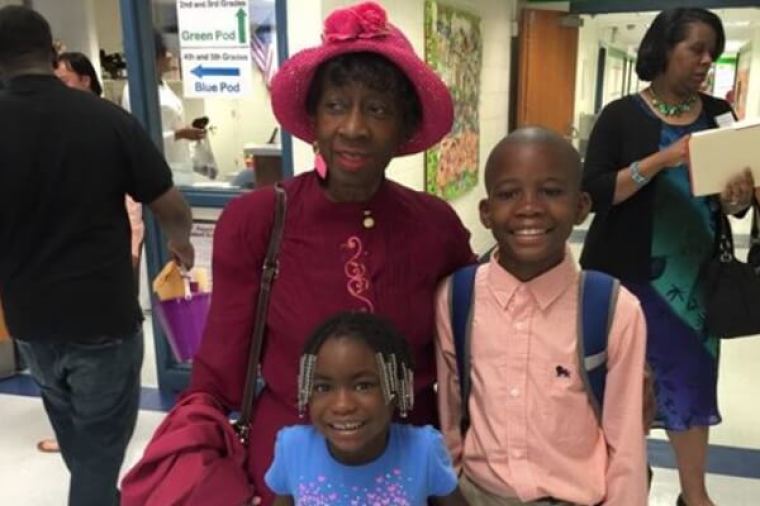 The grandmother, Dorothy Wright, 75, and her grandson, Cameron Cosner, 12, and granddaughter, Layla, 6, were confirmed victims of the crash in a WSB-TV report. They were on their way to the First St. Peter AME Church.
The Atlanta Journal-Constitution said the suspect, who remains at large, took an SUV and led College Park police on a chase spanning more than 10 miles. With the three fatalities, however, some are questioning whether the police acted responsibly in chasing the suspect.
College Park Police Chief Keith Meadows said he wasn't sure if the carjacking involved force but noted that it is their policy to chase carjackers who use force.
"Our policy is to chase forcible felonies," Meadows said.
Witnesses in the neighborhood where the chase ended near the historic Westview Cemetery, said the SUV broke a stop sign at a high rate of speed at Rogers Avenue and struck a Buick carrying grandmother and her grandchildren. The boy was thrown from the car and landed in the street.
"I saw that red car (Buick) coming down the street minding their business and all the sudden I saw the black car (SUV) run the stop sign right here and hit them, T-bone them," witness David Baird told WSB-TV.
Baird said paramedics tried to save the grandmother, but were unsuccessful. He also noted that a car seat was in the back of the red car.
"There (were) two children," Baird said. "All three of them are dead."
Michael Montgomery of Buford told the Constitution that he was raking his cousin's front yard nearby when the driver of the SUV came by "wide open" before the crash a few houses away with the police in pursuit.
An officer, he said, briefly hesitated before going to check on the victims rather than first grabbing the suspect. "Which I can understand," Montgomery said. "Less than 30 seconds later he was up at the (suspect's) car and the guy was gone."
Montgomery said he saw dead bodies while serving in the military but when he saw the boy's body in the street he couldn't hold back his tears.
"It's real sad to shatter a Sunday morning, two people probably on their way to church," he said.
The Christian Post reached out to First St. Peter AME Church in Stone Mountain for comment Monday but no one was available by press time.
A Facebook post by Romie Brown says the church will host a prayer vigil for the family on at 7 p.m. on Wednesday, Feb. 3.