Greg Laurie at Harvest Georgia: Heaven Isn't for Good People
Greg Laurie at Harvest Georgia: Heaven Isn't for Good People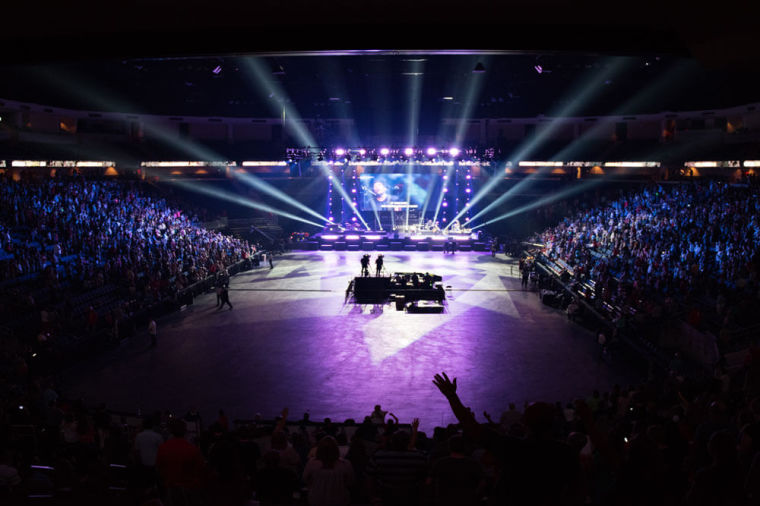 The annual Harvest 2016 outreach, which was held for the first time in Georgia, ended Sunday night with at least 24,000 people being exposed to the Gospel through evangelist Greg Laurie's messages and more than 1,000 accepting Christ.
The three-day Harvest Georgia at Infinite Energy Arena in Duluth included nightly messages of hope from Laurie, the senior pastor of Harvest Christian Fellowship in Southern California, and music from top Christian artists including Lecrae, Chris Tomlin, THIRD DAY and Phil Wickham, as well as a local 500-voice choir comprising singers from 15 area churches.
Laurie's messages dealt with the big questions in life: Why am I here? What is the meaning of my life? What happens when I die?
"The statistics on death are pretty impressive, one out of one people dies," Laurie, who serves on the board of directors for the Billy Graham Evangelistic Association, said in his message on Sunday night, the last day of the event. "Everyone dies, no matter who you are. But death died when Christ rose."
The megachurch pastor added, "I've been up close and personal with death and if I didn't have Christ in my life, I don't know how I would have gotten through it. But I know I will see my son and others on the other side of Heaven. I hope you have that hope, as well. Heaven is not the default destination of every person, it is the destination of those who know Christ."
Pastor Laurie's 33-year-old son died in a freeway accident in July 2008.
"Heaven is not for good people, it is for forgiven people," Laurie told the crowd. "The Gospel truth is that God loves you and will forgive you if you will turn from your sin and believe in Him. You can literally change your spiritual address tonight."
Laurie's church said 1,052 people "changed their spiritual address" during the three-day event. As many as 913 walked from the stands onto the floor of the arena to publicly make commitments of faith, while another 139 made decisions of faith via live internet broadcasts.
Nearly 12,000 people watched the event live from 138 countries and all 50 U.S. states. In addition, 51,305 viewers participated through Facebook Live.
For the Harvest Georgia crusade, about 1,000 volunteers and 200 partner churches were involved.
More than 5.6 million people have attended Harvest events since 1990, with over 476,000 of them making professions of faith.
"Harvest events are designed to be opportunities for Christians to invite family members, coworkers, friends, and acquaintances to hear the life-changing message of the Gospel in an environment that is entertaining and nonthreatening," the event's website said.