Greg Laurie Praises Chip and Joanna Gaines as Examples of How God Changes Lives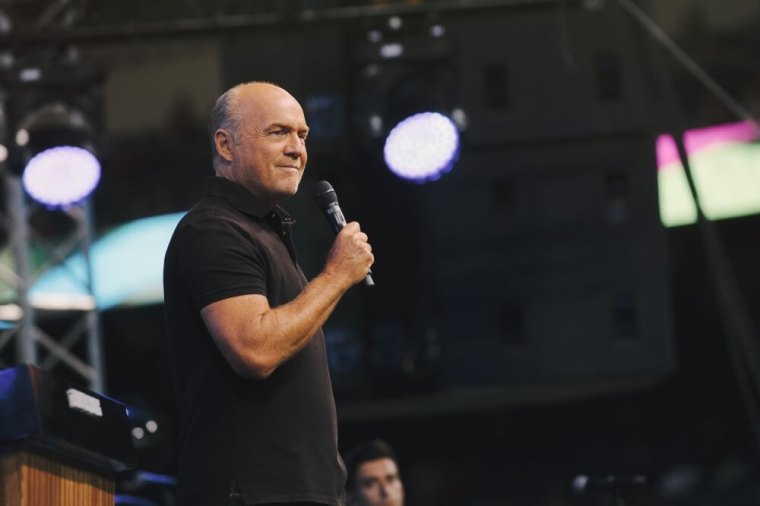 Evangelist Greg Laurie says that much like Chip and Joanna Gaines' "Fixer Upper" television show on HGTV, God also takes the old and outdated, and transforms it into something fresh and new.
Laurie, who is the senior pastor of Harvest Christian Fellowship in Riverside and Harvest Orange County in Irvine, California, shared a Facebook video of himself speaking before his congregation where he used the "Fixer Upper" reality series about home renovation as an example of how God redeems and restores people.
"It's really a great show. They go to homes and they find young couples [with] beat up homes, and then they will get a budget together and have the couple pick the home, and figure out what they want to do," Laurie said.
"Chip is the builder and Joanna is the designer," he explained.
When the renovation is completed, the new home is barely recognizable, Laurie said.
"They will take the couple to the home, and they will have this giant blown up photo of how the home used to look, and then they will pull the panels and reveal the new home — and you can hardly believe it's the same place."
Laurie emphasized that God also restores people in a similar way.
"God can take that which is outdated and antiquated and make it fresh and new," he said.
Late year, Chip and Joanna Gaines found themselves in the midst of controversy after a Buzzfeed report revealed that they attend Antioch Community Church in Waco, Texas, led by Pastor Jimmy Seibert who preaches the biblical definition of marriage as being between one man and one woman.
Cosmopolitan magazine also wrote that the Gaines' church is a "startling revelation that has left many wondering where Chip and Jo stand."
Conservative Christians, such as brothers David and Jason Benham, came to the couple's defense, however. The Benhams, whose house-flipping HGTV series was canceled in 2014 after they voiced their support for traditional marriage and pro-life issues, accused the media of going after the Gaines for their beliefs.
David Benham told The Christian Post at the time that the attack on the couple was "a typical example of the thought-mafia on another witch hunt searching to devour anyone who would disagree with their thoughts on human sexuality or on marriage."
Chip and Joanna Gaines addressed the controversy in a blog post at the start of January, where they said that 2017 is the time to change the "divided" conversation.
"Joanna and I have personal convictions. One of them is this: we care about you for the simple fact that you are a person, our neighbor on planet Earth. It's not about what color your skin is, how much money you have in the bank, your political affiliation, sexual orientation, gender, nationality or faith," Chip Gaines wrote.
"That's all fascinating, but it cannot add or take away from the reality that we're already pulling for you. We are not about to get in the nasty business of throwing stones at each other, don't ask us to cause we won't play that way."