Greg Laurie's Harvest America: More Than 3,400 Churches, Theaters, and Living Rooms to Host Livestream From Dallas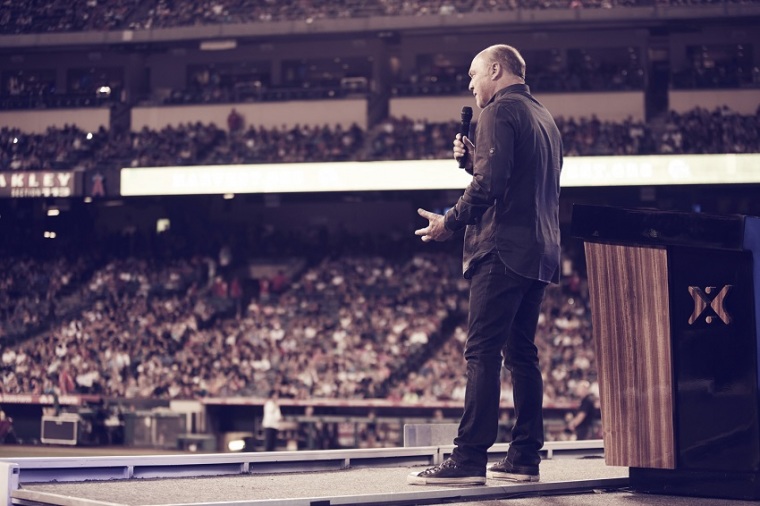 Greg Laurie and Harvest Ministries will take their Southern California-grown, power-packed worship music and straight-forward Gospel message to a national level for the third year-in-a-row this weekend. This time, Harvest America comes to Dallas on Sunday, and will be livestreamed to more than 3,400 locations across the country, including churches, theaters, and living rooms.
"We are very excited about bringing the Gospel to the DFW Metroplex area," Laurie said. "This is a unique part of our great country. It represents the heartland of our nation and is filled with people who espouse traditional family values, hard work and big dreams."
What began 25 years ago as the Harvest Crusades in huge outdoor stadiums (the outreach events took place primarily in Orange County), however, have now come to include annual live digital transmissions from a chosen city, such as Philadelphia last year, streamed to host venues throughout the nation.
In the Dallas area, volunteers from more than 150 local churches representing at least 15 different denominations have received training to serve as ushers, counselors, and other roles for the area-wide event to be held at American Airlines Center on Sunday, beginning at 6 p.m (CT). This free, public event features musical performances by MercyMe, for King & Country, and Phil Wickham, followed by a presentation of the Gospel message.
Laurie said that while Dallas "is filled with large and growing churches, there are still people on her busy streets that are without hope and without God in this world. My prayer is that thousands in the church around the Metroplex will pray and participate in this Harvest outreach and that it will become a sounding board for people all around the world to hear the gospel."
Harvest Crusades officials say the events such as the one in Dallas are designed to be opportunities for Christians to invite family members, coworkers, friends, and acquaintances to hear the life-changing message of the gospel in an environment that is entertaining, yet nonthreatening.
Laurie is able to uniquely identify with a wide audience, according to the event's promotions, having grown up outside the Christian faith, and having suffered the loss of a son in an automobile accident several years ago. "He understands the search for meaning and purpose in life, as well as what it means to grieve, and presents the gospel message in a simple, factual way, empowering audiences to make an informed spiritual decision."
Harvest events have also expanded throughout Canada, Australia and New Zealand, reaching more than 5 million in attendance. Harvest has only been in Dallas once previously, in 2000 at Prestonwood Baptist Church. That church's pastor, Jack Graham, is a close friend of Laurie's and one of the key leaders in bringing Harvest back to Dallas this year.
On the Web: http://harvestamerica.com/.