Group of Miscreants Attack Vigil Commemorating Slain Pakistani Gov. Who Opposed Country's Blasphemy Laws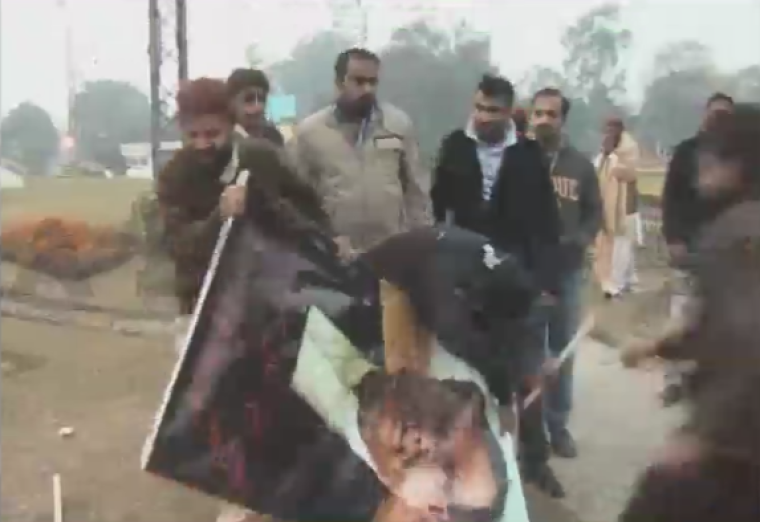 A candle light vigil commemorating the fourth anniversary of the death of Salmaan Taseer, the governor of Pakistan's Punjab province who was assassinated because of his desire to reform the country's abusive blasphemy laws, was attacked by a group of angry men Sunday night in Lahore.
Soon after members of a local civil society staged a vigil at Lahore's Liberty Chowk honoring the slain governor, who was shot 27 times by his own bodyguard in January 2011, a group of nine to 10 unidentified men, presumably Muslim, showed up and began tearing apart the vigil.
According to Dunyanews.tv's video coverage of the attack, the group of men, some of whom were carrying long wooden sticks, violently disrupted the vigil. The men snatched posters, signs, pictures out of mourner's hands and quickly ripped them apart. One scene in the video shows two degenerates trying to angrily rip apart a large picture of the fallen governor.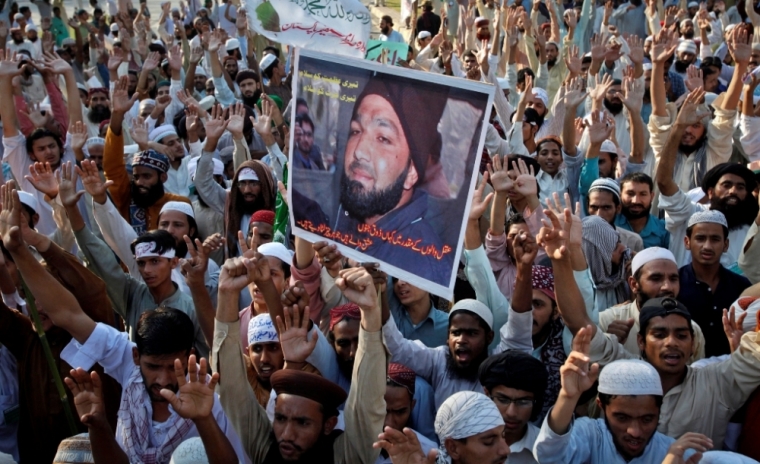 According to the Pakistan's Daily Times, the men also "indiscriminately kicked women and other participants." The report also states that journalists covering the vigil were "subject to torture." Additionally, the men smashed reporter's cameras and damaged television news vans.
Civil society activists told Dawn.com that even though there have been pervious vigils in Taseer's memory held in the last four years, this was the first time one of the vigils was attacked.
Some people were mildly injured in the attack. The attackers managed to initially get away before the police responded to the scene. But on Monday morning, police officials said they arrested over 35 men who are suspected to have participated in disrupting the vigil.
With about 96 percent of Pakistan's population being Muslim, Pakistan has one of the strictest blasphemy laws in the world. Often times, even the mere accusation of blasphemy is enough to get religious minorities killed, imprisoned or executed. Taseer was well known as a governor who opposed the country's blasphemy laws.
Taseer's stance against the law gained notoriety when he filed a mercy petition for Asia Bibi, a Christian woman who was sentenced to death by a Pakistani court under the penalty of blasphemy in 2010. Taseer also had a strong desire to see the blasphemy law, or as he termed it "the black law" changed, which is the suspected reason that his bodyguard, Malik Mumtaz Qadri, killed him.
Four years after his death, Taseer still remains a controversial figure in Pakistan. Although many blasphemy law traditionalists may not have liked his political motives, that doesn't make it right to attack a vigil in his honor, Pakistan's Federal Minister for Information and Broadcasting, Pervaiz Rashid, told The Daily Times.
"No one has a right to resort to violence in such ceremonies," Rashid said.
Also in 2011, another advocate for blasphemy law reform in Pakistan, minorities minister Shahbaz Bhatti, was killed by self-proclaimed Taliban gunmen. The minorities minister, who was the only Christian in Pakistan's cabinet, was struck eight times by bullets as his attackers opened fire while he was inside of his car. The attackers scattered pamphlets at the scene that described him as a "Christian infidel."
Although it took about three years after Bhatti's death for a the trial to start, AFP reports that extremist threats to Bhatti's brother and his attorney have also delayed that trial.