'Hacksaw Ridge' Oscar Nominations Exemplify Why Hollywood Needs to Make More Faith-Based Films, Says Producer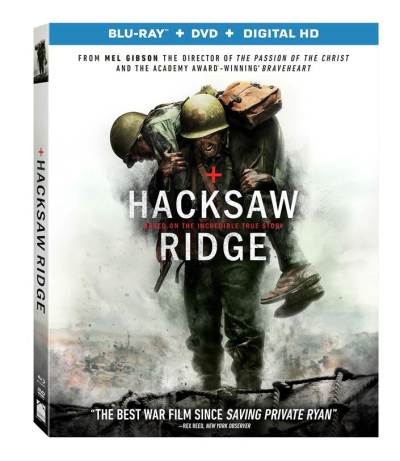 The six-time Oscar nominated film "Hacksaw Ridge" is breaking barriers in Hollywood by proving that an inspirational film rooted in faith can be successful outside of a niche Christian community.
The movie released last November tells the story of Christian Wold War II U.S. Army medic Private First Class Desmond Doss who refused to carry a weapon on the battlefield, yet miraculously managed to save 75 men on the front lines. Now, the film is nominated for six Academy Awards, including Best Picture.
Producer Terry Benedict who created the 2004 documentary "The Conscientious Objector" that "Hacksaw Ridge" is based off of, acknowledged that the movie's high profile award nominations prove that there is a need for inspiration in Hollywood.
"It just goes to show that people want to see and hear these types of stories. They're good, they're fresh and people can benefit," Benedict told The Christian Post. "I think inspirational stories that are told with a standard of excellence can appeal to a very diverse audience. It's not about preaching to the choir as we so much hear about."
Last year, the release of Christian movies like "Ben-Hur," "God's Not Dead 2" and "Miracles From Heaven" proved that faith-based films can compete against their mainstream counterparts in movie theaters. However, they don't often get the opportunity to stand up against the year's critically acclaimed films during award season.
In 2005, actor-turned-screenwriter and director Mel Gibson's film "The Passion of the Christ" made its mark when it was nominated for three Academy Awards, but Best Picture wasn't one of them. Gibson, who previously won a Best Director Oscar in 1996 for his film "Braveheart," has another opportunity to garner the honor with his directorial work in "Hacksaw Ridge."
Benedict, who was partially responsible for the film's inception after developing a close friendship with Doss, says the cast and crew are just happy to have received nominations.
"It sounds trite and cliché to say we're all just happy to be nominated, but the reality is, it's true. It's always nice to have icing on the cake, but I think the thing that truly was important to many of us was the fact that the film has gotten the recognition that we all wanted to see — in the sense of critical acclaim, a great story being told, and by an incredible filmmaker in Mel Gibson," he told CP.
"People are constantly contacting me saying the film has inspired them, touched their lives, and they're looking for ways to be better people when they wake up in the morning because of it. More than any award, when people can say, 'you touched me' and 'my life is different now' — that's so much more important to me."
This award season "Hacksaw Ridge" has racked up numerous awards including Critics' Choice Awards, Screen Actors Guild Awards and BAFTA Awards. The film features a star-studded cast led by Andrew Garfield ("The Amazing Spider-man") as Doss, along with Sam Worthington ("Avatar") and Vince Vaughn ("The Internship").
Benedict, however, admitted that it took quite some time for Doss to even agree to let his story be told on the big screen.
After receiving the Medal of Honor from President Harry Truman in 1945, Doss had turned down movie deals. According to Benedict, the veteran had some concerns about his faith and character being compromised with a Hollywood interpretation of his life.
"He had always said 'no' because he was concerned about two things primarily. One, he didn't want to be glorified, he wanted that to go to God," Benedict told CP. "And two, he was concerned that his character may be compromised. Those were very real issues for him."
However, the producer convinced his then-aging friend that people wouldn't believe that Doss was able to lean on his faith to rescue people in the middle of a war without any weapons.
"I used to tell him, 'when you're gone nobody is going to believe your story. Your Medal of Honor citation reads like a big fish story,'" he recalled. "It's unbelievable. It's not for just one act of valor, it's for many acts of valor."
Benedict said he assured Doss he'd put God first in the making of the documentary.
"I said, listen, I really care about these themes and these beliefs that can be very universal and useful to many of us, especially people of faith on the outside looking in. There could be some real value to this," Benedict told CP, reflecting on the conversations he had with Doss. "I said, I can promise you I will answer to God first, you second, and everybody else can get in line. He grinned and laughed and said, 'OK, let's do it.'"
The producer, who like Doss is a Seventh-day Adventist, wants people to understand the message of faith that is interwoven in the blockbuster.
"I think the main theme that Desmond and I wanted to get out is that no matter how difficult the circumstances a person may find themselves in — life and death and everything else in between — if you have a faith in God it can carry you through the day. It can give you the peace that passes understanding," Benedict added. "That can inspire us all to focus on what's most important in life, follow that journey of faith and be willing to serve eachother so that this world would be a better place."
Although "Hacksaw Ridge" is no longer in movie theaters, the film is available on Digital HD, DVD and Blu-ray. For more information about "Hacksaw Ridge," click here.