Hamas releases 2 more hostages from Gaza amid ongoing conflict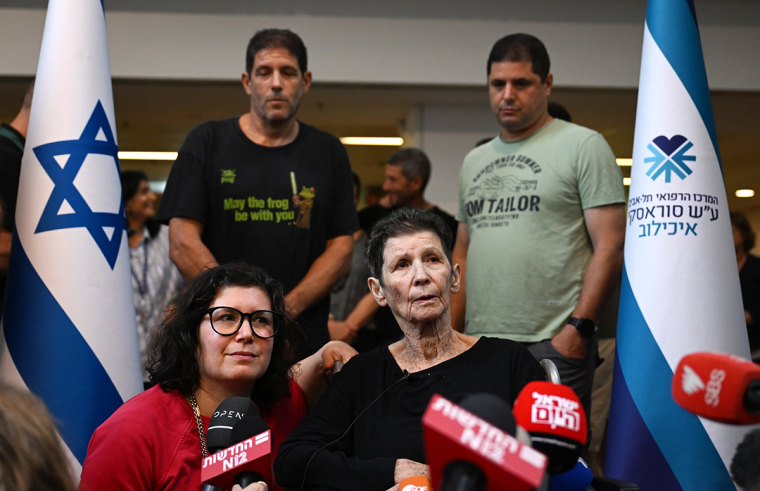 Two more hostages — elderly Israeli women abducted by Hamas terrorists on Oct. 7 — have been freed following mediation efforts by Egyptian and Qatari officials. Reports indicate that diplomatic initiatives are underway to secure the release of about 50 additional hostages.
The women, Yokheved Lifshitz, 85, and Nurit Yitzhak, 79, who also goes by Nurit Cooper, were released for "humanitarian" reasons and flown to a Tel Aviv hospital, The Guardian reported, saying Qatar and Egypt mediated the release.
Their husbands are still being held hostage, however, The Daily Wire noted.
Joe Truzman, a research analyst for the Foundation for Defense of Democracies, doesn't believe Hamas released the two hostages for humanitarian reasons. "It's simply a tactic to create international pressure on Israel to delay a ground incursion into Gaza," he was quoted as saying.
State Department spokesperson Matthew Miller said, to his knowledge, Hamas received nothing in exchange for freeing the hostages. "We have not released any prisoners, the government of Israel has not released any prisoners," he was quoted as saying.
Last Friday, an Israeli-American mother and her daughter were freed, leaving about 220 hostages still captive in Gaza.
Israel has cut off food and fuel supplies to Gaza to pressure Hamas, which has reportedly outlined demands, including the release of Palestinian prisoners and cessation of Israeli airstrikes, for the hostages' release.
Various countries, including Turkey, have engaged in talks to secure the release of hostages, who include not only Israelis but also nationals from the U.S., Germany, Thailand, the U.K. and France.
Timor Israeli, an Israeli special forces veteran, said there is no precedent for rescuing hostages from Gaza, according to the Guardian, which noted that some hostages might be held by other extremist terrorist groups or criminal gangs, and not with Hamas.
Meanwhile, a senior diplomatic official told The Times of Israel on Monday that Israel and Hamas were in late-stage talks, facilitated by Egypt and Qatar, to secure the release of 50 more hostages.
The Wall Street Journal had earlier reported that Hamas was linking the release of 50 dual nationals to the resumption of fuel supplies into Gaza. Israel has countered this condition, stating it will permit fuel entry only if all the 220 hostages are released.
Israeli Prime Minister Benjamin Netanyahu and U.S. President Joe Biden discussed the hostage crisis on Monday.
Biden pledged support for the ongoing efforts to free all remaining hostages, including 10 Americans, highlighting the necessity for uninterrupted humanitarian aid to Gaza, the White House said, adding that Biden briefed Netanyahu on U.S. regional strategies, including military deployments.
Israel has had mixed outcomes in past hostage situations. In 2011, Netanyahu consented to free more than 1,000 prisoners in exchange for the release of abducted soldier Gilad Shalit.
At least 1,400 Israelis and over 30 Americans were brutally tortured and killed by Hamas, including babies and children, with more than 3,000 injured, during Hamas' unexpected attacks on Oct. 7. In response, Israeli actions have reportedly resulted in over 5,000 deaths in Gaza, according to Hamas.