Hank Hanegraaff 'Shakes Uncontrollably' in Bad Chemotherapy Round, Says God Knows What He's Doing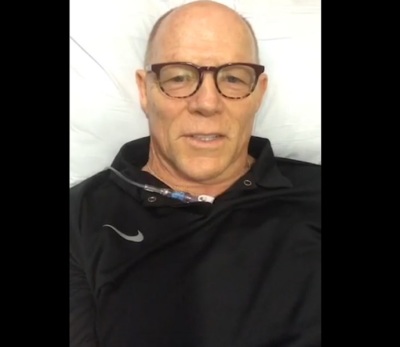 "Bible Answer Man" Hank Hanegraaff said he suffered a bad chemotherapy reaction in his first round of cancer treatment, causing him to "shake uncontrollably." But he insisted that God knows what He's doing.
Hanegraaff, who leads the North Carolina–based Christian Research Institute, posted a video earlier this week from his hospital bed, where he told supporters he had undergone four different injections of chemotherapy, the last of which did not go well.
"Suddenly, in the middle of it, I got short breath, and I had a real strong pain in my chest, and all of a sudden I started to shake uncontrollably. The symptoms caused the nurses to shut down the chemo until they could get me back to a place of stasis, and they did."
Hanegraaff explained that despite the difficult day, he continues to have "deep gratitude in my heart for the way the Lord has sustained me and covered me in a blanket of peace."
The Orthodox Christian author stated that God creates a tapestry, and sometimes "we just see the underside of that tapestry, and it doesn't look so good, but God knows exactly what He's doing."
He quoted a saying he found on a placemat several years ago in southern California, attributed to Christian poet Corrie ten Boom, which he memorized:
"My life is but a weaving, between my Lord and me. I do not choose the colors; He weaveth, steadily. Oft' times He weaveth sorrow, and I of foolish pride forget He sees the upper, and I the underside.
"Not 'til the loom is silent, and the shuttles cease to fly, will God unfurl the canvas, and explain the reason why. The dark threads are as needful in the weaver's skillful hand, as the threads of gold and silver, in the pattern He has planned."
In a more recent Facebook video on Thursday, Hanegraaff appeared in good spirits as he updated followers on his condition. He said that he underwent his first ever blood transfusion.
"It is a great blessing [that] God's power has enabled me to have a transfusion, and then to talk to people across the world," he said, while preparing to host his "Bible Answer Man" show.
"This is a marvelous age of technology, let us use it for God's glory and the extension of His kingdom."
The "Bible Answer Man" revealed one month ago on May 2 that he has a rare form of cancer, called mantle cell lymphoma. Doctors told him that it is a treatable cancer, but would require "aggressive chemotherapy."
"Obviously finding that you have cancer is a blow to the solar plexus. It is a bitter pill to swallow. But all of that becomes very contextualized when you recognize that our dear Lord holds every breath and every moment of my life in His hand," he said at the time.