Harvard Cancels Satanic 'Black Mass' Meant to Mock Catholic Church; Devil Worshippers Move Ritual to Bar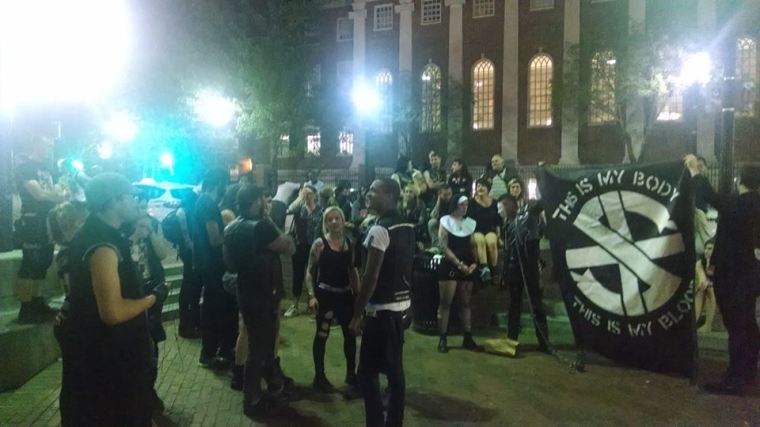 The Harvard Extension School Cultural Studies Club cancelled its sponsorship of a controversial reenactment of a satanic "black mass" by New York's Satanic Temple Monday after strong condemnation from Catholic groups, university officials and students.
Early Monday evening Lucien Greaves, spokesman for the Satanic Temple, told The Boston Globe that the event had to be cancelled because they no longer had a venue.
"Everyone involved, outside of the Satanic Temple, got really scared," said Greaves. "And I don't necessarily blame them, because I understand that they were getting a lot of vitriolic hate mail, and I don't think they expected it."
A statement from Drew Faust, president of Harvard University on Monday had decried the initial decision to host the black mass as "highly offensive" and "abhorrent," but maintained that it was their right to do so.
"The black mass had its historical origins as a means of denigrating the Catholic Church; it mocks a deeply sacred event in Catholicism, and is highly offensive to many in the Church and beyond," said Faust.
"The decision by a student club to sponsor an enactment of this ritual is abhorrent; it represents a fundamental affront to the values of inclusion, belonging and mutual respect that must define our community. It is deeply regrettable that the organizers of this event, well aware of the offense they are causing so many others, have chosen to proceed with a form of expression that is so flagrantly disrespectful and inflammatory," she said.
While he shared Faust's displeasure with the offensive black mass proposal, Cardinal Sean P. O'Malley did not believe that Harvard should have initially granted permission to host the event on its campus.
"Why people would want to do something that is so offensive to so many people in the community, whether they're Catholic or not, it's very repugnant," said O'Malley to The Globe.
Former president of the Harvard Catholic Student Association and Harvard Rhodes scholar, Aurora Griffin, revealed in a statement noted by The Globe that some 60,000 students, alumni, and faculty members had also signed a petition protesting the holding of the satanic ritual on campus.
"I am ashamed that my university is allowing such a hateful event to happen under the auspices of 'education,'" said Griffin.
According to a report in The Harvard Crimson, however, the satanic group held what appeared to be a black mass on the second floor or the Hong Kong restaurant and lounge shortly after 10 p.m. Monday.
"About 50 people, mostly dressed in black and some wearing face makeup, were present for the ceremony. A consecrated host, believed by Catholics to be the body of Christ, was not used in the ritual," noted the report.
"Four individuals in hoods and one man in a white suit, a cape, and a horned mask were active in the proceedings, as well as a woman revealed to be wearing only lingerie. The ceremony began with a narration on the history underlying Satanism and the black mass ritual," it added.